Taiwan Vows to 'Defend Itself' Amid U.S. Reversal, Here's How Much Stronger China Is
Taiwan has said it would express the will to defend itself amid a quick U.S. reversal on an apparent promise to defend the self-ruling island and warnings from mainland China, which claims it as part of the People's Republic.
President Joe Biden stirred controversy during a Thursday evening town hall when he twice appeared to confirm that he had a commitment to protect Taiwan in the event of an attack, one that would presumably come from China, where President Xi Jinping has vowed to take reintegrate the rival government by diplomacy, or force, if necessary.
Asked directly by CNN host Anderson Cooper if Biden was "saying that the United States would come to Taiwan's defense" after the president affirmed as much in response to a previous question, Biden doubled down.
"Yes, we have a commitment to do that," he said.
Such a commitment would mark an end to decades of strategic ambiguity, an approach through which Washington has neither confirmed nor denied its willingness to back Taipei against Beijing.
Shortly afterward, however, a White House spokesperson backtracked from Biden's remarks, clarifying that the administration's position remained unchanged from the policy adopted in 1979 when the U.S. established relations with China and downgraded ties with Taiwan to an informal partnership.
"The U.S. defense relationship with Taiwan is guided by the Taiwan Relations Act," the spokesperson said. "We will uphold our commitment under the act, we will continue to support Taiwan's self-defense, and we will continue to oppose any unilateral changes to the status quo."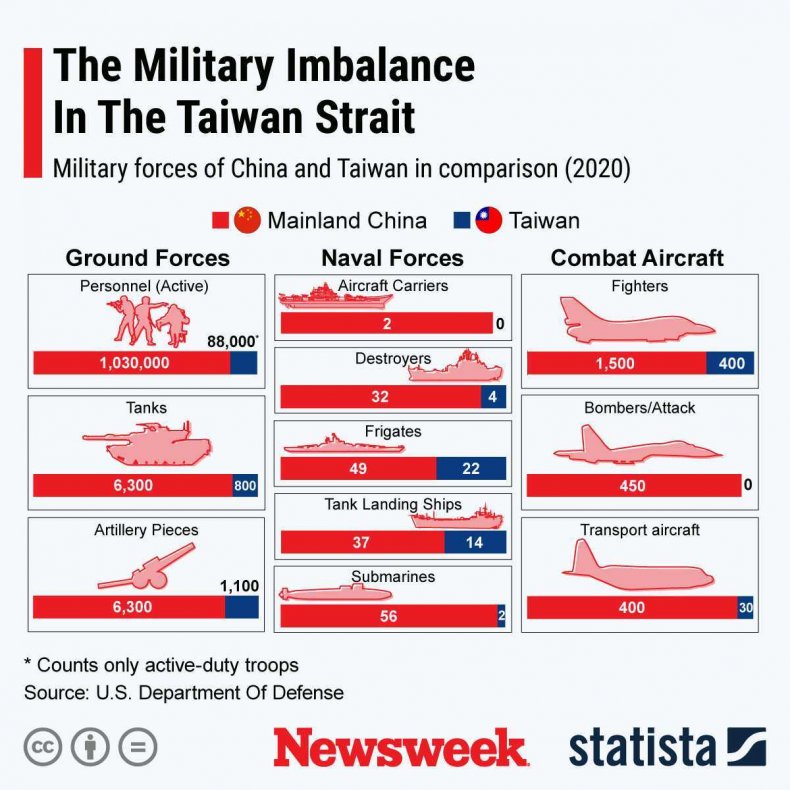 The above graphic was provided by Statista.
The office of Taiwan President Tsai Ing-wen then issued a response.
"Since President Biden took office, the US government has consistently demonstrated its rock-solid support for Taiwan through concrete actions," spokesperson Xavier Chang said in comments shared with Newsweek. "Taiwan's consistent position is that we neither bow to pressure nor act rashly when we have support."
"Taiwan will show a firm determination to defend itself," he added, "and continue to work with like-minded countries to be a force for good and to contribute to peace and stability in the Taiwan Strait and the Indo-Pacific region."
And while promoting Taiwan's ability to defend itself has been the official policy of both Taipei and Washington, Beijing's upper hand has rapidly increased over the years.
The dispute between the two sides dates back to the Chinese civil war, in which the Communist Party emerged victorious on the mainland, forcing the nationalist government to flee to Taiwan. Washington recognized the administration now based in Taipei, but shifted these ties to Beijing three decades later.
The U.S. continues to provide advanced weaponry to Taiwan despite Chinese protests, but China has set out on an unprecedented drive to expand and modernize its forces.
According to the latest U.S. military assessment of Chinese military power released last September, the capabilities of the People's Republic, which boasts the world's largest population at 1.4 billion and the second-largest economy at $14.7 trillion GDP, far exceed those of the island that officially refers to itself as the Republic of China, which has roughly 23.6 million people and a GDP of around $710 billion.
The People's Liberation Army is also the world's largest standing army with around 2.2 million active personnel, around half of which constitute ground forces. Taiwan's armed forces, by comparison, host less than 300,000 personnel, of which 88,000 are considered active-duty ground troops.
When it comes to tanks, China outnumbers Taiwan nearly 8 to 1 and wields nearly six times as many artillery pieces. China's 37 tank landing ships also outsize the fleet of 14 possessed by Taiwan.
Elsewhere at sea, China has deployed two aircraft carriers and is currently developing a third, while Taiwan has no such warship. China also has eight times as many destroyers, more than twice the amount of frigates and 28 times the amount of submarines as Taiwan, which only has two such underwater ships.
In the air, China has more than three times the amount of fighter jets and Chinese transport aircraft number 400 as opposed to Taiwan's 30. China also counts some 450 bomber and attack aircraft, whereas Taiwan has none.
In addition to these metrics, the People's Liberation Army possesses an array of other capabilities that Taiwan does not, owing largely to the massive size and wealth disparity between the two sides as well as Taiwan's close relationship with the United States, whose lead on military superiority over China has narrowed significantly in recent years.
Xi has declared his intention to establish a "world-class military" before the middle of this century, and the Pentagon's assessment interprets this to mean "that Beijing will seek to develop a military by mid-century that is equal to—or in some cases superior to—the U.S. military, or that of any other great power that the PRC views as a threat."
"China is already ahead of the United States in certain areas," the Pentagon found, such as shipbuilding, land-based conventional ballistic and cruise missiles, and integrated air defense systems.
And at a time when relations between Washington and Beijing were sharply deteriorating, the report noted that "China continues to view the Taiwan issue as the most important and sensitive issue between the United States and China."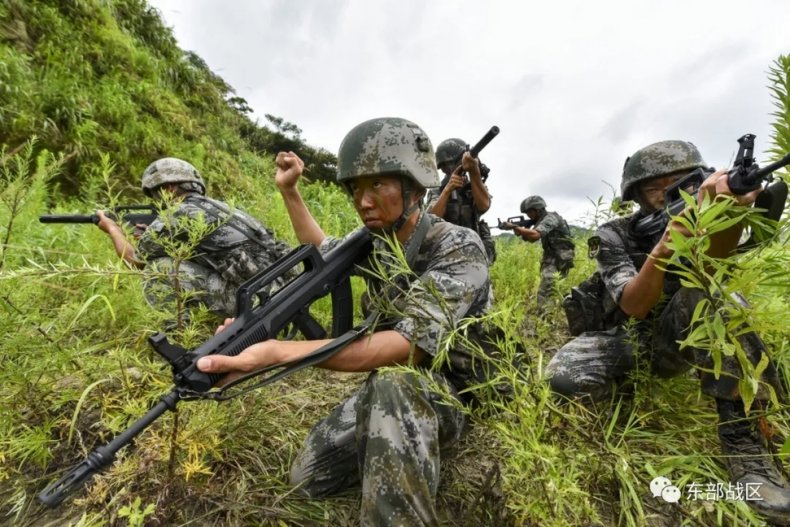 That point was illustrated by the steadfast reaction issued by Beijing to Biden's comments on Thursday.
"Taiwan is an inalienable part of China's territory," Chinese Foreign Ministry spokesperson Wang Wenbin said during a press conference Friday. "The Taiwan question is purely China's internal affairs that allow no foreign interference. On issues that bear on China's sovereignty, territorial integrity and other core interests, no one shall expect China to make any compromise or trade-offs. No one should underestimate the resolve, the will and the ability of the Chinese people to defend their national sovereignty and territorial integrity."
"Do not stand on the opposite side of the 1.4 billion people," he added.
And while the White House has vowed to adhere to the Taiwan Relations Act that allows for U.S. military assistance to Taiwan and provided the cornerstone to their informal ties, Wang called on Washington not to violate the founding agreements of its relationship with Beijing.
"We urge the U.S. to earnestly abide by the one-China principle and stipulations in the three China-U.S. joint communiques, be prudent with its words and actions on the Taiwan question, and avoid sending wrong signals to the 'Taiwan independence' separatist forces, lest it should seriously damage China-U.S. relations and peace and stability across the Taiwan Strait," he said.
Wang's message was echoed in remarks by Ma Xiaoguang, spokesperson of the Chinese State Affairs Council's Taiwan Affairs Office, who also "pointed out that the historical task of the complete reunification of the motherland must be fulfilled, and it will definitely be fulfilled," according to his office.
Ma also castigated Taiwan's ruling Democratic Progressive Party (DPP) for seeking outside support.
"The attempt by the DPP authorities to betray the interests of the Chinese nation and the well-being of the people on the island and to collude with external forces to seek 'independence' will not succeed," he said.
DPP lawmakers recently introduced six proposals to amend Taiwan's constitution, including reforms that would remove references to the island as a "province" and scrap the concept of "national unification," according to local outlets. Such moves also drew a strong reaction from Ma, who saw a "conspiracy" to pave the way for independence.
"The provocateurs will be subject to severe punishment in accordance with the law," he said, asserting that "Taiwan compatriots should also oppose and resist all attempts of seeking 'Taiwan independence' through so-called constitutional amendments."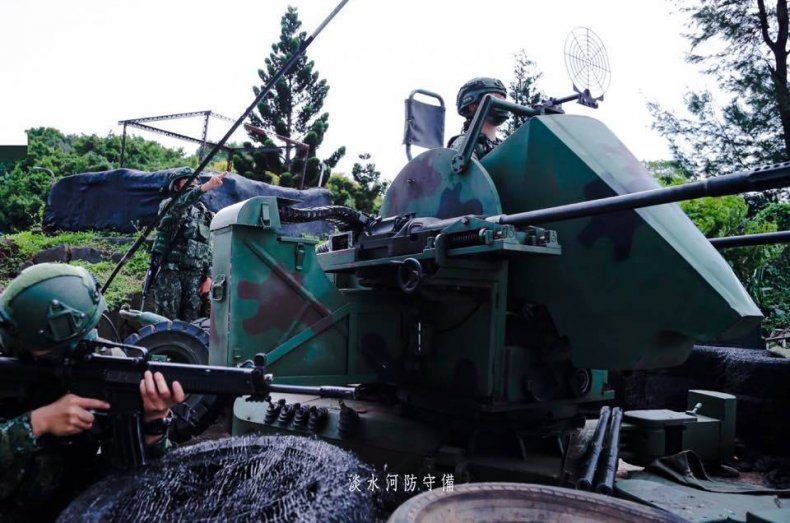 The Biden administration has followed in the footsteps of former President Donald Trump by expanding U.S. ties with Taiwan and has also sent warships to transit China-claimed waters in the Taiwan Strait and the nearby South China Sea. China, for its part, has also conducted shows of power through military exercises in the region and fly-bys through Taiwan's claimed Air Defense Identification Zone.
In light of Biden's recent comments, a spokesperson for the Taipei Economic and Cultural Office said the de facto embassy could not weigh in on the president's intentions but expressed confidence in U.S. policy.
"We're not really in the position to clarify what the US President says or if there're any changes to US foreign policies," the spokesperson told Newsweek. "However, we have been assured repeatedly by US officials that US relations with Taiwan has been rock solid. We believe the US will honor its commitments to Taiwan in accordance with the Taiwan Relations Act."
Speaking Friday in Brussels after a summit of the U.S.-led NATO military alliance, U.S. Defense Secretary Lloyd Austin said the Biden administration was seeking to avoid a conflict with China over Taiwan.
"Nobody wants to see cross-strait issues come to blows, certainly not President Biden, and there is no reason it should," Austin said.
And he reiterated existing U.S. commitments, including to the Taiwan Relations Act and the assurances that detail a lasting nature to Washington's relationship with Taipei, as well as communiques that set the course for the ongoing relationship with Beijing. He too appeared to have erred, however, as he referred to "Three Assurances" and "Six Communiques," while, as the Pentagon later noted in the transcript, there are Three Communiques and Six Assurances.
"As we've done over multiple administrations, we'll continue to help Taiwan with the sorts of capabilities that it needs to defend itself," Austin said, "and so we'll stay focused on those things."