How Thomas Markle's Stroke Puts Meghan, Harry in Precarious Position
Meghan Markle's father experienced a stroke almost exactly four years after two heart attacks prevented him from attending her wedding to Prince Harry—and the duchess must decide how to respond.
Thomas Markle was taken to the hospital initially in Mexico after the health crisis on Monday before being transferred to a hospital in the United States.
The emergency may well bring flashbacks of the royal wedding in May 2018 when he suffered two heart attacks and could not walk his daughter down the aisle. Then, Harry and Meghan exchanged a flurry of messages with Thomas, asking whether he was okay and urging him not to speak to the media.
However, Meghan has not spoken to him since then, bar a letter which he later leaked to The Mail on Sunday. And the duchess is preparing for her first major public return to Britain since quitting royal duties in 2020—giving her a dilemma about how to respond to the medical emergency.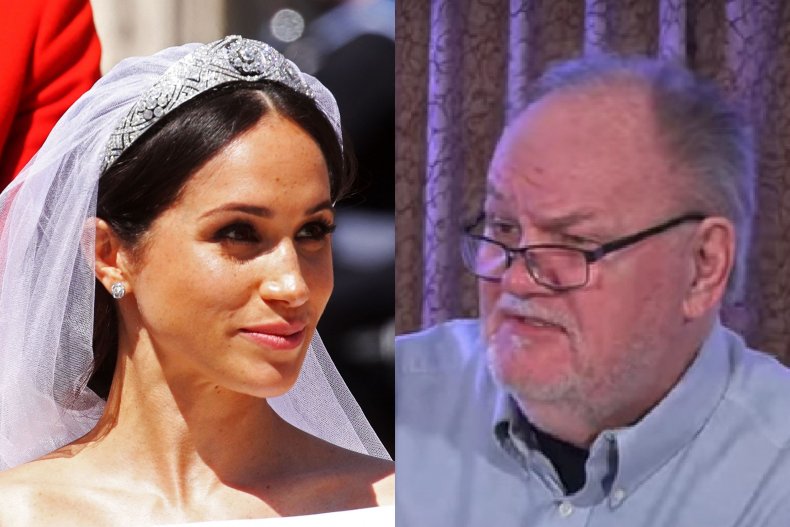 'What Does Meghan Do' About Thomas Markle?
Peter Ford, entertainment editor of Australia's The Morning Show, summed up Meghan's predicament: "What does Meghan do now? I kind of feel sorry for her in a way because she's kind of in a no-win situation. Does she reach out and make contact? Does she put out a statement but then she doesn't go and visit him? Does she go and visit him? Does she just ignore the whole thing?"
In 2018, Meghan released a statement but did not visit her father, though the decision was perhaps understandable as she was about the get married on a global stage. However, even after the Windsor Castle royal wedding, she refused pleas from senior royals to visit him fearing being photographed by the paparazzi.
Instead, she wrote her father the now-famous letter in which she begged him to stop talking to the media about her. But the five-page handwritten note did not go down well.
A message she sent her former press secretary in August 2018 was released via a media lawsuit: "The catalyst for my doing this [sending the letter] is seeing how much pain this is causing H. Even after a week with his dad and endlessly explaining the situation, his family seem to forget the context—and revert to 'can't she just go and see him and make this stop?'
"They fundamentally don't understand so at least by writing H will be able to say to his family...'she wrote him a letter and he's still doing it.'"
Thomas Markle Said Meghan's Letter 'Showed No Concern' About Heart Attack
Markle first leaked Meghan's letter to The Mail on Sunday in February 2019 and the duchess then sued the newspaper for publishing it.
Her father later submitted a witness statement to the court, seen by Newsweek, which read: "The letter didn't say she loved me. It did not even ask how I was. It showed no concern about the fact I had suffered a heart attack and asked no questions about my health. It actually signaled the end of our relationship, not a reconciliation."
Now, there is clearly no love lost between the pair, with Thomas also offering to give evidence in a libel action Meghan's half-sister Samantha brought against her. That lawsuit lends extra pressure because should Meghan visit Thomas she might not only be confronted by photographers but also by Samantha.
However, if she does nothing she may appear indifferent to her own father's ill health and there is a strong likelihood of him repeating similar attacks to the one in his statement about her letter.
Samantha Markle has already turned on the duchess following their father's hospital admission.
She told the Daily Mail: "We are praying. He just needs some rest. It's a travesty how much he's been tortured and how much he's had to go through thanks to my sister's disregard the past few years. That is unforgivable."
Harry and Meghan at the Queen's Platinum Jubilee
It all comes at an awkward time for Meghan and Harry as they are due to travel to Britain to help the queen celebrate 70 years on the throne.
Harry has been back before for his grandfather Prince Philip's funeral and to unveil a statue of his mother, Princess Diana in 2021. However, Meghan's only visit to the U.K. since quitting royal life was a private one and she is yet to come face-to-face with the British public.
The duchess, while she has long had her detractors, was well-liked by the British public as a whole up until the couple quite royal duties in January 2020, polling suggests. Since then, her standing in her husband's home country has plummeted leaving her with a net approval rating of -21.
Health will also be a theme during the jubilee as the queen has had to pull out of a series of planned recent appearances due to what the palace called episodic mobility problems.
It means Meghan faces making a dramatic public return to Britain to cheer the health of a 96-year-old queen while her 77-year-old father suffers from illness.
For more royal news and commentary check out Newsweek's The Royal Report podcast: