How Trump's Allies Defended Him Against A 2nd Impeachment as They Warned of Further Violence
In the hours before President Donald Trump was impeached for the second time—a first in U.S. history—by the House on Wednesday, some of the outgoing commander-in-chief's closest congressional allies made heads turn as they made their case against the charge that he incited last week's deadly insurrection.
From cancel culture and the first moon landing to "whataboutism" and Black Lives Matter, conservative lawmakers made wide-ranging—and at times, off-topic—arguments that had little to do with the "incitement of insurrection." They described the impeachment article as a dangerous continuation of an endless endeavor by Democrats to remove the president, one that Republicans say began the moment he stepped into the Oval Office.
There was scant evidence of a defense strategy.
Rep. Jim Jordan (R-Ohio) suggested that this impeachment was based on Democrats' desire to "cancel the president." In another moment, he reminisced about simpler times when Americans worked together to go from "two guys flying 100 feet to putting a man on the moon."
"It's an obsession, an obsession that's now broadened not just about impeachment anymore," Jordan said. "It's about cancel, canceling the president and anyone who disagrees with them."
The varying rationales from many of Trump's allies illustrated the lack of coordinated plan to rebut the assertion that he fueled the insurrection by peddling false election conspiracies to thousands of his supporters minutes before many of them stormed the Capitol building. Congress was meeting inside to certify the results for President-elect Joe Biden.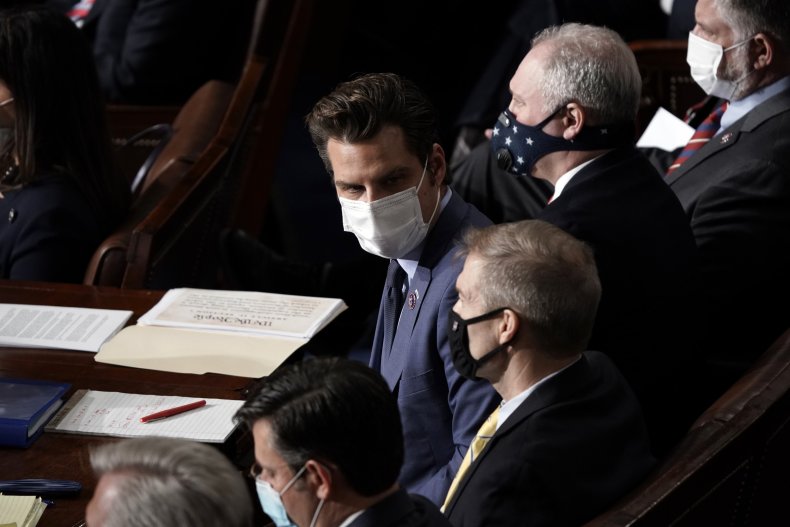 But the vehement defenses—no matter their content—were also representative of the undying support that much of the Republican Conference still had for the president, despite some dissent.
GOP House leadership made the extraordinary decision to not mount a whip effort against impeachment. Ten Republicans, including No. 3 Liz Cheney (R-Wyo.), ultimately voted yes. And while the statistic is a record for the number of lawmakers who have voted to impeach a president of their own party, Democrats and Republicans were predicting upwards of 12, potentially as many as 20.
Reps. Matt Gaetz (R-Fla.) and Jordan, two of Trump's most ardent defenders throughout his presidency, controlled the debate time for Republicans as both sides made their cases.
There was one anti-impeachment theme that Republicans did coalesce around in recent days: Democrats would only stoke further violence and prompt more division by seeking to punish a president, despite the accusation that the aforementioned president instigated a violent siege of the Capitol that resulted in five deaths, one of which was a Capitol Police officer.
Democrats said they must hold Trump accountable and that doing so immediately was necessary for such a "dangerous" commander-in-chief.
The vast majority of Republicans downplayed Trump's responsibility or ignored his actions entirely, with some instead focusing on the prior impeachment process, racial justice protests last summer—some of which turned violent—and past remarks by Democrats as evidence that there was hypocrisy at play. Much of the "whataboutism" was reminiscent of the GOP's conservative platform, with warnings from far-right members of Congress that Democrats were in the process of stripping away Americans' basic freedoms.
"Democrats support defunding the police when it's someone else's city, someone else's home and someone else's businesses," said Rep. Marjorie Taylor Greene (R-Ga.), a first-term lawmaker who once promoted the QAnon conspiracy. "Democrats will take away everyone's guns just as long as they have guards with guns. Democrats' impeachment of President Trump today has now set the standard that they should be removed for their support of violence against the American people."
Gaetz pointed fingers at House Speaker Nancy Pelosi (D-Calif.), big tech and the media, among other things, for the "anger" among Trump supporters. He was met with boos by Democrats for saying they "lit actual flames," a reference to the summer's Black Lives Matter protests that at times turned destructive.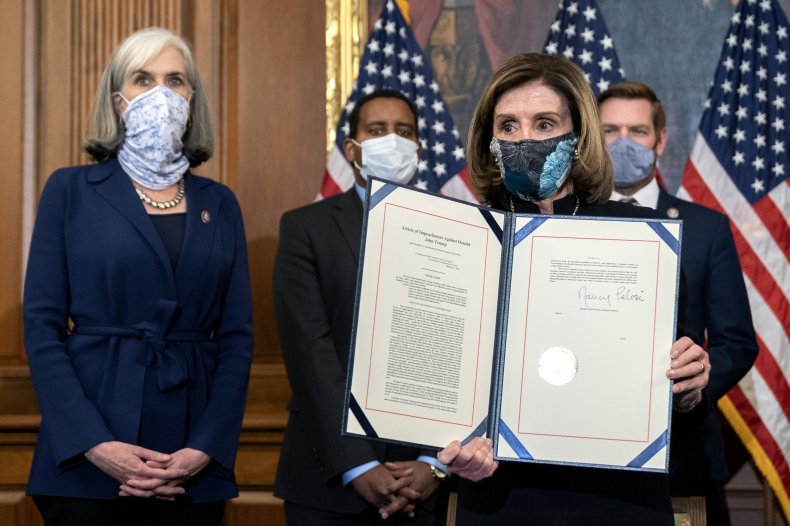 "This president has faced unprecedented hatred and resistance from big media, big tech and big egos from congressional leaders on both sides of the aisle," Gaetz said. "Before the rioters tore through that glass, Speaker Pelosi stood at that rostrum and tore through the president's State of the Union speech, inciting anger, resentment, division."
Rep. Ken Buck (R-Co.) noted that Rep. Maxine Waters (D-Calif.) once called for Trump supporters to face public harassment and shaming.
"One Democratic colleague said that Trump supporters should be harassed wherever they are, in restaurants, on the streets, in supermarkets," Buck said.
"That's what I said!" Waters responded from the outer perimeter of the House floor.
Others yet, such as Reps. Dan Crenshaw (R-Texas) and Chip Roy (R-Texas), explicitly condemned Trump. But they stopped shorted of voting for impeachment.
Roy is a former chief of staff to Sen. Ted Cruz (R-Texas), who helped lead the charge of Congress overturning the election and has received bipartisan rebuke for what lawmakers say further fueled the riot. Roy went so far as to call Trump's actions "impeachable conduct" that deserve "universal condemnation." But he declined to back impeachment because of the way the article was written.
"It was foreseeable and reckless to sow such a false belief that could lead to violence and rioting by loyal supporters whipped into a frenzy," Roy said. "Unfortunately, my Democratic colleagues drafted articles that I believe are flawed and unsupportable."
Crenshaw argued that Trump "bears enormous responsibility" for last week's violence but that "impeachment is not the answer."
"We all need to deescalate, lower the temperature and move forward together as a country," he added.