How Trump's Border Wall Contractors Signed on to Build NYC Migrant Shelters
A New York City City Council member is questioning why the city contracted with a construction company to build a migrant tent when the same company was paid hundreds of millions of dollars to construct former President Donald Trump's U.S.-Mexico border wall.
New York City Mayor Eric Adams announced on September 22 that the city would open Humanitarian Emergency Response and Relief Centers to support migrants coming from Texas and other border states.
The city has seen an influx of more than 15,500 asylum seekers from countries like Venezuela and Colombia because of orders from Texas Governor Greg Abbott. Adams has publicly sparred about the influx with Abbott and other Republicans like Florida Governor Ron DeSantis.
The initiative includes one 1,000-bed tent facility in an Orchard Beach parking lot in the Bronx. Adams said that "this is not an everyday homelessness crisis, but a humanitarian crisis that requires a different approach."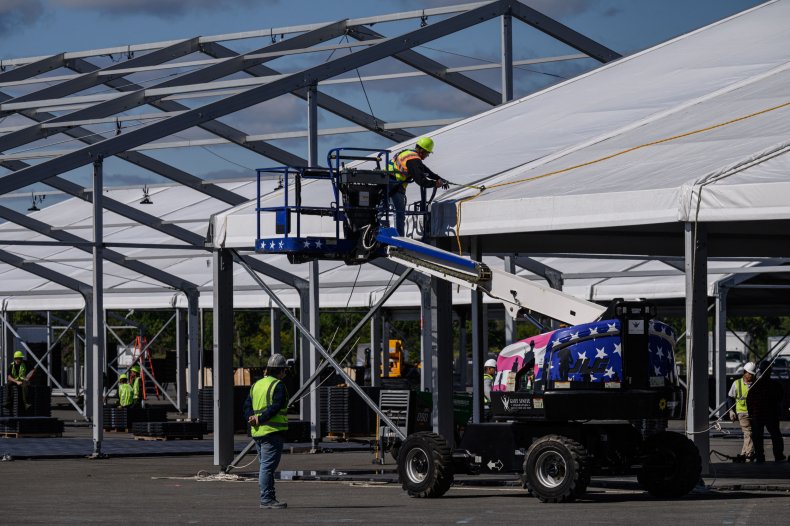 "More than 100 years ago, Ellis Island opened its doors to welcome in those 'yearning to breathe free,'" Adams said. "Now, more than ever, it's clear that we are again dealing with a humanitarian crisis created by human hands. While other leaders have abdicated their moral duty to support arriving asylum seekers, New York City refuses to do so."
Shahana Hanif represents New York City's 39th District and chairs the Committee on Immigration. She told Politico that her committee plans to grill Adams about the city contracting with a construction company, SLSCO of Texas, that received more than $200 million to construct portions of Trump's border wall.
"That is not OK," said Hanif, who was born to Bangladeshi immigrant parents. "These walls were literally created to keep migrants out. I question exactly who the city is contracting with, and whether we know the full scope of their previous work."
The company also constructed a field hospital in Red Hook at the height of the COVID-19 pandemic. The Adams administration told Politico that it was unaware of SLSCO's previous association with border wall construction.
SLSCO spokesperson Liz Rogers told Newsweek in a statement that SLSCO "as practice" refers all comments to its client, in this case the city.
"However, we are happy to support our clients in their time of need," she added.
It remains to be seen whether the construction of this and other shelters would disregard the city's decades-old right-to-shelter laws that require beds to be offered to anyone who needs one, according to the New York Daily News. That includes stipulations like a set amount of space between beds and access to lockers, laundry and mail services.
"The migrant crisis is outside of the housing initiative that we are doing for right-to-shelter," Adams told reporters when asked if the site will comply with right-to-shelter laws. "These are two different entities. We are dealing with a humanitarian crisis that was created by human hands."
Josh Goldfein, of The Legal Aid Society's Homeless Rights Project, cautioned city officials on September 22 that more pragmatic options should be evaluated.
The Legal Aid Society and Coalition for the Homeless said following Adams' comments regarding right-to-shelter laws that such protocols must continue to be maintained, calling it "explicit" in its interpretation.
"Permanent housing is always the better option," Goldfein said, alluding to dwellings like hotels.
Goldfein told Newsweek ahead of a hearing Friday that when the city disclosed its plan to use this Bronx site and other sites not designed for long-term habitation, many questions were asked about how it will operate and what rules will apply there.
"We are still waiting for answers," he said Friday. "We also expressed concern that children not be placed in congregate settings, which we have seen time and time again is dangerous, and that the needs of people with disabilities must be accommodated. We will be carefully monitoring the implementation of the city's plan to ensure that it complies with legal requirements and is effectively serving our clients."
The Legal Aid Society provided Newsweek with a new statement on Friday, in response to reporting that Adams is finalizing a deal with the Norwegian Cruise Line to house migrants on a massive cruise ship to be docked at Staten Island's Homeport.
"As we've previously stated, cruise ships are not designed or equipped to provide adequate shelter and services to homeless people, particularly those with disabilities," part of the statement reads. "Furthermore, ventilation within the close quarters of a cruise ship is inadequate to protect people from airborne infectious diseases like COVID-19 and tuberculosis."
It also expresses concern with individuals' and families' ability to access jobs, health care, schools, child care, legal assistance, community-based services and other critical resources.
Fabien Levy, a spokesman for Adams, told the New York Times that the administration has formed a task force to examine a possible reassessment of practices around the right-to-shelter law.
"I think we ought to be very concerned if a re-examination means an undoing or revocation of the right to shelter, which actually, I'm grateful the mayor cannot do," Hanif said.
Newsweek reached out to Adams, Hanif and other members of the Committee on Immigration for comment.