NYC Mayor Blames Republicans' 'Failure' for Migrant Killing Herself
As the feud between Republican and Democratic governors and mayors continues to escalate over the busing of migrants to cities like New York City, Washington, D.C., Chicago and Martha's Vineyard in Massachusetts, the recent suicide of one asylum seeker has revealed the human costs of the recent political drama.
On Monday, New York City Mayor Eric Adams announced that one of the migrants who was relocated to the city died by suicide the day prior in a city-owned facility after being "traumatized by this whole experience."
Asked by WNYC's Elizabeth Kim whether the woman's death represented a failure by the city to identify someone in crisis, Adams said no, blaming it on the decisions of Republican officials who "sent people on multi-day bus rides" instead.
In recent months, Republican governors from Texas, Arizona and Florida have all bussed or flown migrants to Democratic-led states in an effort to get members of President Joe Biden's own party to ramp up the pressure on his administration and urge them to act on the situation at the U.S.-Mexico border.
In response to Adams' remarks, Texas Governor Greg Abbott's press secretary Renae Eze, told Newsweek in a statement that "instead of complaining about a couple thousand migrants being bused into his self-declared sanctuary city and using these migrants for political attacks, Mayor Adams should call on President Biden to take immediate action to secure the border—something the President continues failing to do."
"The death of every migrant, including the 53 migrants who died in a tractor trailer in San Antonio, is on President Biden and his reckless open border policies," Eze continued in the statement. "Mayor Adams is flat-out lying and selectively attacking Texas' busing operation, while conveniently ignoring migrants bused into New York City by Democrat-led El Paso and flown by President Biden."
She added that those who were placed on a bus signed a voluntary consent waiver in multiple languages agreeing to the destinations that they were being taking to, and were provided with food, water and rest stops along the way to New York. They were also allowed to disembark the bus at any of the stops if their cases were processed by the federal government and resulted in their release.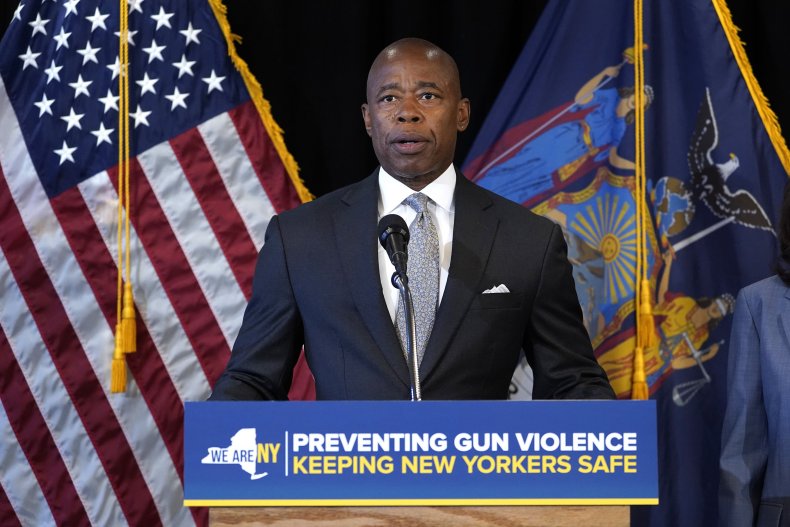 As officials in places like New York City have scrambled to find resources and shelter for the thousands of asylum seekers that have arrived, Sunday's death marks the first among those who have been sent North as part of a political statement.
On Monday, Adams released a statement saying, "The thousands of asylum seekers we have seen arrive in our city came to this country seeking a better life. Sadly though, yesterday, an asylum seeker in one of our facilities took her own life."
He added: "Our hearts break for this young woman and any loved ones she may have, and we, as a city mourn her. This tragedy is a reminder that we have an obligation to do everything in our power to help those in need."
Meanwhile, six more buses from Texas arrived in New York City on Sunday morning. In response to the new busloads of migrants, Adams announced that his team was looking into legal action to stop Abbott from sending more migrants to the city.
"We believe there are some options we have, because when you involuntarily place someone on a bus, we believe that actually skates the law," the mayor told CBS 2.
According to the mayor, homeless shelters in the city have reached a "breaking point." Since May, at least 11,000 migrants have entered the city's shelters. More than a fifth of them arrived on buses chartered by Abbott.
On Sunday, Adams slammed the actions of Abbott and Florida Governor Ron DeSantis, the latter who flew about 50 Venezuelan migrants to Martha's Vineyard last week, as "inhumane" and "anti-American."
"This is to cover up the erosion of human-rights that both those governors have been participating in," Adams said during an appearance on MSNBC, adding that the increasingly dire situation in New York City is part of "a humanitarian crisis that was made by human hands, by some of the governors in the southern states."
In a statement emailed to Newsweek on Friday, DeSantis' spokesperson said that flying migrants out of Florida is part of the state's "relocation program," which is meant to ban human smugglers and traffickers, and "illegal aliens at the southern border" from coming into the state.
"Florida continues to litigate against Biden's catch and release policy and has initiated a statewide grand jury to examine the harmful impacts of illegal immigration across the state," the statement read.
Newsweek reached out to DeSantis' office for comment.
Update 09/19/22 4:38 p.m. This story was updated with comments from Abbott's press secretary Renae Eze.