Fox News Host Confronts Stefanik on Migrant Buses: 'These Are Real People'
Fox News host Shannon Bream confronted Representative Elise Stefanik, a New York Republican, on Sunday about a new GOP tactic of transporting migrants from southern states to Democratic-led states.
Florida Governor Ron DeSantis drew attention to the scheme earlier this month when he sent a plane of about 50 Venezuelan migrants to Martha's Vineyard in Massachusetts, allegedly without notifying local officials. Migrants alleged they were coerced onto the flight with false information that they would be met with jobs and housing upon arrival. Meanwhile, other migrants have been bused to New York City and to Vice President Kamala Harris' residence in Washington, D.C., by Texas Governor Greg Abbott.
The tactic has been widely criticized as an attempt to use migrants as a political tool to draw attention to what Republicans see as a border crisis ahead of the November midterm elections.
Bream questioned Stefanik about the strategy on Fox News Sunday, referring to a Reuters/Ipsos poll indicating only about one-third of Americans support it.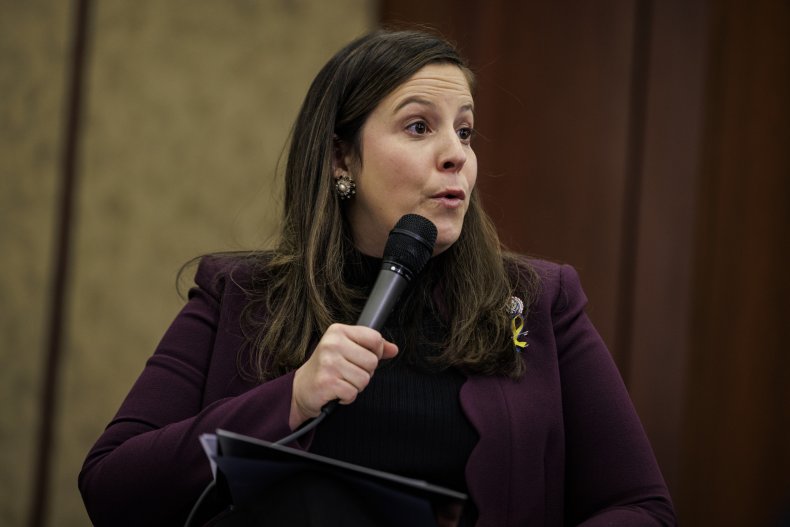 "In this poll, a majority of Americans said that they don't think it's okay to be transporting people this way," Bream said. "They are real people with real lives."
Stefanik did not directly address the tactic, instead accusing President Joe Biden of causing a border crisis by embracing more lax immigration policies. She also pointed out that, despite poor polling on transporting migrants out of state, Republicans typically see strong polling numbers on how they handle immigration issues and border security.
"We have this border crisis because of the amnesty policies and the wide open border that's happened under a Democrat government, under Joe Biden," the Republican lawmaker said.
Bream, however, responded: "But when Republicans have controlled the White House, House and Senate, immigration did not get resolved. The border was not fully secured."
Stefanik said Republicans still made "significant inroads" on border security when they held majorities in Congress.
"We were addressing the border security crisis, and that has unraveled starting on day one under Joe Biden," the congresswoman said.
Stefanik Says Democrats 'Incentivize Illegal Immigration'
In a statement to Newsweek, Stefanik criticized Democrats for implementing "radical sanctuary state policies that have incentivized a surge of illegal immigration into our state."
Stefanik referred to a New York law that allows migrants to obtain drivers licenses and prohibits the Department of Motor Vehicles (DMV) from sharing information with the Department of Homeland Security as "incentivizing illegal immigration" to the state.
"The most effective way for us to address the illegal immigration crisis plaguing our state and country is to secure our southern border and end these Far Left Democrats' open border and sanctuary state policies. The quickest way to accomplish this is by voting these Far Left Democrats out of office this November," Stefanik wrote.
Democrats have defended their handling of immigration, painting policies enacted by former President Donald Trump and embraced by most of the GOP, as inhumane. They point to external factors, including political and economic unrest in some Central and South American countries, as being a larger contributor to increased migration than any domestic policies adapted in the U.S.
GOP's Busing Tactic Criticized
Voters in recent polls said Republicans are stronger on border security issues, but have shifted away from the GOP on the tactic of transporting migrants to Democratic-led states. Only 29 percent of Americans support the tactic, according to the Reuters poll. Meanwhile, 40 percent opposed it.
Even some Republicans have voiced discomfort with the practice. Jared Kushner, Trump's son-in-law, described it as "troubling" during an appearance on Fox News last week.
"I personally watch what's happening, and it's very hard to see at the southern border, I also—we have to remember that these are human beings, they're people, so seeing them being used as political pawns one way or the other is very troubling to me," he said.