How to Watch 'The Inheritance': The Two-Part Epic Play on Broadway
Readers wanting to know how to watch a show is common these days; there are so many options and platforms. But that question usually does not extend to Broadway plays. The current production of The Inheritance, the two-part six-and-a-half-hour play by Matthew Lopez "that is inspired by the novel Howards End by E. M. Forster" has inspired many questions. But two that immediately arise are:
A. Do you need to have read the novel before seeing the play?
And
B. Do you see both parts in one day or over two days?
The answer to the first one is simple: you need about as much knowledge of Howards End to appreciate The Inheritance as someone needs to read Pride and Prejudice to appreciate Bridget Jones's Diary or Emma to follow Clueless. Here, you have the Wilcoxes, an umbrella, a couple of generations, few class conflicts and the titular inheritance. After that, you should be able to wing it. For, as long the play's running time is, The Inheritance is actually tightly scripted and self-contained; it holds up nicely on its own.
The second question is a little more complicated to answer. First of all, one should see it. It is, in a way, a younger generation's Angels in America. In fact, it might be called 'another gay fantasia on national themes'—or at least New York themes, but they often have ways of becoming national themes and vice versa. This is a post–AIDS epidemic play for a younger generation that did not have deal with the seemingly daily loss of loved ones, colleagues and icons. Angels make their presence known in The Inheritance too: Cherry blossoms fall like angel feathers throughout. And a variety of angels grace the Barrymore stage. Some rich, some not so; some guardian and one very arch angel.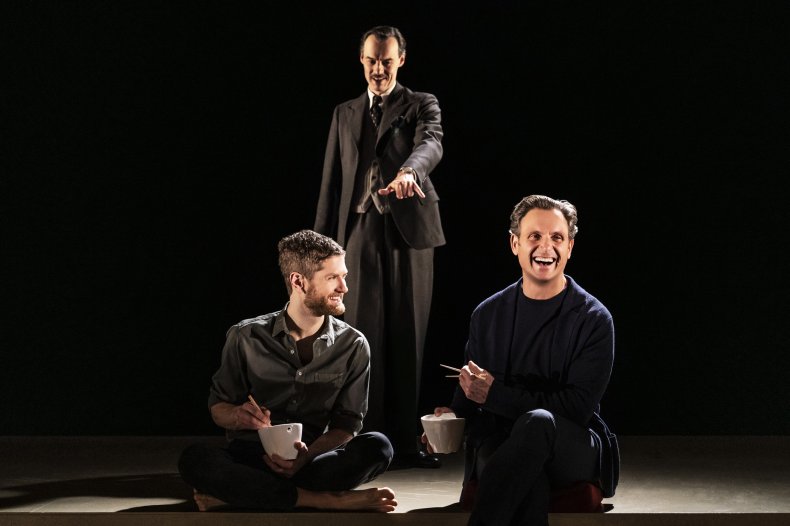 And while in Angels the world only spins forward and in The Inheritance it spins with (and without) people, in both plays the world stops on its axis for a moment at the end of the first part. Like its theatrical forebear, The Inheritance's first half has one of the most touching and exciting endings in memory—in my case about 40 years.
This is not to call the play dark. It is not at all. It has many extremely funny moments. And director Stephen Daldry keeps it moving at a Shakespearean clip. It is well-paced, well-acted and the action never flags. When I left after the first part, I had to double-check the time. I thought it was about the standard two and half hours, not three hours plus. And I was more than ready for Part 2, which, by the way, features acting legend Lois Smith.
This brings us back to the second question. When a plays moves and engages, time pretty much ceases to exist. I've seen 70-minute one-act plays that have lasted six and half hours—if in only in my mind. The Inheritance experience falls about 180 degrees away from any of those plays. And while schedules necessitated my seeing The Inheritance in two parts, only last year I saw Angels in America in one day. Once, I actually stood for the full eight and a half hours of the original production on The Life and Adventures of Nicholas Nickleby—I was much younger then, with stronger legs and a lower back that had not yet betrayed me. Soon after that, the original four-hour Torch Song Trilogy—that was a piece of cake. All this is just to say that I think I can objectively speak some to the differences between the two ways to view this piece.
When seeing The Inheritance over two days one can, in the interim, ruminate research and discuss specific aspects of the plot and production. Lopez's writing is rich in detail and things move quickly, so you might miss some of those details here and there. Nothing major, I assume, but things misremembered can easily be corrected and confusion avoided, when one had time to let the experience of the first half percolate. On the other hand, I can think of no more exhilarating moment in the theater than seeing Roger Rees (Nicholas Nickleby) holding David Threlfall (Smike) at the climactic moment of Nicholas Nickleby. Eight and half hours had just washed over me in what seemed like a few minutes. Likewise, when the Angel made her spectacular entry in Tony Kushner's masterpiece at the end of Millennium Approaches, the last thing I wanted to do was leave the Neil Simon Theatre. On those days in those theaters, time really had ceased to exist.
A Bingeable Feast
From the overheard-in-the-lobby department: Some audience members, those who apparently have the bingeing chromosome, likened viewing this production to seeing separate seasons of a streaming series. A couple wanted to see everything in one fell swoop while others opted for two spaced-out evenings. The Inheritance, then, might be called the first Broadway play of the bingeing generation.
To be sure, in this case, a few interesting situations can arise. Some audience members who chose to take the two-day option in December and came back in January saw two different Henry Wilcoxes. John Benjamin Hickey, who originated the role, has taken a four-month leave of absence to direct a revival of Neil Simon's Plaza Suite on Broadway. As of January 5, Tony Goldwyn, most recently seen as Max Schumacher on Broadway in last season's electric production Network, has taken over the role. Likewise, later on in the run, people who see Goldwyn in the first part might catch Hickey returning from his leave of absence.
Two Actors, One Role
I happened to see two different actors play Eric Glass: Kyle Soller in the first part and, taking over while Soller was on vacation, Sam Lilja in Part 2. The difference was noticed but not jarring at all.
This almost never happens in theater—two-part plays being very rare—but it has happened in television in several occasions. Baby boomers will remember the situation of Bewitched, when Dick York was forced to leave the show due to illness and was replaced—with nary a mention—by Dick Sargent, whom he resembled. For younger viewers, more current examples can be found in Seinfeld. Morty Seinfeld was originally played by Phil Bruns and then by Barney Martin. Frank Costanza was originally played by John Randolph before Jerry Stiller took over. Even Newman was first voice acted by Larry David before Wayne Knight was cast.
In none of these cases did anyone—except maybe Bruns and Randolph—look back. And neither should audiences of The Inheritance. As did Hickey, Goldwyn gives a first-rate performance fitting in easily with this talented ensemble. However one chooses to see this play, the experience will be happy, rewarding and thrilling. But this is a piece that has to be seen—in one day or two.
The Inheritance Part 2 expands on the theme of the inheritance itself. This is not only about a house or a fortune. It is about a legacy in the broadest sense of the term—the stories that have been handed down from one generation to the next. It's also about the imperative that they be handed down.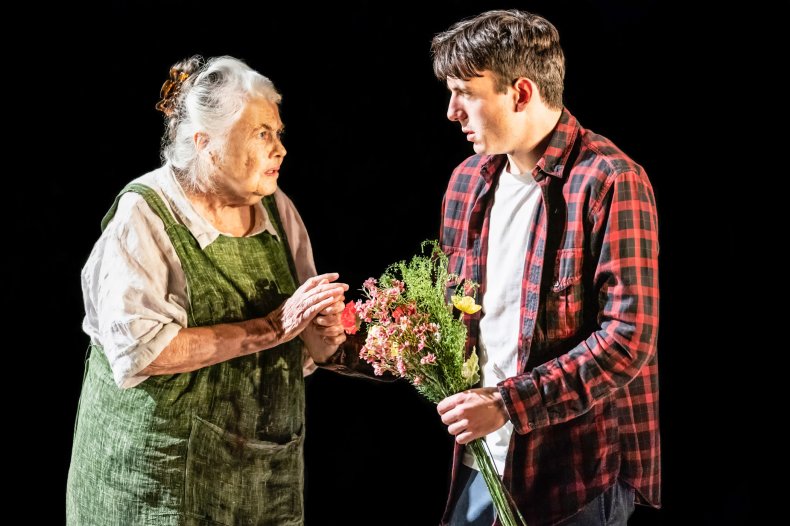 Stories are at the core of The Inheritance. The first line of the play is: "He has a story to tell." And the rest of the play is about him finding a way to tell it. This is encapsulated perfectly in Part 2 with the entry of Margaret, who is played by Lois Smith. One might expect or even heard that Smith has little more than a cameo. She does not. She is virtually the star of her own little one-act play.
Margaret tells the story of her gay son, their relationship and his struggles with AIDS. She also tells about how she came to stay at the upstate house, that titular inheritance. Margaret's speeches may comprise a small percentage of this play, but their emotional wallop is large and long-lasting. Smith who has been a star in theater, film and television since the early 1950s, has shown especially over the past 20 years that she still has that special something that can hold a theater audience. She delivers—in the most emphatic sense of the term—crucial and extended monologues that have to land at a time in the play—whether one is seeing this in one day or over two days—when the attention span of modern audiences might be flagging.
But the audience remains rapt. In fact, one might consider hearing-assisted devices if only to catch all the dialog over the laughter and sobbing at the end of Part 2. The Inheritance is an evening—or two—not to be missed.
The Inheritance and The Inheritance Part 2 are playing at the Ethel Barrymore theatre. For more information on scheduling and tickets go to TheInheritancePlay.com.