Human Smugglers Charging Up To $15,000 Per Person for U.S. Border Crossing
Despite the risks of injury and death that come with crossing the U.S.-Mexico border, the business of human smuggling continues to attract customers. In a statement to Newsweek, Customs and Border Protection (CBP) reported prices range from a hundred to a few thousand dollars for Mexican nationals, from $8,000 to $10,000 for Central Americans, and from as high as $15,000 to more for people coming from Brazil or Ecuador.
With $8,000 equal to 192,800 Honduran Lempiras (HNL), the cost of crossing doubles the value of the nation's most typical salary of 96,275 HNL, according to Average Salary Survey. This phenomenon looks similar across Central America's Northern Triangle.
In El Salvador, $8,000 equals almost 70,000 Salvadoran Colón (SVC), with the most typical salary being over $61,000 (SVC). In Guatemala $8,000 equals over $61,800 Guatemalan Quetzal (GTQ) while the most typical salary totals over $92,000 GTQ.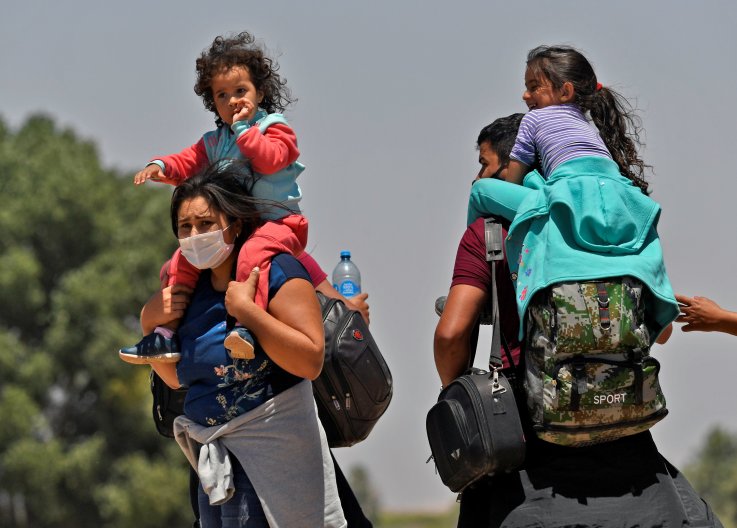 "These criminal organizations do not care about the safety and well-being of the people they are smuggling; they care only about the money," a CBP spokesperson wrote in a statement to Newsweek. In this photo, migrants attempting to cross in to the U.S. from Mexico are detained by U.S. Customs and Border Protection at the border on May 21 in San Luis, Arizona.
Nick Ut/Getty Images
This high price tag means many taking the journey find themselves in debt to their smuggler, the United Nations reports. Those who cannot make payments, the U.N. writes, may fall victim to human trafficking that can include forced labor, sex slavery, and organ harvesting.
"These criminal organizations do not care about the safety and well-being of the people they are smuggling; they care only about the money," a CBP spokesperson wrote in a statement to Newsweek. "The cartel-affiliated human smuggling organizations send their recruiters to other countries and convince vulnerable people and their families to pay large sums to be smuggled illegally."
More than 178,000 people encountered CBP agents at the southern border during the month of April. And recent reports show a number of those individuals entered the country by climbing over the 30-foot border wall.
Some of the individuals making this journey face risk of serious injury, with reports detailing stories of migrants who broke their legs and ankles and incurred serious head injuries after falling over the wall. Over the past fiscal year, CBP has so far rescued 5,638 at the southwest border.
With money centered as their primary focus, smuggling groups, which pay fees to travel through cartel-occupied lands but are generally not cartel members themselves, do consider the reputation of their services. Guadalupe Correa-Cabrera, a political science professor at George Mason University who studies human trafficking in Latin America, said smugglers gain reputations within their areas of operation and people come to know which smugglers offer the safest and most efficient services.
Fraud and deception remain inherent in the business, but Correa-Cabrera said the stories around the experiences of others travel fast and lend a level of knowingness as to what the smuggling process might entail.
She said women understand the inherent risk of being raped, and take contraceptives prior to their journey. If a smuggler becomes known for leaving clients behind during the trip or allowing them to disappear, word travels and business may decline.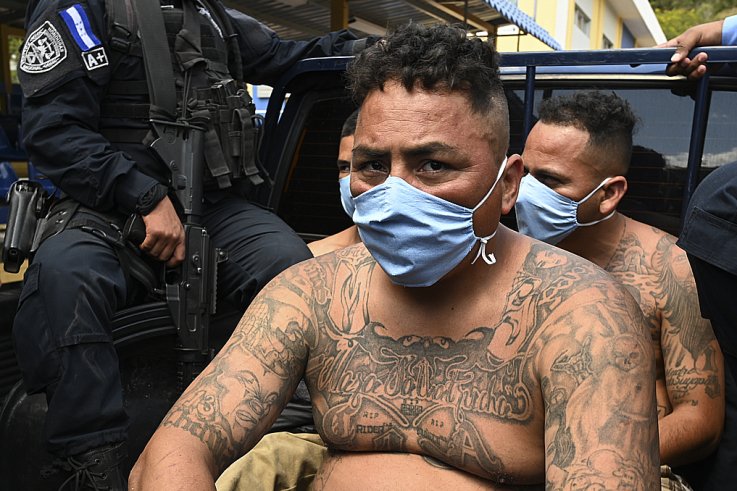 Members of the criminal gang Mara Salvatrucha (MS-13) are trasnsported by officers of the National Police in Tegucigalpa, on February 19, 2021, after the dismantling of an operations center of the organization found in the mountains of the department of Olancho, north of Honduras.
Photo by ORLANDO SIERRA/AFP via Getty Images
"They are not perfectly informed, and situations change, especially when we're talking about changes in an administration, but they are not stupid," Correa-Cabrera told Newsweek. "If people know that that smuggler has been very good and has really made the dreams of many people come true, then he's going to be trusted."
Migrants living in Central America's Northern Triangle face extortion, gang violence, gender violence, job insecurity, and environmental devastation. The three countries comprising the Northern Triangle rank among the six poorest in the Western Hemisphere. Many of those fleeing the area face the choice to either leave or die, resulting in many fleeing on their own accord without time to consider the services of a smuggler.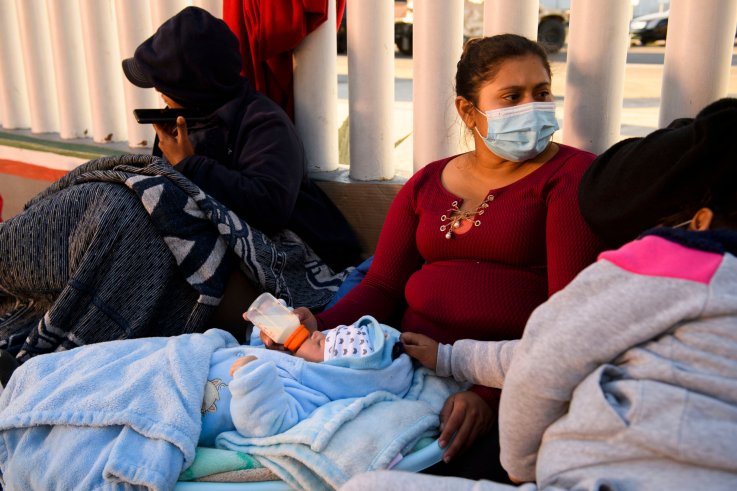 Seven out of 10 encounters at the U.S. border resulted in expulsion under Title 42 in February. An asylum seeker from Honduras (R) cares for her infant son as they wait with family outside the El Chaparral border crossing port as they wait to cross into the United States in Tijuana, Baja California state, Mexico on February 19, 2021.
PATRICK T. FALLON/AFP via Getty Images
However, unlike in the past when asylum seekers could readily present their cases, the number of individuals being let in through the asylum process remains curbed due to Title 42 which allows the government to turn away those seeking asylum on the basis of pandemic control.
Correa-Cabrera said this has resulted in the prominence of a different model of human smuggling, one where migrants already at the border pay a smuggler to help them cross into America, even if that means crossing the border wall.
"Those who arrived at the border and are already there in groups or caravans and are stuck there sometimes are so desperate they hire the services of a smuggler," Correa-Cabrera said. "These people have already gone through so many things, so a lot of smugglers visit migrant shelters and find new clients."