Hurricane Harvey Could Cost $190 Billion, Topping Hurricane Katrina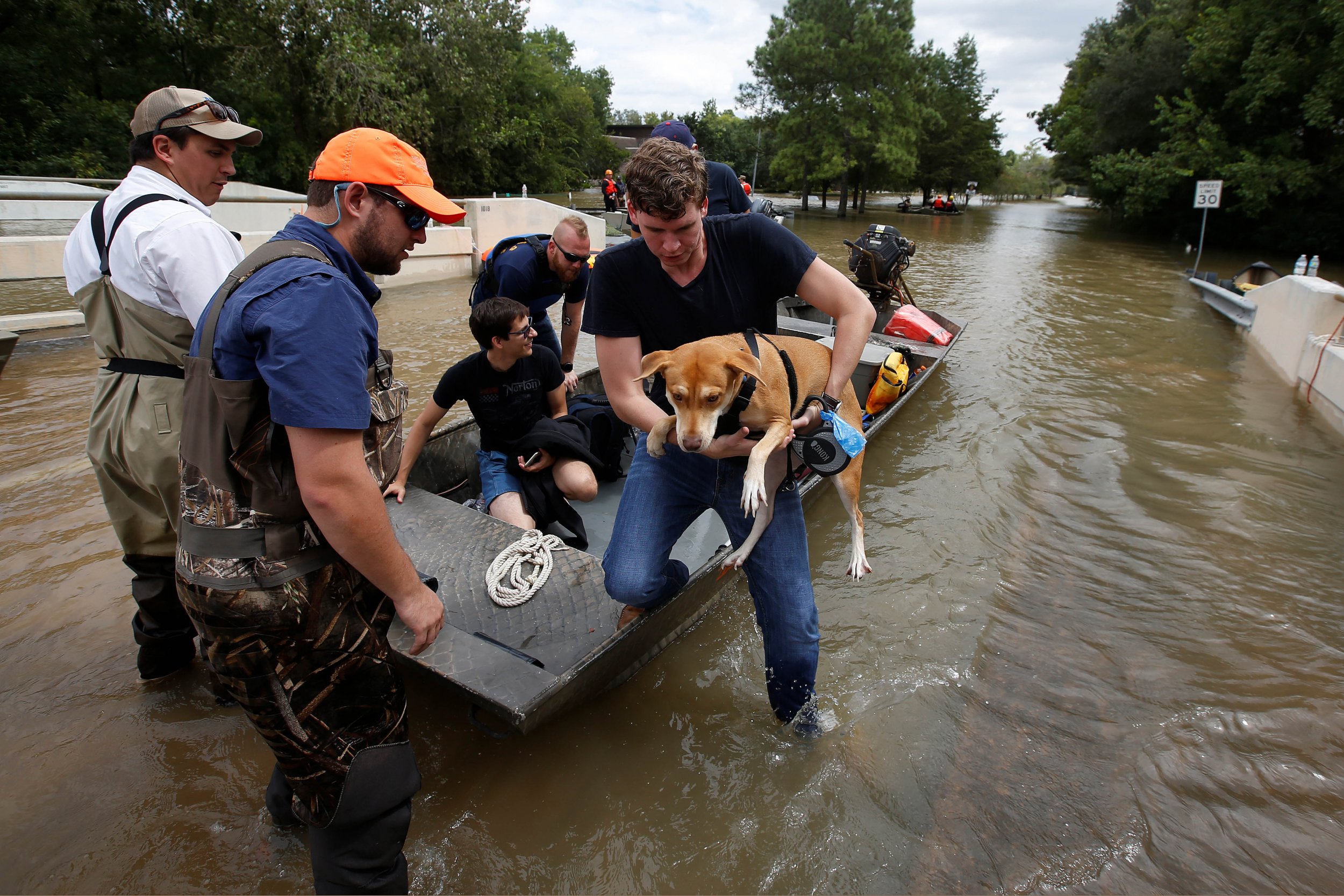 Hurricane Harvey's destruction is on track to cost $190 billion and top the price of damage inflicted during Hurricane Katrina, says a weather forecaster.
"The disaster is just beginning in certain areas. Parts of Houston [...] will be uninhabitable for weeks and possibly months due to water damage, mould, disease-ridden water and all that will follow this 1,000-year flood," said Joel Myers, president of meteorological firm AccuWeather in a release.
The costs could mark a one percent hit to America's GDP. If AccuWeather's prediction is correct, it would make Hurricane Harvey the most expensive natural disaster in American history.
By comparison, Hurricane Katrina saw a $160 billion loss to the economy in 2017 dollars, according to the Center for Disaster Management and Risk Reduction, a German disaster management firm.
The firm calculated in a report this week that $267 billion worth of infrastructure, government equipment, cars, commercial and industrial facilities and private homes have been damaged to some degree by Harvey and need to be fixed or replaced.
"Indirect losses and total macroeconomic effects are expected to increase this estimate," the report said, "as well as damage in neighbouring Louisiana and further inland as rainfall-induced flooding occurs."
The damage from the storm is not over yet. Although it has been downgraded to a tropical storm, overnight flooding has hit Beaumont and Port Arthur in Texas.
Read more: The Worst Examples of Hurricane Harvey Price Gouging
"There will be more flooding, damage, fatalities and injuries," Myers said, urging everyone in the path of the path of the tropical storm "to remain vigilant and be prepared to take immediate action if flood waters rise."
The hurricane has dumped trillions of gallons of water on Texas. According to Matthew Cappucci, a student of atmospheric sciences at Harvard who spoke with NPR, that in a 36-hour period this week 9 trillion gallons of water fell on the Houston area alone.
"If you took the Empire State Building, more than a hundred stories tall, you could fill that entire volume 33,000 times with the water that fell on Houston and the surrounding areas," Cappucci said.
Texas' oil industry and chemical plants have felt severe effects from the storm. Yesterday explosions hit the Arkema chemical plant just outside of Houston after it was flooded with six feet of water. An Exxon Mobil oil refinery near Houston has been heavily damaged by the storm, and about 10 oil refineries on the Gulf Coast went offline since the hurricane made landfall last Friday.
The Associated Press reported Thursday that Republicans have moved to strip $875 million from the FEMA Disaster Relief Fund to put a downpayment on Trump's border wall project. The party's leaders will likely move to reverse those cuts next week. The president has said he will ask Congress to divert disaster recovery funding to areas of Texas and Louisiana affected by the storm.
Before the storm his last Friday the asset management company William Blair & Co. calculated that it could lead to $25 billion in insurance costs alone if Harvey landed as a "large Category 3 hurricane." It landed as a Category 4.
Costs are set to rise. Out of those who were in the hurricane's path along the Gulf Coast, only two in 10 homeowners have insurance coverage, Robert Hunter, director of insurance at the Consumer Federation of America, told the Associated Press early this week.
He put the storm's cost at $35 billion from flood damage alone.
"All these people taken out in boats, they have a second problem," Hunter said, "they have no insurance."