'iCarly': Miranda Cosgrove Reveals Original Concept for the Show
Miranda Cosgrove has revealed that the original concept for iCarly was not based on a web show.
iCarly followed the story of Carly (Cosgrove) and her best friend Sam (Jennette McCurdy) on their journey to internet stardom after they start a web show with friend Freddie (Nathan Kress) behind the camera.
However, the plotline, which was a hit with children all over the world, wasn't always the plan for the show. Cosgrove told how Carly was originally supposed to find fame on a television show.
In an interview with Newsweek Cosgrove explained: "When they came to me and asked me to do the show iCarly, I didn't understand, originally the character Carly was supposed to get cast on a TV show and she becomes famous from being on a TV show. But she's just this regular person that this casting director sees her and picks her and puts her on a show."
The 28-year-old went on to say that the decision to change make Carly into the host of a web show came very last minute.
"They were like, let's make it a web show—like last minute—they switched it," she explained. "And it was funny because back then, I didn't even know what a web show was. I was like a TV show would make so much more sense to me. I don't get this whole web show."
The show first aired back in 2007, when Cosgrove was just 14 years old, and spanned five seasons until it wrapped in 2012.
Now, to the delight of fans everywhere, the sitcom has made a return on Paramount+ in a more adult version of the show.
The reboot came about after Cosgrove received a phone call from Nickelodeon's Executive Vice President Paula Kaplan, who suggested that they were thinking of iCarly for a revival.
The singer, who is the voice of the show's iconic theme tune "Leave It All To Me," said the writers actively incorporated elements from their real lives into the revival.
For Cosgrove, that included a lot of bad dates, which her character Carly experiences within the first two episodes of the show.
"We just spent so many hours zooming with the writers, telling them stories about our lives and things that we've been through over the last 10 years," the actress explained. "They really incorporated like in my life, everyone who knows me knows I go on a lot of very weirdly bad dates. Like every time go on a date somehow it just goes terribly wrong. So they definitely put that into the Carly character, even on the original show."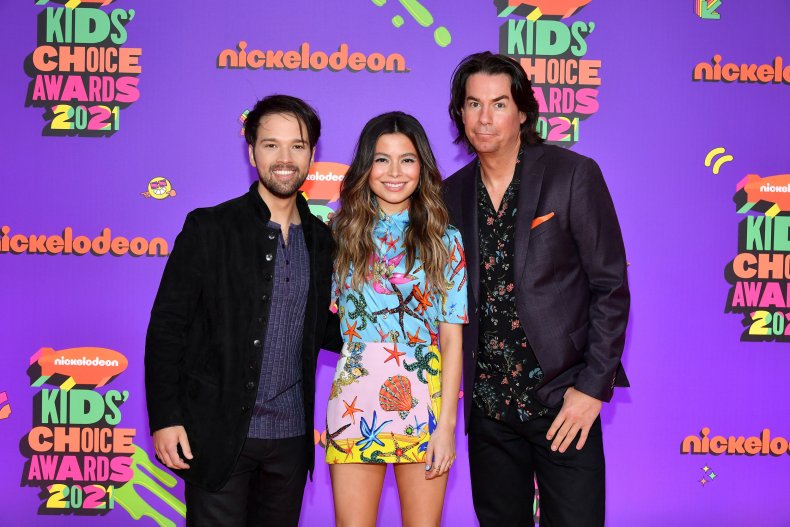 Cosgrove added that, with the show being aimed at a more adult audience, they had the freedom to explore topics, such as awful dating experiences and awkward moments.
The decision to not make another children's show was something the cast were passionate about, according to Cosgrove.
In fact, Cosgrove and co-star Jerry Trainor, who plays her older brother Spencer, actively read comments online to see what the show's original fans wanted to see.
She said: "Jerry and I had like so many conversations about, you know, what do people want to see? And we would go online and even read people's comments about the old [show]."
"Even when it was announced that we were doing or revival, we read a lot of comments online, just trying to gauge what people were hoping for, because we're still making the season even now."
iCarly's return has been nostalgic for not only original viewers, but Cosgrove as well.
The actress admitted that she was left feeling emotional when she stepped onto the set of the revival for the first time, adding that her entire childhood took place on the show.
"It's really nostalgic for me—just like it probably is for the people that are watching it because it was my entire childhood, everything," she said. "Like my first date, I left the set of the show iCarly to go on the date. Like the guy picked me up from there, just everything I remember from being young was on that."
The first three episodes of the iCarly revival are on Paramount+ now.