Idris Elba's Refusal To Hire His Daughter for Film Sparks Debate
Idris Elba's daughter did not speak to her famous dad for three weeks after he controversially refused to cast her in his new film.
People's former Sexiest Man Alive decided he and 20-year-old daughter, Isan, did not "have the right chemistry" in order for her to star as his fictional offspring in the film, Beast.
"The relationship in the film and the relationship between my daughter was, the chemistry wasn't right for [the] film," Elba said on radio show, The Breakfast Club, before adding, "weirdly enough."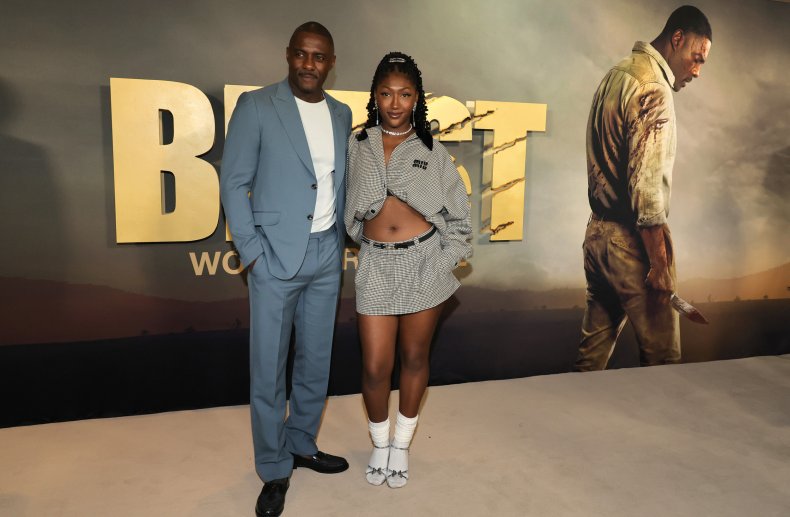 Isan is Elba's child from his first marriage to Hanne Norgaard and he is also dad to 5-year-old son, Winston, with former girlfriend Naiyana Garth. The London-raised actor has been married to third wife, Sabrina Dhowre, since 2019.
Elba did not even break the bad news to the aspiring actress and that job was left to producer Will Packer.
"I called and talked to her, 'cause I've known her for a very long time, you know what I mean," Packer said on the radio show. "I'm like 'Uncle Will.' That's like my little niece, you know, and she's amazing."
But Packer promised we would be hearing a lot more in the future from his talented "niece."
"You're definitely going to be seeing her," he promised.
Despite not speaking to her dad for three weeks after the devastating phone call, Isan eventually came around and managed to attend the star studded premiere of the film.
"We got through that you know and I'm really proud of her to go through that, not get the role, but still come to the premiere," Elba said.
Movie fans were split over Elba's decision, with some criticizing the star for not giving his daughter a helping hand in the industry.
"Nepotism is how lots of people got their positions in the business world. I don't think there is anything wrong with helping a family member get a position," wrote one fan on Reddit.
Another person added: "I would totally put my kid in my movie. I would just hire all my friends like Adam Sandler and Kevin Smith did."
And a third wrote: "I think 90 percent of people have abused nepotism in their life, so in my opinion it's more weird to not go out your way to help your daughter succeed is worse parenting. Hot take, but almost every family will inevitably look out for each other."
But others applauded Elba for not following the recent Hollywood trend of aspiring stars getting a head start in showbusiness thanks to their famous parents.
One fan argued: "Especially when we're seeing quite a staggering amount of Nepotism babies in the film industry, it's great to see someone like Idris choosing not to contribute to that. Or at least not giving her an unfair advantage, and letting her win or lose the role on her own merits."
Another agreed: "I'm actually really impressed he didn't use his influence to get her the part, good job Idris, parenting done right."
The debate around nepotism has gained traction after Gwyneth Paltrow recently came under fire for her comments that children with famous parents have to work harder than those without industry connections.
Paltrow's parents are actress Blythe Danner and deceased film maker Bruce Paltrow, with the Goop founder also able to claim Oscar-winning director Steven Spielberg as her god-father.
"As the child of someone, you get access other people don't have, so the playing field is not level in that way," she told Hailey Bieber on her vlog, Who's in My Bathroom?.
"However, I really do feel that once your foot is in the door, which you unfairly got in, then you almost have to work twice as hard and be twice as good."
The mom-of-two said: "Because people are ready to pull you down and say, 'You don't belong there,' or, 'You are only there because of your dad or your mom.'"
Supermodel Bieber, who comes from Hollywood royalty including dad Stephen Baldwin, and famous uncles, Alec, William and Daniel Baldwin, agreed with Paltrow's views.
"I need to hear this today," Justin Bieber's wife said on the vlog.
In Beast, Elba plays Dr. Nate Samuels who goes on safari with his two teenage daughters to connect with the land where their recently deceased mother grew up.
The deeply emotional trip should be a chance for Samuels and his daughters to heal their wounds after the profound loss, but it becomes a nightmare when a blood thirsty lion sets his sights on them.
The lion is hell-bent on revenge after surviving ruthless poachers and now considers all humans to be prey.
Elba's character battles the lion in the new thriller and will do anything to protect what remains of his family.
Beast hits theaters on August 19.