Ilhan Omar Becomes Latest Progressive to Embrace Kamala Harris
One of the most liberal members of Congress threw their support behind Senator Kamala Harris as Joe Biden's pick for his vice presidential running mate on Wednesday, joining a growing number of prominent progressives who have publicly embraced the Democratic senator from California.
"I am excited," Representative Ilhan Omar said, coming off a Tuesday night victory of her Democratic primary for Minnesota's 5th Congressional District.
Omar, a Somali refugee, is a member of the four-person liberal group of women of color known as "The Squad." The outspoken quartet also includes the likes of Representatives Alexandria Ocasio-Cortez (N.Y.), Rashida Tlaib (Mich.) and Ayanna Pressley (Mass.).
"[Harris] is someone who's been really strong on environmental issues, on climate, someone who's really strong in energizing a base that feels taken for granted by the Democratic Party," Omar told reporters on a conference call.
The first-term lawmaker staved off the moderate and well-financed challenger Antone Melton-Meaux, a Black attorney, by nearly 20 points.
Omar joined the likes of liberal and moderate members of her party to praise Biden's decision. Though Harris' own presidential campaign tilted to the left, she's viewed as more of a centrist member within the broad scope of the Democratic Party who more closely aligns with Biden than the liberal wing.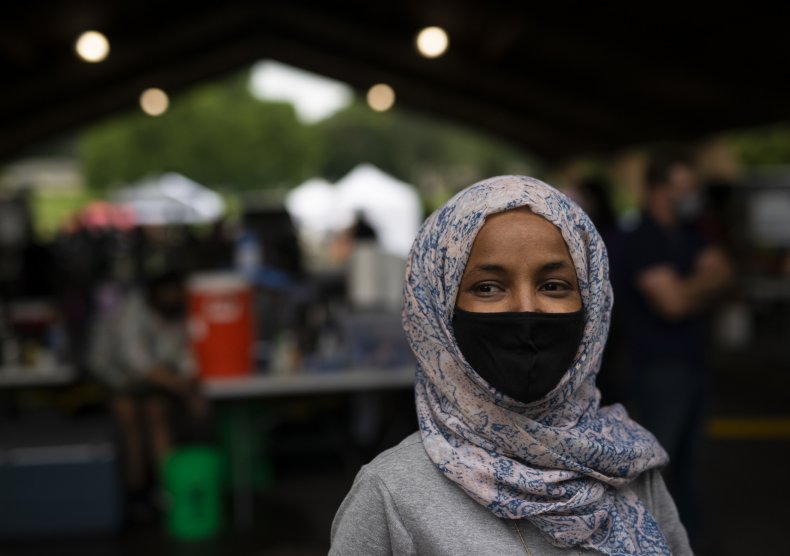 Tlaib and Val Demings (D-Fla.), a former Trump impeachment manager with a more centrist tone who was also being considered the vice presidential slot, both offered praise. Tlaib's praise was despite her refusal to endorse Biden.
"I've fought alongside Senator @KamalaHarris for direct cash payments during the pandemic and for clean water as a human right," Tlaib tweeted. "Now let's defeat Trump and make those policies a reality."
Palestinian-Muslim-American organizer Linda Sarsour tweeted that while "it's no secret that I have disagreements" with Biden and Harris, "I know what I need to do - Elect the Biden-Harris ticket and prepare to hold them accountable in the White House."
Many Democrats from across the political spectrum cited a similar reason for why Harris meant so much for Biden: she became the first woman of color to be on a presidential ticket.
"Folks are excited not to only be voters on the Democratic side, but to be seen as part of those who will have the responsibility and the honor and the privilege of creating policies," Omar said. "[Progressives have] always been the pacesetters where our party should go and how to achieve that better tomorrow."
Separate from those in the political realm, Harris also enjoys a high favorability rating among registered Democratic voters. Throughout the past year, even amid her bid for the party's presidential nomination, Harris enjoyed a positive opinion rating around 65 percent compared to a negative view that fluctuated around 20 percent and less, as shown by the chart below by Statista.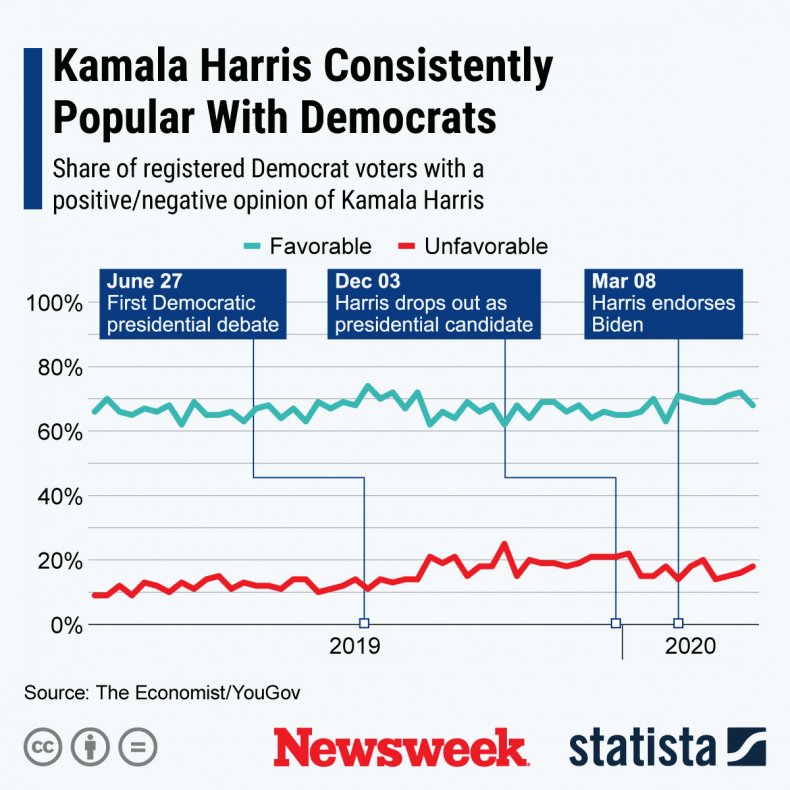 Between the Trump campaign, GOP operatives and the president himself, Republicans have appeared confused on how to characterize Harris: A tough-on-crime prosecutor vs. another Democrat who hates police and is weak on crime, a socialist with a "radical manifesto" vs. a moderate and disappointing choice for liberals.
Republican National Committee Chairwoman Ronna McDaniel said that Harris' positions are "extreme" and "show that the left-wing mob is controlling Biden's candidacy, just like they would control him as president." A subsequent RNC release changed tunes, saying "Liberals revolt against Biden, Harris ticket."
"Phony Kamala will abandon her own morals, as well as try to bury her record as a prosecutor, in order to appease the anti-police extremists controlling the Democrat Party," Trump campaign adviser Katrina Pierson said in a statement. "She is proof that Joe Biden is an empty shell being filled with the extreme agenda of the radicals on the left."
Trump campaign aide Brad Parscale said Harris was the equivalent to "Bernie Bros get burned."
Trump labeled Harris "nasty"—a term he often uses to describe women—and one of "the meanest, the most disrespectful of anyone in the U.S. Senate."
"The 'suburban housewife' will be voting for me," the president tweeted Wednesday. "They want safety & are thrilled that I ended the long running program where low income housing would invade their neighborhood."