Video: Ilhan Omar Fires Back at Critics—'We Are Not There to Be Quiet.... We Are There to...Make Good Trouble'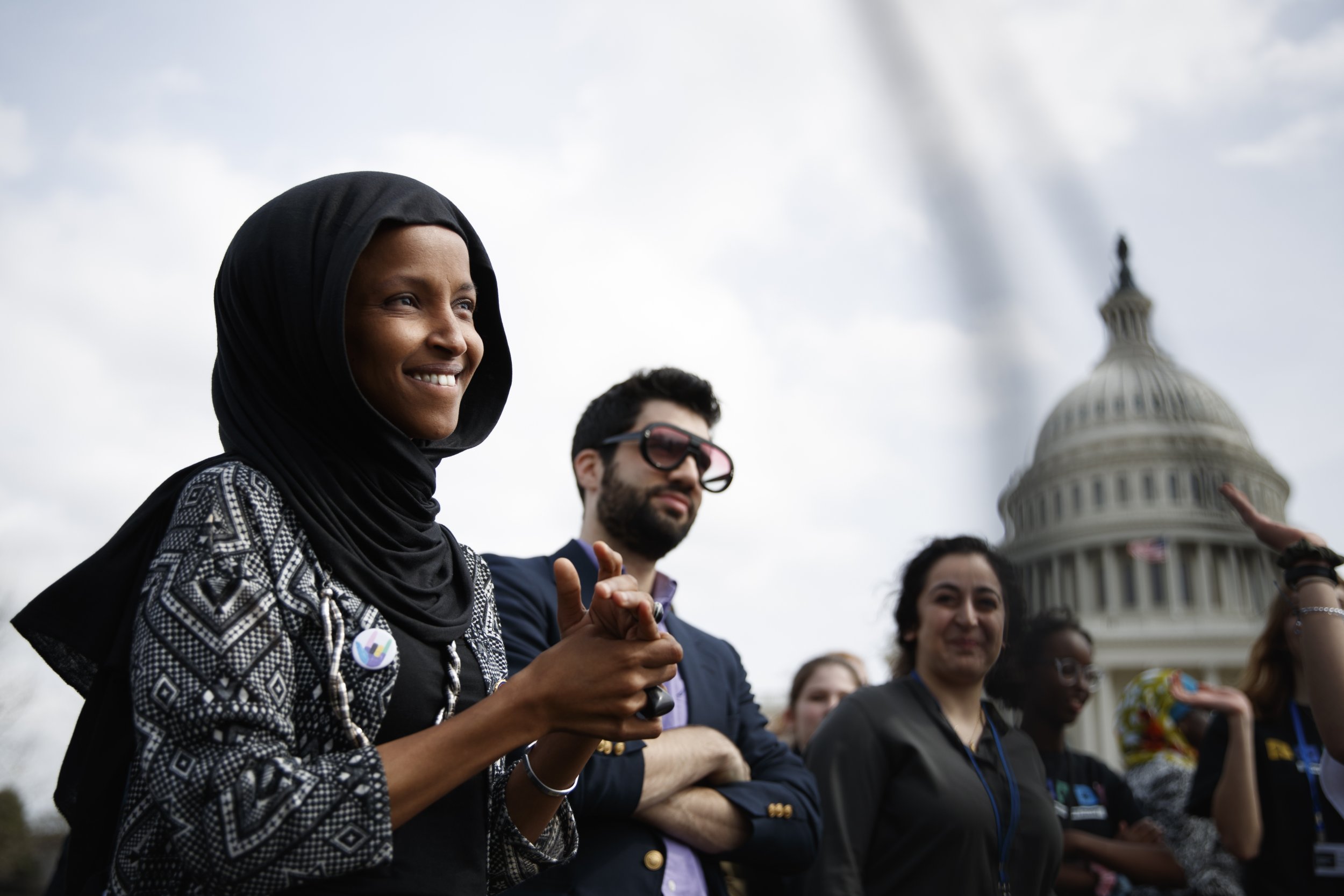 Representative Ilhan Omar of Minnesota has hit back at critics of her and fellow "outspoken" freshman congresswomen Rashida Tlaib and Alexandria Ocasio-Cortez.
Speaking with Stephen Colbert on Wednesday's Late Show, Omar said she and other women of color in the House aren't about to step back and be quiet.
Colbert said both Republicans and Democrats, including House Speaker Nancy Pelosi, have suggested that Omar and other "new, outspoken, quite noted members of Congress" should slow down and take a back seat in the House.
In response, Omar said, "Women have been told to go slow and not be seen and not be heard for many years. And [Nancy] wouldn't have made it to where she is if she did."
Adding that women of color in particular were expected to go slow, she continued: "We are not there to be quiet. We are not there to be invisible. We are there to follow the lead of people like Congressman John Lewis and make good trouble."
An influential civil rights leader, Lewis was a key figure in the fight to end racial segregation in America. Alongside Martin Luther King Jr., James Farmer and others, the former Student Nonviolent Coordinating Committee chair helped organize 1963's landmark March on Washington. He has represented Georgia's 5th District since 1987.
Earlier in the interview, Colbert brought up a controversial tweet by Omar that some say invoked anti-Semitism. In February, she provoked a backlash when she said the influence of a pro-Israel lobbying group on American politics was "all about the Benjamins."
In a statement, Pelosi and others called out Omar for her use of "anti-Semitic tropes" in the now-deleted tweet. Omar later apologized for the language she had used.
In her Late Show interview, she said she hadn't initially understood the connotations of her tweet. Describing a conversation she had with Minnesota Attorney General Keith Ellison about language considered offensive to African Americans, Omar said: "He's going through a list, and I said, 'I wouldn't be offended by those things.' And he said, 'Well, you're an African immigrant—none of those things hold history for you.'
"Oftentimes when you are speaking you might not understand the historical context of some of the words that you might use and the kind of pain that it might incite for people," Omar continued. "When you tell me that you are pained by something that I say, I will always listen, and I will acknowledge your pain."
Pelosi made a similar point during an Economic Club event in Washington, D.C., in March. "I don't think our colleague is anti-Semitic," Pelosi said, reiterating her previous defense of Omar. "I think she has a different experience in the use of words [and] doesn't understand that some of them are fraught with meaning."