Meet the Female Somali Military Captain Fighting Al-Shabab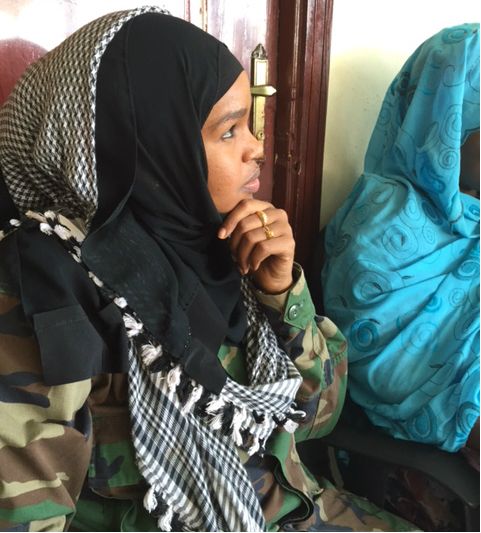 For Iman Elman, wearing a skirt on the frontline against Al-Shabab was never an option. The 24-year-old, now a captain and one of the most prominent women in the Somali National Army (SNA), has faced numerous challenges since joining the military in 2011. She has brushed off sexist behaviour and ignored discriminatory comments, but the most galling moment came when instead of her regulation uniform she was handed two pairs of trousers to sew together into a skirt.
"Many people thought that [a woman wearing trousers] was unacceptable and disrespectful, but I wanted to be at the front with my fellow soldiers and wearing a skirt in that situation was just not realistic," she says.
Women make up a small percentage of the Somali military—about 1,500 out of 20,000 fighters, or 7.5 percent. Even fewer have attained the rank of captain, which involves commanding a troop of (mostly male) soldiers. Most are confined to menial roles, such as providing security at police stations, rather than fighting on the frontline. Few are bold enough to go out in pants as Elman does, though she does wear a traditional hijab as a mark of respect.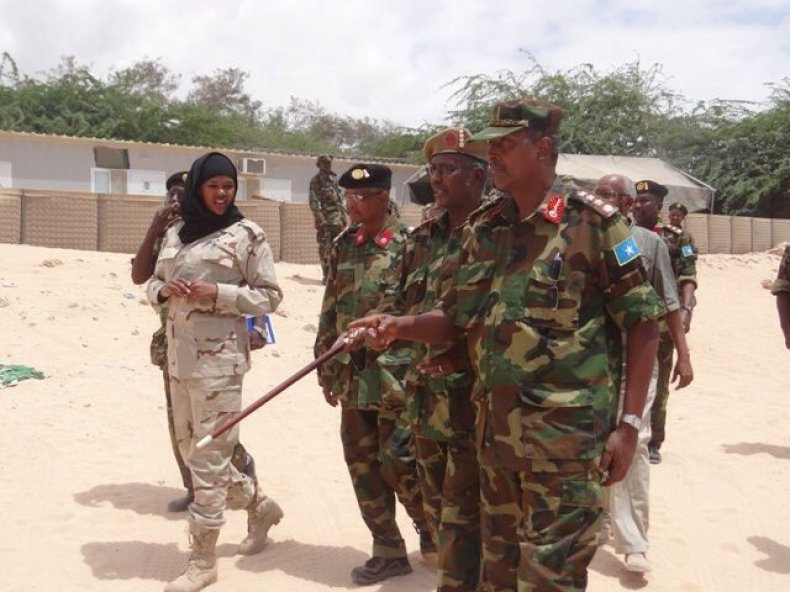 According to Elman, the mindset behind her uniform alteration is a by-product of Al-Shabab's insurgency in Somalia. Since its emergence in the early 2000s, the Al-Qaeda-affiliated organization has waged war against the federal government in Somalia, as well as the African Union (AU) 22,000-strong peacekeeping force stationed in Somalia—known as AMISOM—and the force's constituent countries.
Al-Shabab lost control of key Somali towns after an AU offensive in 2011-12, but still holds territory in many rural parts of the country. In the areas under its control, it exercises a harsh version of Sharia law: Al-Shabab imposes a strict dress code for women, insisting they wear a full-face veil—or niqab—to leave nothing exposed except their eyes, and has stoned people accused of committing adultery.
"With Al-Shabab's ideology, they changed the mindset of the people and you can see it's really affecting the local people because now you have to dress a certain way," says Elman. "A lot of the ways Somali women are dressed now is not the way they dressed 25 or 30 years ago." While Somalia is a Muslim majority country—an estimated 99.8 percent of the population ascribe to Islam, the vast majority being Sunni—Elman maintains that, prior to Al-Shabab's emergence, Somali women were not as oppressed as they are now. Whereas women traditionally wore a light, loose-fitting dress called a guntiino combined with a headdress, now the niqab is often imposed in areas under the insurgents' control.
Elman's journey to her current rank is an unusual one. Born in Mogadishu, she left with her older sisters Ilwad and Almas and her mother, Fartuun Adan, for Ottawa, Canada at the age of two after the collapse of the Somali government under Siad Barre in 1991 sparked a decades-long civil war between rival clans. Her father, Elman Ali Ahmed, was a Somali electronics businessman who stayed behind in the country to work as a peace activist, preventing children abandoned or orphaned by war from becoming child soldiers. He is feted in Somalia as a symbol of peace—he even established a football club, Elman FC, in 1993 for street children, which has won a number of Somali league titles since—and is best known for his slogan: "Put down the gun, pick up the pen." He was assassinated in 1996, possibly by warlords irritated by his activities, though the identities of his killers has never been established.
Upon her return to Somalia in 2007, Fartuun took up his cause by restarting the Elman Peace and Human Rights Center, where she was later joined by Ilwad. The center was originally set up by their husband and father in 1993 and works with young people affected by the war. Upon returning in early 2010, Iman saw how Al-Shabab was ravishing Somalia: The group had launched a major assault on Mogadishu in mid-2009, taking control of much of the city, while hardline members of the group had taken to publicly whipping women for wearing bras, which they claimed were deceptive and violated Islam. Motivated by the suffering of Somalis and looking to prove a point as a woman, Iman opted to take a different path from her sister and mother and join the military.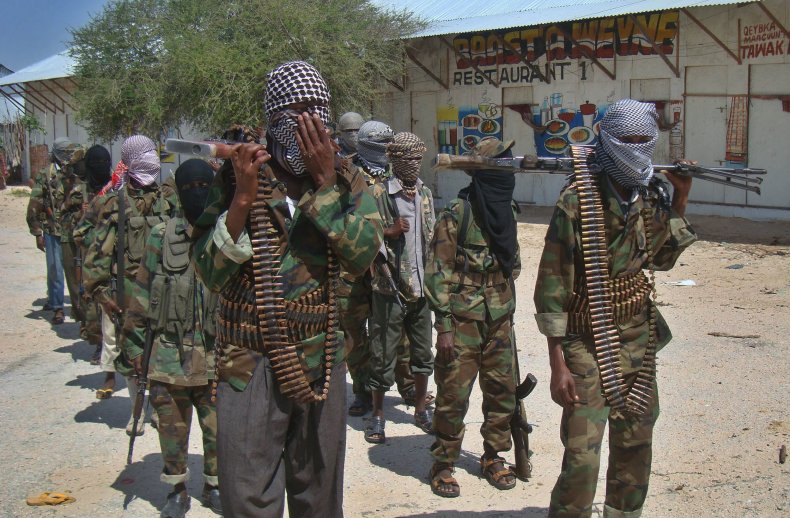 "People find it ironic that I decided to pick up the gun," she says. "[But] we're still striving for the same goal, we still want peace for the Somali people. I'm a strong activist, I work hard in trying to protect women's rights, and I feel I can do that by being a role model and being at the frontline." While the rest of her family worry for her safety, Elman says they admire the path she has chosen. "They are proud of me and that I am making a difference," she says.
Originally formed with the aim of displacing Ethiopian troops who invaded Mogadishu in 2006, Al-Shabab has increasingly shown a tendency towards attacking civilian targets in recent years. A recent example of this was a January attack on a restaurant in Mogadishu's popular Lido beach, which left 20 people dead. "This is a game changer. Now, everyone is a target for Al-Shabab," says Elman. " I think they have lost whatever little support they had from the Somali people."
Despite estimates that the group has between 7,000 and 9,000 fighters, Elman insists the idea that Al-Shabab is anything like as dominant as it used to be is mistaken. "The misconception is that they are a strong force. The reality is that there isn't a large number of them, there's a very small number but they are mobile and can easily disperse themselves in different areas," says Elman, who now splits her time between the SNA's logistics center and out in the field, where she leads fanning operations looking to uncover covert Al-Shabab fighters and bases. Despite recent setbacks in operations against the militants—Al-Shabab may have killed up to 200 Kenyan soldiers in an attack on an AU base in Somalia's Gedo region in January—Elman is adamant that the SNA, with public support, will destroy the militants. "I absolutely believe that the Somali people will overcome Al-Shabab once and for all," she says.
Partially as a product of Al-Shabab's insurgency, Somalia still remains a tough place to be a woman. The Horn of Africa country was ranked the fifth most dangerous nation to be a woman in by a 2011 Thomson Reuters Foundation survey. Women are often subjected to gender-based violence—almost 4,000 cases were recorded in 2012 by UNICEF partners—and the country has the highest rate of female genital mutilation (FGM) in the world at 98 percent, though the government has signalled plans to outlaw the practice.
Elman says that, in five years' time, she hopes move into the policy wing of the military and become actively involved in recruiting more women to join. She also wants to function as a mentor for young women interested in joining the military, something she never had. "I know I have already inspired women and men, but I would like to see more women who are in a position of power also encourage girls by being mentors," says Elman. "That is why I always try to prioritize young girls who come to me and ask me questions. We need to build those ladders of support between women."