Ime Udoka Suspended: ESPN Hosts Have Heated Exchange Over Celtics' Decision
The Boston Celtics on Thursday announced that coach Ime Udoka has been suspended for one year. The following morning, the news regarding Udoka's punishment resulted in a verbal dust-up between two of ESPN's most popular personalities, Stephen A. Smith and Malika Andrews.
The Celtics did not provide many details about what it called a monthslong investigation into Udoka, but ESPN reported sources said the punishment was brought on due to the coach having a relationship with an unnamed woman who works with the organization. Udoka also hasn't said much on the matter, other than a statement he provided to Andrews in which he apologized to his family and Celtics fans.
Smith discussed Udoka's suspension on his program First Take. The popular host took umbrage with the fact that Boston disciplined Udoka without naming the employee with whom he allegedly had a relationship.
"So only he is in violation of a company policy?" Smith said. "The woman who elected to have a consensual relationship with him is not in violation? He gets to get mentioned and put on front street? We don't know who she is."
His complaint resulted in Andrews, host of ESPN's NBA Today, to call into First Take and criticize Smith for blaming women.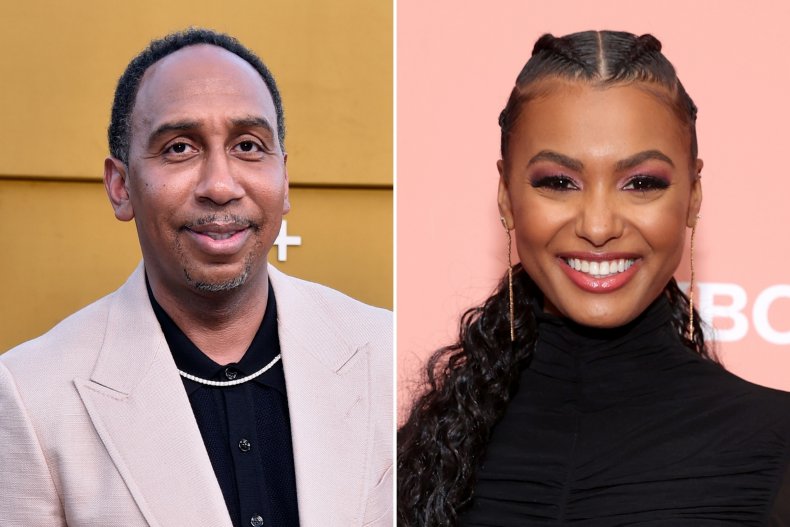 "Stephen A., with all due respect, this is not about pointing the finger. Stop. What became apparent to me, in this press conference, is that we do not have all of the information here and it was frustrating to me that the Celtics declined to elaborate or give more specifics about what exactly the rule-breaking was that led up to this point," Andrews said.
She added, "We are not here, Stephen A., to blame women. That is not why we are here."
Smith appeared to have not appreciated Andrews' comments.
"First of all, let me be very clear, I don't appreciate where you're going with that. I'm not blaming anybody but Ime Udoka," Smith said. "The fact of the matter is, I said he deserves to be fired if you're going to fire him. If you're not going to fire him then don't fire him. My issue is all of this being publicized."
Andrew tried to interject while Smith continued speaking, but he cut her off.
"Excuse me. I listened to you," he said. "You're the one telling me to stop on my show, that ain't happening. Okay. That's number one. Number two, I've already said he deserves to be fired or he deserves to be there and handle it internally and privately."
Newsweek reached out to ESPN for comment.