Impeaching Donald Trump Is 'About Doing What's Right Now for Our Country,' Rashida Tlaib Says
Democratic Representative Rashida Tlaib argued Sunday that attempting to impeach President Donald Trump would be in the best interest of the country.
Tlaib, a freshman progressive from Michigan, appeared for an interview on NBC News' Meet the Press to discuss her efforts to push Democrats in Congress to move forward with impeachment proceedings. She argued that the Trump administration was violating the Constitution by trying to hinder congressional investigations.
"This is not about the 2020 election, it's about doing what's right now for our country," Tlaib said. The congresswoman argued that her and her colleagues were unable to successfully accomplish what they came to Washington to do with Trump as the president.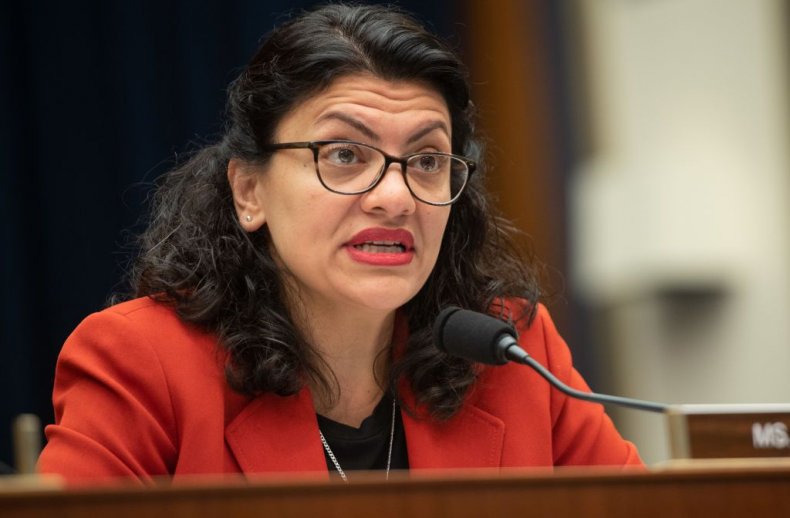 "For me, to fight back against Big Pharma, for many of my colleagues that came there to pass really important reforms that are needed, we can't do it when the president of the United States continues to lie to the American people, continues to not follow through on subpoenas and give us the information that we need," she explained.
Earlier this year, Tlaib introduced a bill that called on Congress to begin investigating the president's impeachable offenses. She also infamously said in January that "we're going to go in and impeach the mothef---er," referring to Trump.
Although Tlaib was criticized for the remark, she doubled-down on the statement at the time. "I will always speak truth to power," she wrote on Twitter. "This is not just about Donald Trump. This is about all of us. In the face of this constitutional crisis, we must rise."
Speaker of the House Nancy Pelosi, a Democrat from California, has been reluctant to listen to vocal lawmakers within her party who have called for Congress to move forward with articles of impeachment. She has previously argued that impeachment is too divisive for the country, and suggested that it would be better to defeat Trump in the 2020 presidential election.
But calls from fellow Democrats have grown louder in recent weeks as the Trump administration has refused to comply with multiple subpoenas from congressional committees.
Pelosi's tone has also changed, saying last week that Trump is "crying out" for impeachment. The comment from the House speaker came after the president abruptly walked out of a meeting with top Democrats regarding infrastructure. He argued that he could not work with Democrats, demanding they end investigations into his administration.
"There's no question: the White House is just crying out for impeachment. That's why he flipped yesterday," Pelosi later told reporters.
Tlaib argued on Sunday that "the public's trust is at stake."
"We need to stop separating the fact that we're trying to change peoples' lives for the better, but we have an administration that continues to violate the United States Constitution," she said.
Other prominent Democrats, such as 2020 presidential hopeful Senator Elizabeth Warren of Massachusetts, progressive Representative Alexandria Ocasio-Cortez of New York and many others, have also called for Trump's impeachment in recent weeks.
Last week, Congressman Justin Amash — also of Michigan — became the first sitting Republican lawmaker to openly say that Trump had committed impeachable offenses. He subsequently claimed that other GOP legislators have privately sympathized with his claim but none have come forward.
Though some Trump critics hailed the Amash statement as a crack in the Republican armor, supporters of the impeachment movement don't need any of their GOP colleagues in the House to turn against the president. The House can impeach a sitting president on a simple majority vote, and Democrats hold a sizeable majority in the lower chamber. The roadblock to their plans would lie in the upper chamber, where Republicans not only hold a slim 53-47 majority, but where two-thirds of Senators would need to agree that the president should be removed from office.