Impeachment Managers Remind Senate of Close Calls for Pence, Romney, Trauma of Riot
Never-before-seen footage from the insurrection that took place at the U.S. Capitol on January 6 was introduced by the House impeachment managers on day two of Donald Trump's trial.
The newly released security footage and audio communications tracked Vice President Mike Pence, Senator Mitt Romney (R-Utah) and staffers of House Speaker Nancy Pelosi (D-Calif.) as rioters swarmed the building.
The first video showed the inside view as rioters breached the building for the first time, breaking windows to climb inside. The first wave of trespassers included some armed people, including one person in tactical gear carrying a baseball bat.
Other newly released clips showed Capitol police officer Eugene Goodman — who famously confronted the mob and used himself as bait to lure them away from the entrance to the Senate chamber where several lawmakers were still awaiting evacuation — redirecting Romney away from oncoming rioters. Goodman was also shown leading rioters away from the chambers where Pence and his family were being ushered out.
Security footage also showed rioters attempting to break down doors where Pelosi's staff members were hiding. In one audio clip, a Pelosi staffer whispered during a call requesting Capitol police to come as the House Speaker's offices were ransacked.
Stacey Plaskett, the Democratic impeachment manager who presented some of the new material, said Pence and Pelosi "were put in danger because President Trump put his own desires, his own need for power, over his duty to the Constitution and our democratic process. President Trump put a target on their backs, and his mob broke into the Capitol to hunt them down."
While the new information was played, senators on both sides were spotted listening and watching the videos intently and many only turned away from the screen to take notes. Some Republican members were not in the chamber as the presentation was shown, as they chose to watch the proceedings from their cloak room.
Representative Eric Swalwell (D-Calif.) then continued to show more never-before-seen video and audio clips of the Capitol breach. At one point, he appealed directly to the senators: "You know how close you came to the mob, some of you, I understand, could hear them. But most of the public does not understand how close they came to you."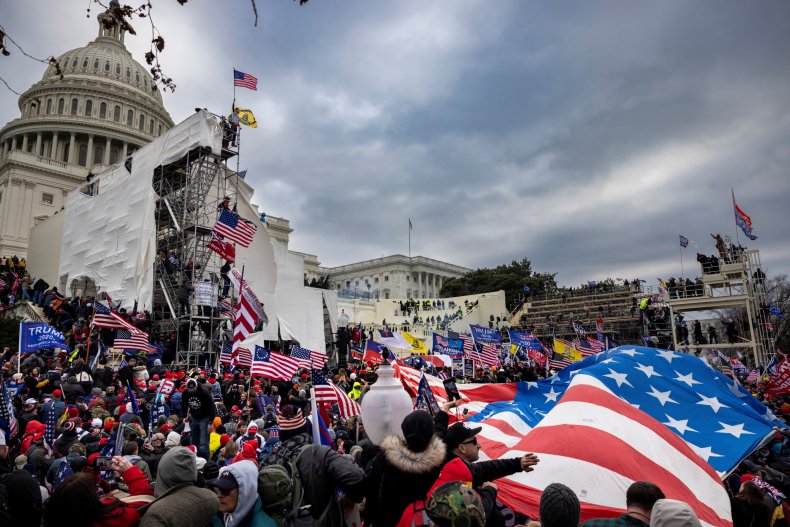 The managers also made public for the first time radio communications from Capitol police, in which officers could be heard calling for backup and stating there were multiple injuries as rioters were "throwing metal poles at us."
The rioters were attempting to disrupt the congressional certification of President Joe Biden's election, after Trump baselessly accused the election of being stolen from him. One week after the Capitol attack, the House of Representatives voted 232 to 197 to charge him with "incitement of insurrection."
The impeachment trial kicked off Tuesday with a four-hour debate over whether the proceeding is constitutional since Trump is no longer in office. The issue was resolved in a 56 to 44 vote, with six Republican senators crossing party lines to join Democrats in affirming the trial's constitutionality.
The ten Democrats also effectively used video footage in their opening argument on Tuesday. The 13-minute montage recapped the events that took place on January 6, including snippets of Trump's speech at a "Save America" rally and the violence from rioters as they breached the Capitol.
The first day marked a rocky start for Trump's attorneys, Bruce Castor Jr. and David Schoen. Both were criticized by Republican lawmakers and political analysts over their opening arguments. Louisiana's Bill Cassidy, who voted "yes" on constitutionality, described the duo as "disorganized." Trump ally Lindsey Graham said he "really didn't know where it was going."
The Democratic impeachment managers and Trump's team will have 16 hours each to present their case to the Senate. Trump's team will begin their presentation on Friday.