Independents Believe U.S. Is Heading in Wrong Direction Amid Biden's Low Approval Rating
A new poll has found that President Joe Biden's approval rating has remained low at 42 percent in December as it was in late November, but more independents now believe that the U.S. is heading in the wrong direction.
The NPR/ Marist National Poll released on Thursday showed that 65 percent of independents believe the country is heading in the wrong direction compared to only 31 percent of Democrats who believe so.
Support for Biden among independent voters, a key demographic for the president's re-election, has been dropping over the past few months. According to a Gallup poll released in October, only 34 percent of independents said they approve of Biden, dipping 21 percentage points since June. Biden's approval rating among independents has dropped 9 points since August.
Independent voters were crucial to Biden's presidential win in 2020 as they favored him over former President Donald Trump by 13 points.
The majority of independent voters blame Biden for surging inflation, according to a Politico/ Morning Consult survey released in October. The poll showed that 61 percent of independents think that the Biden administration's policies are somewhat or very responsible for the increase in prices across the country.
The Politico/Morning Consult poll surveyed 1,998 registered voters between October 16 and October 18.
"The negative trends for Biden are almost entirely due to movement by independents. Most of them don't have deep interest in politics and just respond to the latest headlines," Paul Quirk, a political scientist at the University of British Columbia, told Newsweek on Thursday. "If Biden starts having more successes, his approval ratings can easily go back up to the mid-50s. If his hard times continue, however, the Democrats' prospects in the midterm elections will be increasingly grim."
Still, Quirk said that Biden has been receiving criticisms from everywhere including progressives and conservatives.
"On his domestic measures, Progressives are angry that he is not spending enough. Mainstream Democrats have seen too much delay and inaction on the legislation. It looks like a failure of leadership," he said. "At the same time, conservatives have been horrified by the amounts of spending, and their implications for the federal debt."
Biden's approval rating has also been affected by the divide on the way Biden is handling the pandemic, according to Quirk. He said some anti-vaxers are "angry" about COVID-related mandates while others are "alarmed because COVID cases are on the rise again, at a time when they hoped the pandemic would be behind us."
"Biden is also held responsible for the fact that the economic recovery remains in first gear," Quirk added.
According to the Politico/Morning Consult poll, 62 percent of Americans said that Biden's policies caused inflation, including 41 percent of Democrats and 85 percent of Republicans.
In September, prices for goods such as food and gas increased, according to the Department of Labor. The increase pushed inflation up 5.4 percent from where it was a year ago.
The rise in inflation has been caused by supply chain issues resulting from the pandemic that had an impact on a range of products and services.
Meanwhile, according to the December NPR/Marist National Poll, 61 percent of Americans and 88 percent of Republicans believed the country is heading in the wrong direction, according to the poll which surveyed 1,172 adults between November 30 and December 6.
"After pumping billions into the economy during 2021, Biden does not seem to be benefiting despite more Americans supporting the programs than opposing them," said Lee M. Miringoff, Director of the Marist College Institute for Public Opinion, according to the survey.
"Whether it's a lack of salesmanship or the stubborn pandemic—or both—is a question the White House must tackle going into the 2022 midterms," Miringoff added.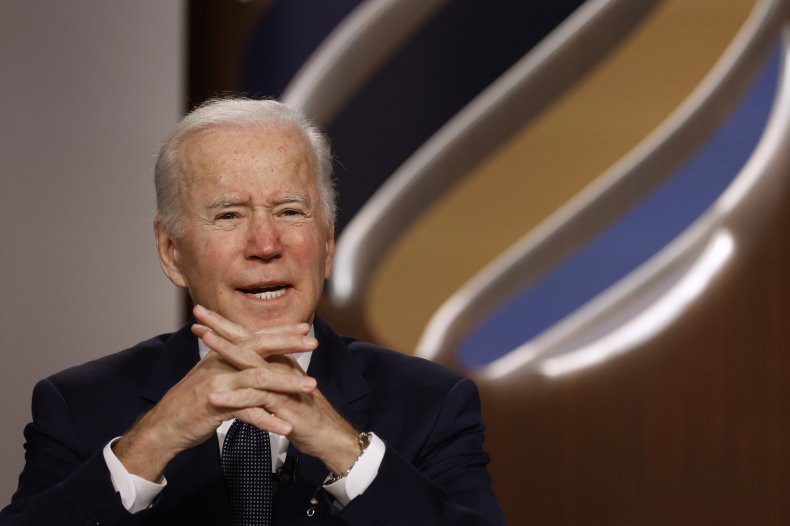 Approval of Biden's handling of the pandemic has plummeted to 50 percent compared to 55 percent in NPR/ Marist National Poll in September.
Newsweek reached out to the White House and experts for comment.
Updated 12/09/2021, 6:08 p.m. ET: This story has been updated with comments from political scientist Paul Quirk.