5 Ways India's Narendra Modi Is Like Donald Trump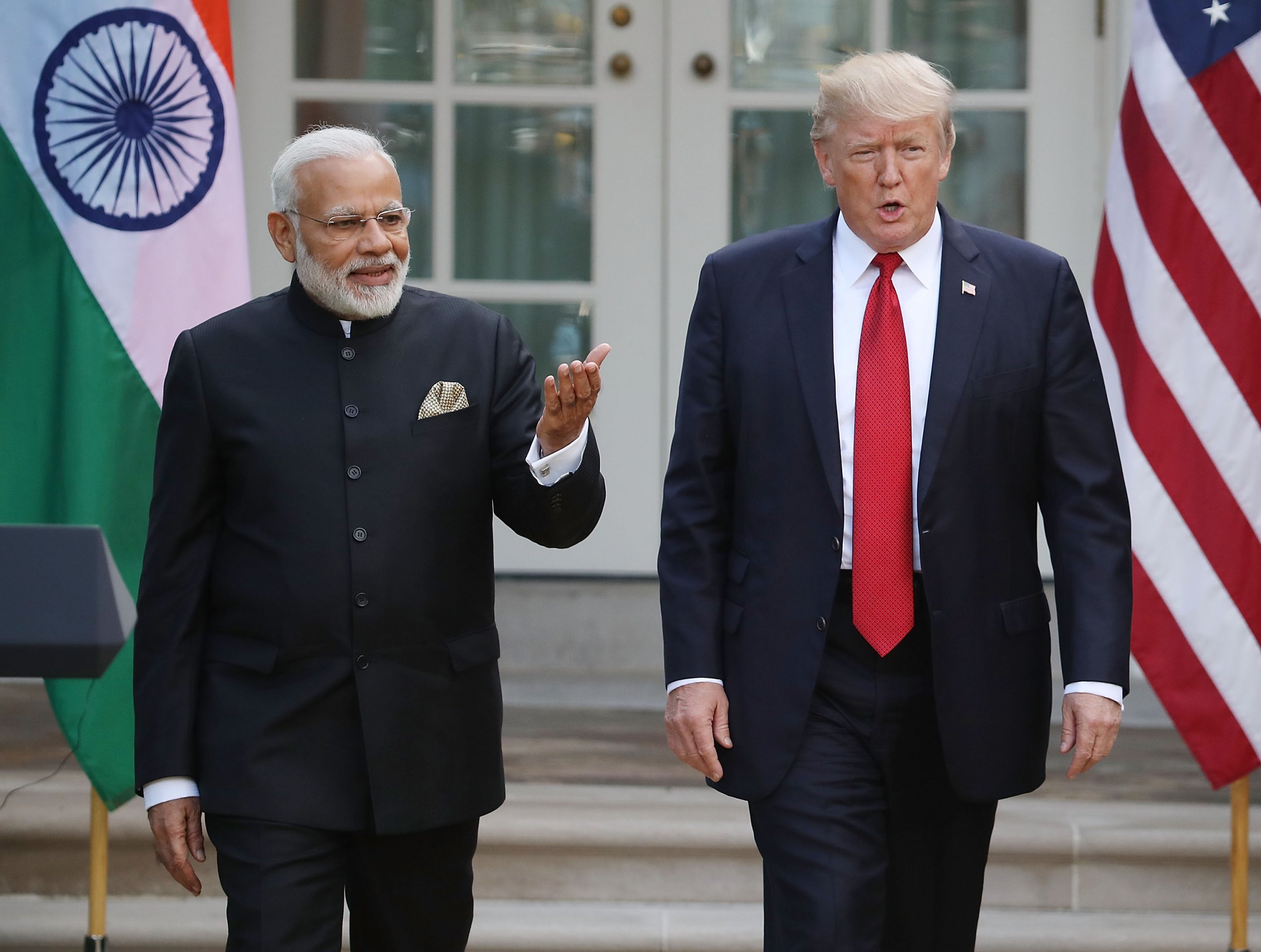 India's Prime Minister Narendra Modi is on course to strengthen his governing alliance's majority in the lower house of the national parliament. His own party, the Hindu nationalist BJP, may have even won an outright majority itself when results are declared.
Modi has been referred to as India's Trump, which may be misleading because it was Modi who came first, winning the 2014 Indian general election on a populist strongman platform that sought to redefine his nation as a society that prioritizes the majority Hindus above all others.
The two men come from vastly different worlds. But they do share similarities in style and substance. Here are five ways Modi is like President Donald Trump.
Making Politics Personal
Trump portrayed himself as a smart and hard dealmaker, a self-made businessman Americans can trust to get things done, an outsider from the Washington establishment whose shares the common man's instincts, a leader who puts America first and will make the country great again.
Throughout his 2016 campaign and now presidency, Trump, who relishes his celebrity, has put his name and face front and center, creating a cult of personality among his devoted, merch-clad supporters.
Modi is not so different. He governs and campaigns like a president (even though India does not have a presidential system), having built a significant public profile during his controversial tenure as chief minister of Gujarat state, in which he is accused of stoking deadly anti-Muslim violence.
At his own Trump-esque rallies, Modi's fans wear masks of his face, chant his name and drape themselves in Modi merchandise as he promises greatness and strength for India under his hard-line, nationalistic leadership.
He even had NaMo TV, a dedicated channel to himself, running on Indian television during much of the elections, which critics said broke electoral rules.
"He started off with this reputation that he transformed Gujarat and that he gets things done," Gareth Price, a senior research fellow on the Asia-Pacific program at Chatham House, the international affairs think tank, told Newsweek.
"India is a chaotic place, he brings order, economic development and so forth. That's how he won the first election and very much in the campaign just now it was similar. He's very popular."
"If you look at the Indian press on any given day there will be posters of his government's achievements, but they'll always have a picture of Narendra Modi," Professor Katharine Adeney, director of the University of Nottingham Asia Research Institute, told Newsweek.
"It doesn't matter if it's about health or sanitation or education—there will be a picture of the prime minister there.... He's framed himself as being a chokidar, which is the word for 'watchman,' the person who secures your property at night.... He's an extremely effective campaigner."
Undocumented Migrants: Invaders and Infiltrators
There are echoes of Modi in Trump's approach to undocumented migrants.
Trump paints undocumented migrants as invaders who bring crime and threaten national security. He wants a huge wall along the southern border to try to keep them out and wants to deport as many of those already in the U.S. as possible.
Under Modi, Adeney said, the BJP sought to amend the law to distinguish between migrants who are Sikhs, Hindus and Buddhists from those who are Muslims, described by the party as "infiltrators" and targeted by its supporters for harassment and acts of violence.
Bangladesh split from Pakistan in 1971 in a civil war. During that conflict, Muslims and Hindus fled Bangladesh to India, where they settled. But the Muslims, many of whom are undocumented, are singled out by Modi's BJP and targeted by violent nationalists.
"Many of those people are still there in India, and it's incredibly politically contentious. What they're doing now is trying to round up people and send them back, but they're also making a distinction between Hindus and Muslims," Adeney told Newsweek. "They're seen as anti-national, they're seen as infiltrators, they're seen as a security threat."
Nationalism
Both Trump and Modi espouse nationalistic politics. Trump's motto is "America first," and his campaign slogan is "Make America great again." His own rhetoric can be jingoistic, and people who do not agree with him are accused of lacking in patriotism or talking America down.
He has called himself a nationalist, despite its association with far-right and racist movements. At a rally in Houston, Texas, in October, Trump said: "You know, they have a word, it's sort of became old-fashioned, it's called a nationalist. And I say, really, we're not supposed to use that word. You know what I am? I'm a nationalist, OK? I'm a nationalist. Nationalist. Nothing wrong. Use that word. Use that word."
Modi's nationalism is about prioritizing Indian Hindus above all others in society. He also wants India to demonstrate strength and power over its rivals and enemies, particularly Pakistan, with which it has had a decades-long territorial dispute that occasionally flashes into violence.
"He and the BJP are generally challenging the dominant narrative that India's had over 70 years of independence that it is this secular, tolerant democracy where everybody has a place regardless of your religion, regardless of your language," Adeney told Newsweek.
"What the BJP has sought to do is challenge that consensus and say, 'No, we are the land of the Hindus; Muslims can stay here, that's fine, but they've got to recognize the dominance of the Hindus.'"
Adeney said Modi's campaign has benefited from the upsurge in nationalist sentiment after the Pulwama attack in February, in which a jihadist suicide bomber killed 40 members of Indian security forces as they traveled in a convoy.
Modi responded by sending the Indian air force to bomb what it said was a training camp in Balakot, Pakistan, belonging to the extremist group responsible. Pakistan denies the Balakot bombing by India occurred.
"It played extremely well in the campaign, even though it looks like they didn't—quite wisely—hit anything on the Pakistan side of the border. It was actually quite clever. But in India, the finer points of this are lost," Adeney said.
Trouble With the Truth
In his book The Art of the Deal, Trump admits to using what he calls "truthful hyperbole" as a marketing tactic, and according to The Washington Post, which is tracking the his statements, Trump has made more than 10,000 false or misleading claims since taking office.
Modi, too, is known for making outlandish claims. Like Trump, he uses social media to speak directly to his supporters. He also doesn't let the truth get in the way of good propaganda.
Price told Newsweek that Modi and the BJP's messaging is designed for consumption by the urban middle classes, who, research suggests, respond to stories that portray Indian strength. Whatever the liberal intelligentsia thinks about that is moot.
"The messages are very clearly constructed for the mass of BJP support," Price said. "He very much taps in to that. Things are exaggerated, there's hyperbole, and whatever, but questioning it is pointless or even anti-national because the message is for the urban middle class who want India to be strong."
"There have certainly been some very surprising statements," Adeney tells Newsweek. "Things like India is the first country to invent plastic surgery because there is a god who has the head of an elephant, for example, Lord Ganesh. Yesterday I saw a report that he said he was using email back in the 1980s."
Similarly, both men have a huge presence on Twitter, reaching out to their audiences directly to spread their messages, using the platform regularly and effectively to generate masses of media coverage.
Violation of Democratic Norms
Critics have said Trump's presidency violates American democratic norms, citing examples in the Mueller report of possible obstruction of justice as well as his attacks on the media, calling it the "enemy of the people."
In India, the world's largest democracy, Modi critics see a similar erosion of democratic norms. Violence against Hindu nationalism's critics or minority groups, such as Muslims and those of the lowest caste, the Dalits, is seen to be both rising and tolerated.
When the journalist and activist Gauri Lankesh was assassinated, Modi, who also has a penchant for media bashing, stayed silent. "That sends out a very strong signal. And there's a lot of self-censorship going on now in the media," Adeney said.
"People are extremely worried either for their own personal safety—and [Lankesh was] certainly not the only person who has been attacked or threatened—or that they're not going to receive government funding for advertisements, for example."
Adeney continued: "On the one hand you've got attacks on the institutions like the free media. You've also got the attacks on minorities. And there are real concerns in this campaign about the Election Commission. It hasn't cracked down as hard as people would have liked on the BJP's campaigning."
Among the criticism of the commission is that it allowed NaMo TV to air across Indian television in what the opposition argued was a clear breach of impartiality rules.
India also disallows references to the armed forces for electoral purposes. But the commission decided Modi's comments in a speech about people dedicating their votes for him to the Balakot pilots and Pulawama victims did not cross the line, The Indian Express reported, overruling the decision of local election officials.
Price said tax officials are also looking into government critics. "The tax officials, they'd never go after someone in the ruling party because there'd be no point. Under Modi, it happens even more so," he told Newsweek.
"The Election Commission seems to be amenable to the BJP. And India's institutions are weak. You can see what someone like Trump can do in America, where the institutions are much stronger."
He also pointed to recent changes to the way India's economic data are collected, prompting 108 economists to co-sign a letter calling the statistics into question and suggesting they were manipulated for political purposes.
The changes make it very difficult to compare current economic performance with that of the past, which is useful for a government staring at a painful economic slowdown, as India has been.
One example highlighted by Price is road building. India said it is now bringing its road construction data in line with international norms.
In the past, 1 kilometer of road was recorded as 1 kilometer whether it had one lane or more. Now, if there are two lanes it will count as 2 kilometer, three lanes as 3 kilometers, and so on.
"I have worked as an economist on India, and for the first time I have no idea how its economy's doing," Price said.