'Indigenous Peoples Day' Booed at Michigan Rally for Donald Trump
Speaking Saturday at his Muskegon, Michigan rally, President Donald Trump spurred the crowd to boo the idea of replacing Columbus Day with Indigenous Peoples Day.
"So last week, Biden attacked Christopher Columbus by refusing to recognize Columbus Day. And he wants to change the name of Columbus Day to Indigenous Peoples Day. Who likes that idea?" Donald Trump asked the crowd, who responded by loudly booing.
"What the heck are you saying? That's politically incorrect! What they don't understand is that they're politically incorrection. So he wants to change it to Indigenous Peoples Day. Not as long as I'm president," Trump replied to cheers. "This is what we're dealing with. The radical left is eradicating our history. And weak Joe Biden will let them do it."
This is not the first time Trump has condemned the idea of Indigenous Peoples Day. In this year's Columbus Day Proclamation, while telling the story of Columbus, Trump warned of "radical activists" who work to "undermine Christopher Columbus's legacy."
"These extremists seek to replace discussion of his vast contributions with talk of failings, his discoveries with atrocities, and his achievements with transgressions. Rather than learn from our history, this radical ideology and its adherents seek to revise it, deprive it of any splendor, and mark it as inherently sinister," Trump said.
Columbus Day was celebrated this year on Monday, the same day as the proposed Indigenous Peoples Day. On Monday, Biden released a statement celebrating Indigenous Peoples Day. His statement did not mention Christopher Columbus.
"Native Americans have always honored their deep connection to the land and kept faith with the rich spiritual traditions and heritage of their ancestors, often in the face of policies and violence that sought to strip them of both. With boundless resilience and strength, despite centuries of mistreatment and broken promises," Biden said. "Tribal Nations have fought to preserve their sovereign rights while also making countless contributions to strengthen the character of the United States—the famed American Indian Code Talkers who were critical to defeating fascism in World War II, the activism and leadership of Native women, and so much more. It is a part of our history that every American must learn and respect."
Newsweek reached out to the Biden campaign for comment.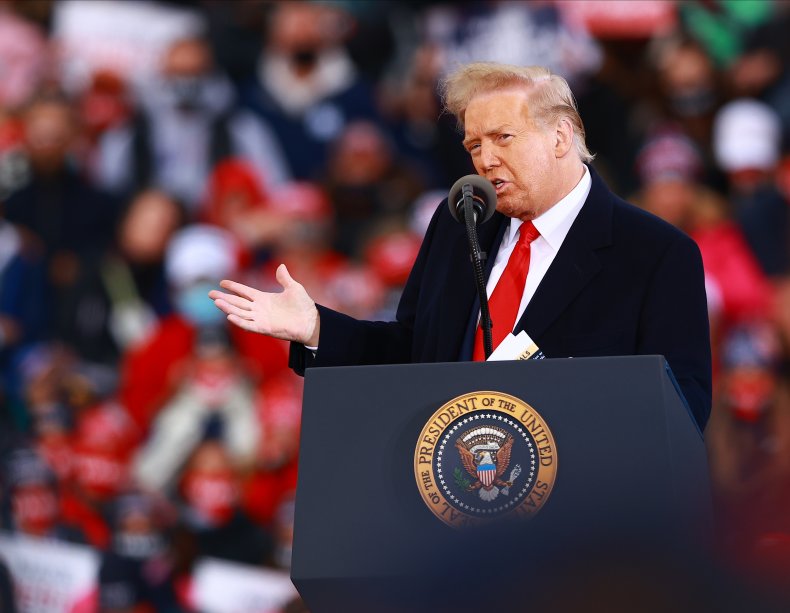 Columbus Day is a federal holiday that traditionally celebrates the story of Christopher Columbus making landfall in the Americas on October 12, 1492. Columbus landed on an island in what is now known as the Bahamas and established a colony in what we now call Haiti. He made the first European settlement in the Americas in 500 years, when Norsemen settled in what we now call Canada and Greenland.
When Columbus landed, history scholars say that his rule was brutal. According to Fernando Colón, Columbus' son, in his book The Life of the Admiral Christopher Columbus by His Son, Ferdinand, every indigenous person over 14 years old in the Cibao—a region of what is now called the Dominican Republic—was to pay a "large hawk's bell of gold dust" every three months.
If an indigenous person did not pay, their hands were cut off and they were allowed to bleed to death, according to Hans Koenig's 1976 book Columbus. Historians say Columbus enslaved indigenous people, working many to death, and brought European diseases that wiped out massive numbers of indigenous people.
In light of these facts, there has been a growing movement to replace Columbus Day with Indigenous Peoples Day, celebrating Native American people and their struggles and history. Indigenous Peoples Day is not a federal holiday, though the movement to officially recognize the holiday has started picking up steam.
In 2017, Los Angeles County's Board of Supervisors voted that Columbus Day be renamed by 2019. Cities including San Francisco, Seattle, Albuquerque and Denver have also made the change.
"Hopefully (it) will begin to ease some of that pain and give the recognition to the indigenous people that they deserve," LA County Supervisor Janice Hahn said after the vote.
In 2019, a poll by College Pulse, showed that 79 percent of college students support dropping Columbus Day in favor of the new holiday.