Inflation Out of Control 1 Year After Biden Said It Would Be 'Temporary'
The one-year anniversary of Joe Biden's promise that inflation in the U.S. would not be long-term has been reached with costs continuing to spiral and a poll showing Americans' distrust of the president's ability to ease the strain on their wallets.
Biden said on July 19, 2021, the price rises that followed the easing of COVID pandemic restrictions would not last and said "were we ever to experience unchecked inflation in the long term," that would be a "real challenge to our economy."
"Most of the price increases we have seen are expected to temporary," said Biden a year ago, as he described how he had instructed Federal Reserve Board Chair Jerome Powell to do what he "deems necessary" for an economic recovery.
At the time, Biden was facing a Consumer Price Index (CPI) jump in June 2021 of 0.9 percent, and a spike of 5.4 percent over the previous 12 months.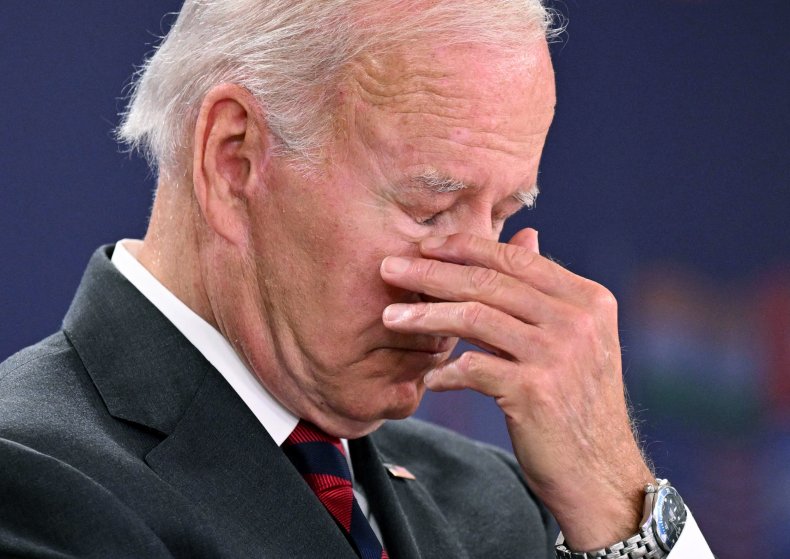 But those could be considered the good old days compared with June 2022's CPI jump of 1.4 percent and a 9.1 percent spike over the previous 12 months, the highest rise since 1981 when Ronald Reagan was in in the Oval Office.
When asked how the White House got inflation "so wrong," Jared Bernstein, from the White House Council of Economic Advisers, told Fox Business that Biden's comments had been based on the received wisdom from economists at the time.
Since then, "unforeseen things occurred" such as Russia's full-scale invasion of Ukraine which put "considerable upward pressure on prices."
This chimes with Biden's comments on July 13 that Vladimir Putin's "unconscionable aggression" was impacting inflation in "almost every country in the world."
"Tackling inflation is my top priority," Biden said last week in outlining measures including trying to lower gas prices by releasing from the strategic petroleum reserve, and legislating to reduce expenses like prescription drugs to utility bills to health insurance premiums.
While admitting inflation was "unacceptably high," Bernstein said that half of that was due to an "increase in energy prices alone," which since their national record high of $5.02 per gallon on June 14, have gradually been coming down.
However, a CNN poll published on Monday, conducted by SSRS, showed that nearly three quarters of Americans (74 percent) disapprove of how Biden is tackling inflation, compared with only a quarter (25 percent) of people who approve.
Three quarters of Americans (75 percent) said inflation and the cost of living are the most important economic problem facing their families, which could hurt the Democrats as they gear up for the midterms in November.
The poll, conducted between June 13 and July 13 with a 3.3 percent margin of error, gave Biden a 38 percent overall approval rating, down from the 51 percent he enjoyed from a poll conducted in the week of March 8. Newsweek has contacted the White House for comment.
With Biden describing how inflation is being felt across the world, not just in the U.S., analysis by the think tank Oxford Economics released on Tuesday and sent to Newsweek said that "pandemic-related factors have contributed to high inflation" globally.
It concluded that economists had been overly optimistic in early 2021 over how quickly supply chain bottlenecks, as well as a return to demand for goods, would recover.
The analysis said "in our assessment, by Q2 next year we expect headline CPI inflation in the U.S. to average 3.5 percent," and that a global recession is "far from inevitable, but a soft landing will require luck."
"In the U.S. in particular, key to achieving a soft landing will be firm evidence relatively quickly that inflation is falling back towards target," it said.
In other somber economic news, home builders' confidence in the U.S. housing market fell significantly in July, dropping from 67 to 55 in the National Association of Home Builders Housing Market Index.
Monday's figures showed the largest drop in one month since April 2020 when the U.S. was reeling from the height of the COVID-19 lockdown.
Jeffrey Roach, chief economist for the broker dealer LPL Financial, told Newsweek in a statement that the "most concerning" aspect about the figures was that the number of prospective buyers has fallen to its lowest level since May 2020.
This suggested that the housing market "has more downside to go as interest rates trek higher and inflation chisels away consumer purchasing power."