Influencers Attributing Lyme Disease to 'Intergalactic Substance' Go Viral
A video of influencers attributing Lyme disease to an "intergalactic substance" is going viral.
In the clip, astrologer Danielle Paige explained her thoughts to author and host Jordan Younger on the July 27 episode of The Balanced Blonde podcast.
"I worked with a medical intuitive, and she said every time she sees someone with Lyme, it's an intergalactic substance and it's literally bringing in codes from the beginning of time," Paige told Younger.
"Yes! I believe this," Younger agreed. "This gives me chills down my entire body. I believe it. I haven't heard it in those exact words before, but I'm often trying to say the exact same thing."
"Lyme is a gift," Younger, who said she suffers from the disease herself, continued. "It's not for the faint of heart, and it is for the most deeply spiritual people on the planet."
In response, Paige, a self-proclaimed consciousness guide, nodded and replied, "Yes."
At the time of publication, Paige boasted more than 90,000 followers on Instagram while Younger has 228,000 followers and another 33,000 on TikTok.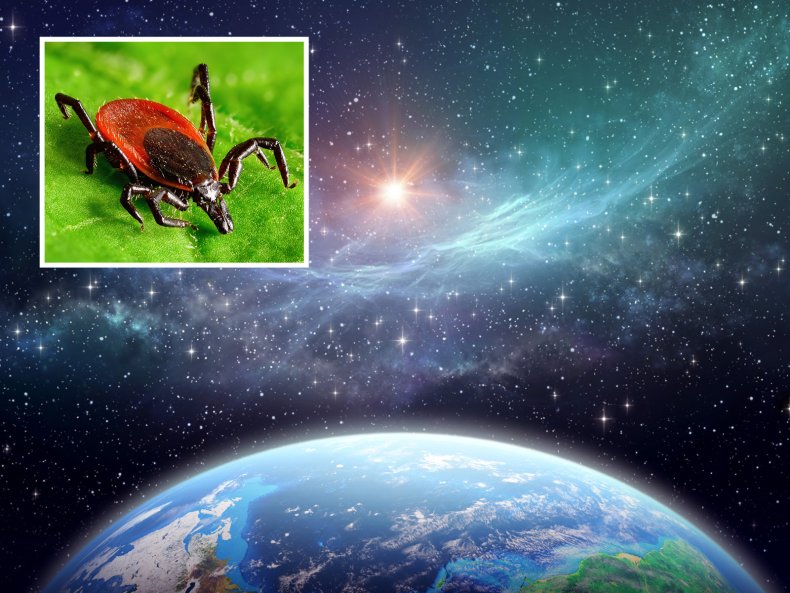 Younger further elaborated on her message in the caption of her Instagram post, which included a clip from the podcast.
"When we come to this planet from another place—our souls are often resonating and vibrating in a higher dimension than this dense earth. That can cause a disconnect between our bodies and our souls, and I find that's when a health breakdown often occurs. So whenever someone tells me they have Lyme, I want to say 'get ready for the journey of your life,'" she wrote, using a rocket and an alien emoji.
She added that while she doesn't "wish illness upon anyone whatsoever," she said that "when we take our health into our own hands, we have the power to heal."
Doctor Ryan Marino tweeted the clip to his verified Twitter account on August 1, writing, "I had to hear this so now you do, too."
The clip has been viewed more than 735,000 times.
In the comments, Marino, who specializes in emergency medicine, toxicology and addiction, wrote, "Since it has to be said? Lyme is the *disease* caused by an infection with the (earthly) *bacteria,* Borrelia burgdorferi. It is not a gift and it is a major problem in the US that may be worsening due to climate change. It is treated with antibiotics not 'a medical intuitive.' Pls."
Marino told Newsweek in a statement: "People should be aware that [in the] alternative medicine space [some people will take] advantage of people with complex and/or chronic medical conditions. The views espoused in the video are not only toxic—for multiple reasons—but can potentially harm people by not only promoting infection but by distracting and holding people back from appropriate treatments."
According to the Centers for Disease Control and Prevention (CDC), Lyme disease "is the most common vector-borne disease in the United States." Vector-borne diseases are infections transmitted from the bite of infected blood-feeding anthropods, such as ticks, mosquitoes and fleas.
Symptoms often include fever, headache, fatigue and a skin rash. If left untreated, however, the infection can spread to areas like the heart, the joints and the nervous system. In some cases, people with the disease have reported contemplating suicide.
Over the years, many celebrities have spoken out about contracting the illness including Avril Lavigne, Kelly Osbourne, Crystal Hefner, Yolanda Hadid as well as her children Bella and Anwar.
In a Vogue interview published in February 2021, Yolanda Hadid, 58, described her own battles with mental health after suffering from Lyme disease.
"I can't begin to describe the darkness, the pain and the hell I lived through every day," the Real Housewives of Beverly Hills star told the magazine. "For some time, it didn't even feel like living at all. This disease brought me to my knees. Many nights I wished to die, and prayed I would just be free of the pain. If it weren't for my children, I don't think I would be here today."
Newsweek has reached out to Paige, Younger and Marino for comment.
If you have thoughts of suicide, confidential help is available for free at the National Suicide Prevention Lifeline. Call 1-800-273-8255. The line is available 24 hours every day.