InfoWars' Alex Jones Sued by Sandy Hook Parents Over 'Vicious' Lies about 2012 School Shooting
The parents of two children killed at Sandy Hook Elementary School are suing Alex Jones for defamation after he continuously spread hoaxes regarding the 2012 shooting.
Neil Heslin, the father of 6-year-old victim Jesse Heslin, and Leonard Pozner and Veronique De La Rosa, who lost their six-year-old son Noah, have filed a lawsuit against the InfoWars host for claiming the shooting at the school in Newtown, Connecticut, was a hoax and the victims were crisis actors, reports the Huffington Post.
Each suit is seeking more than $1 million in damages from Jones, InfoWars, Free Speech Systems LLC and fellow InfoWars reporter Owen Shroyer. The suit claims the repeated spreading of conspiracy theories and lies surrounding the shooting has resulted in the parents receiving death threats.
"Even after these folks had to experience this trauma, for the next five years they were tormented by Alex Jones with vicious lies about them," Mark Bankston, the lawyer handling the cases for the parents, told the Huffington Post.
"And these lies were meant to convince his audience that the Sandy Hook parents are frauds and have perpetrated a sinister lie on the American people."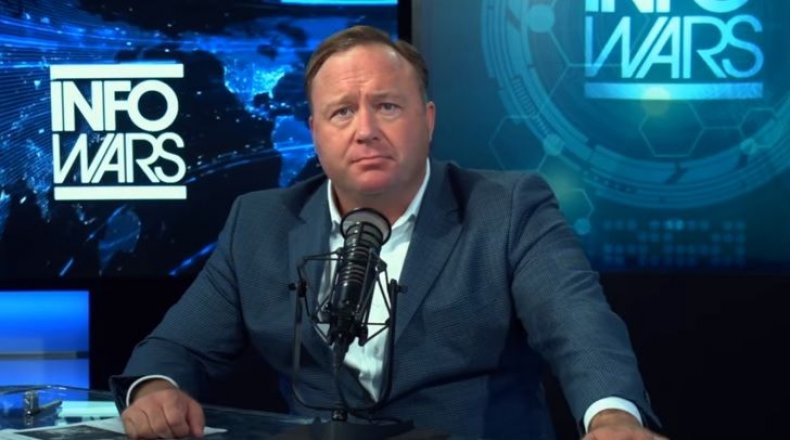 The suits against Jones focuses on two cases of alleged defamation which he aired during his radio show. The first involves an interview which De La Rosa gave to CNN's Anderson Cooper in the wake of the shooting. During the clip on his show, Jones claims a small glitch in the broadcast is proof the interview is staged and filmed on a set using actors.
"Folks, we've got video of Anderson Cooper with clear blue-screen out there," Jones said in 2014, according to a transcript quoted in the lawsuit, seen by the Huffington Post.
"He's not there in the town square. We got people clearly coming up and laughing and then doing the fake crying. We've clearly got people where it's actors playing different parts for different people, the building bulldozed, covering up everything."
The second is against Shroyer after he argued during an InfoWars video that it was "not possible" that Heslin held his dead son in his arms after the shooting because the medical examiner said the parents identified their children by being shown photographs.
"That's not something you would just misspeak on," Shroyer said during the broadcast first shown on June 26, 2017.
Jones then repeated the clip on his show one month later, reports the New York Times. "The stuff I found was they never let them see their bodies," Jones said. "That's kind of what's weird about this. But maybe they did."
Heslin's lawsuit says the bodies were eventually handed over to the parents for their funerals.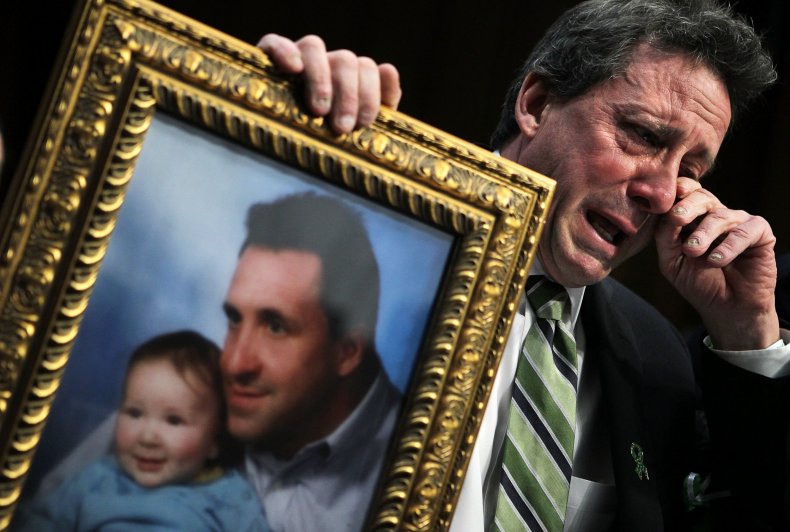 "I think as a father, it's a very surreal experience," Bankston told the Huffington Post. "Anyone, parents or not, who spends 15 minutes talking to one of these parents will understand immediately how vile this lie was, and how genuine their pain is."
Last June, Jones refused to apologize for the misinformation he continued to spread about the Sandy Hook shooting which left 26 people dead, including 20 children.
Jones told NBC's Sunday Night with Megyn Kelly. "I do think there's some coverup and some manipulation. That is pretty much what I believed. But then I was also going devil's advocate. But then we know there are mass shootings and these things happen.
"I tend to believe that children probably did die there," he added. "But then, you look at all the other evidence on the other side, I can see how other people believe that nobody died there."
Bankston is also involved in a separate lawsuit against Jones launched in April by 24-year-old Marcel Fontaine.
The Boston man is suing Jones for defamation after he was falsely identified on the InfoWars website as the gunman who killed 17 people at the Marjory Stoneman Douglas high school in Parkland, Florida in February.