Inside the Other Controversy Headed for CPAC: The 'Roe v. Wade' Movie
Former President Donald Trump is expected to steal the show when he speaks—in person and in front of a real, not virtual, audience—at the annual Conservative Political Action Conference on Sunday in Orlando, Florida. But in the main hall on Friday night will be the premiere of a movie, Roe v. Wade, that is sure to cause a few waves of its own.
The fact that the red-carpet event is debuting at a gathering for conservatives indicates a pro-life tilt that's practically guaranteed to thrill the assembled while irritating the pro-choice crowd. And that's even before revealing that the film features some of the political left's most hated enemies, including MyPillow guy Mike Lindell, who plays a reporter in the film about the 1973 Supreme Court decision that legalized abortion.
Nick Loeb, the co-writer, co-director and one of the stars of the film, says Lindell was cast in his role well prior to him making worldwide headlines as one of the staunchest promoters of the notion that the recent presidential election was "stolen" from Trump, and he has been sued for $1.3 billion by Dominion, a firm that made voting machines widely used by voters in the election in November.
"We didn't know when we cast him what he would become in the press today," Loeb told Newsweek.
Due to social distancing protocols, the premiere is restricted to an audience of 1,500, and Loeb says the showing was quickly sold out.
Beyond Lindell, Roger Stone makes his acting debut playing a reporter from the Washington Post. Stone, of course, was convicted for his role in an alleged Russian effort to put Trump in office, though Trump commuted the longtime political activist's sentence a few days before he was to be imprisoned.
Newsweek was afforded a first-look at Roe v. Wade, which also stars a couple of Hollywood's most outspoken conservatives, Jon Voight and Robert Davi, along with 1980s heartthrob John Schneider of The Dukes of Hazzard, all of whom play Supreme Court justices of the era.
Davi plays Justice William Brennan, whom he describes as "a progressive who believed in a living Constitution. He's someone I disagree with. He came up with the notion of a woman's right to privacy, based on a Texas ruling."
Loeb is no stranger to controversy, as he has been making news for years over a legal battle to gain custody of frozen embryos he created with his former girlfriend, Sofia Vergara of the hit TV show Modern Family.
Indeed, controversy began early in the filming of Roe v. Wade when several staffers quit, including the original director, once they found out the movie leaned pro-life. A location manager fired off her resignation to Loeb in an email reading, "I am a staunch pro-abortion feminist activist, and I will not be party to such horrible propaganda." In another incident, the film's electrician "told me to go f*ck myself, then threw her headset on the ground and walked off," Loeb recalled.
Loeb counters that the film consists entirely of real-life characters and is based on dozens of books, news articles and interviews from the 1970s and beyond. Nevertheless, one scene sure to be challenged consists of a flashback to 1926 when Planned Parenthood founder Margaret Sanger speaks to the Ku Klux Klan with a burning cross in the background as she demeans "negroes" as the "least intelligent and fit."
The scene is based on a true incident, however, Sanger's intent has been questioned by fact checkers. Snopes, for example, wrote that, "Sanger once addressed female KKK members in a bid to have her message heard as widely as possible, but she both openly described that meeting and disparaged the group's mission in her writings," while Politifact wrote that "substantial evidence shows that she was not racist."
Loeb is aware of the fact that such excuses wouldn't fly if it were a conservative who courted the KKK to get their "message heard," and says that her dialogue in the film "is word-for-word, as she wrote it herself in a published letter about what she said to the Klan."
The film is largely about the journey made by Dr. Bernard Nathanson, played by Loeb, from prominent abortion doctor to pro-life advocate and Catholic convert. Nathanson was nicknamed "the scraper" and his clinics made $20 million performing 70,000 abortions, according to the film and one of Nathanson's books.
One scene has Nathanson singing a song with the lyrics, "There's a fortune/In abortion/You never bother/The real father." Loeb said Nathanson acknowledged singing the song with other medical students while a resident in college.
Loeb also says the movie is not 100 percent pro-life (his detractors, and film reviewers, will disagree) and that the primary source of funding for the $8.5 million movie was Octavius Prince, a pro-choice advocate who is executive producer on the film and also plays a role.
Prince told Newsweek he thought the original script was "about 70-30 in favor of pro-life, so I invested on the condition of changes, which made it 60-40 pro-life."
"I like making controversial films," said Prince, whose first movie was The Preppie Connection, about children who deal drugs, and is working now on a film about terrorists who are right-wing extremists. "Abortion is such a polarizing debate, I had to get into it," he said.
One scene added on behalf of Prince has Sarah Weddington and Linda Coffee, attorneys for Norma McCorvey (AKA Jane Roe), arguing that legal abortions are necessary for the safety of women. Weddington is the only person portrayed in the film who is still living; Coffee is played by Greer Grammer, the daughter of Frasier and Cheers actor, Kelsey Grammer.
Davi said he isn't concerned with blowback from Hollywood liberals for his appearance in the film, but adds: "Anytime a conservative puts himself out there, there is risk. But this is the most talked-about decision since the 1970s, and the veil has never been lifted on the process. In that respect, the mainstream media will be frightened of this film."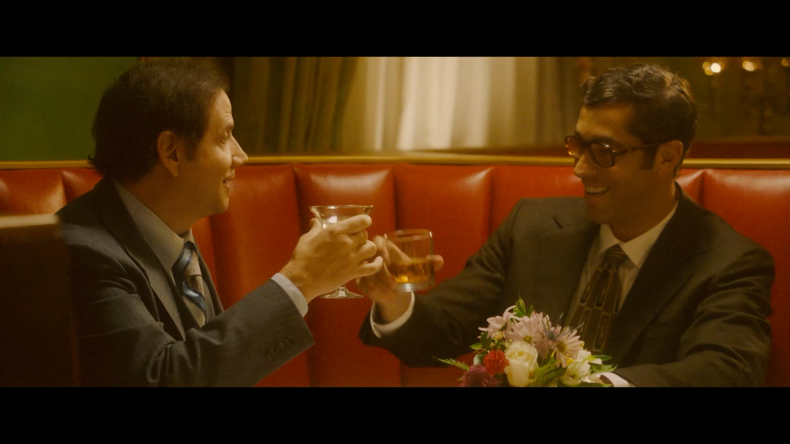 The movie is also a large indictment of journalists (see the exclusive clip embedded above). Larry Lader (played by Jamie Kennedy), the man credited with slogans like "pro-choice" and "a woman's right to choose," along with the strategy to turn Catholics into anti-abortion villains, is seen boasting of manipulating the "trolling beasts in the media." He brags of making up statistics that reporters never questioned and of planting four pro-choice stories a year in Time magazine for three years straight.
"They literally called it the 'Catholic Strategy.' It was a really big thing to make them the bad guys," says Loeb. The Catholic League For Religious and Civil Rights is an associate producer and one of many funders of the film.
Another scene claims that Nathanson and Lader paid $10,000 to have the producers of the 1970s show Maude insert a line claiming that an abortion is "as simple as going to the dentist." His source, he says, is an old story from the Chicago Tribune.
Another Supreme Court justice, Harry Blackmun, is played by Corbin Bernsen of L.A. Law fame, whose pro-choice daughter is played by Tomi Lahren, a conservative commentator who lost her job at Glenn Beck's TheBlaze after arguing in favor of legalized abortion.
And Stacey Dash, an actress who ran for Congress as a Republican in 2018 but pulled out of the race due to threats against her and her family, according to published reports, plays Mildred Jefferson, the first Black woman to graduate from Harvard Medical School and the second president of National Right to Life.
"It's interesting that nobody has heard of her," says Loeb. "If she were a liberal, she'd be revered today."
Early in the film, Nathanson is seen playing chess with his father in 1949 where the point is made, says Loeb, "That you need the queen to win. You need the women. It's a theme throughout the film."
He adds: "Nothing in the movie was made up. The press will slam me for this film, but it's too visceral for them to ignore it."