Inside Seattle's CHAZ, Organic Tomatoes Grow in Social Distancing Circles
Within the bounds of Seattle's Capitol Hill Autonomous Zone (CHAZ), some protesters are expressing activism through agriculture.
As The Seattle Times reported, demonstrator Marcus Henderson—a natural builder with a background in urban sustainability—is at the forefront of a newfound community garden initiative.
The planting effort repurposes plots of park land—originally mowed by city officials to encourage social distancing—as vegetation sites for donated tomato and herb sprouts, as well as flowers.
Speaking about the initiative on Thursday, Henderson told the Times it was an act of solidarity and reclamation as Seattle residents continue to occupy the city's law enforcement-free area.
Henderson has chronicled the community garden's progress via Instagram over the last four days. Photos and videos shared to the social media platform show participants planting and tending to recently laid soil, while others gather to watch. A row of tents is pictured in the background.
"I had a beautiful day at Cal Anderson Park sharing my passion for gardening with my fellow Seattle protestors," Henderson captioned an Instagram post shared on Wednesday, when the initiative first began. In it, he requested that anyone interested take part as volunteers "continue building the Seattle People's Community Garden" in the city's Cal Anderson Park.
Henderson's most recent Instagram update, shared on Friday, showed lush new developments. "Day 3 - the community garden has begun to take shape!" he wrote. "We now have a fence, mulch pathways, and a new crop circle. A lot of people came by today to learn about the garden!"
During his conversation with the Times, Henderson referred to the initiative as "guerrilla gardening" and called it "a story of reparations," referencing widespread loss of property.
"We're dealing with a question of how Black people have been disenfranchised for so long, pulled out of the economic system," Henderson told Seattle-based newspaper The Stranger on Friday. "One way of doing that is not giving people access to land."
The community gardens took shape after officers vacated the Seattle Police Department's East Precinct last Monday, amid ongoing rallies protesting police violence and systemic racism following Minneapolis resident George Floyd's death in custody at the end of May. Civilian protesters have populated the area since then, giving rise to what participants call the Free Capitol Hill movement. Those involved published a list of demands on the website Medium last week calling for major justice system reforms.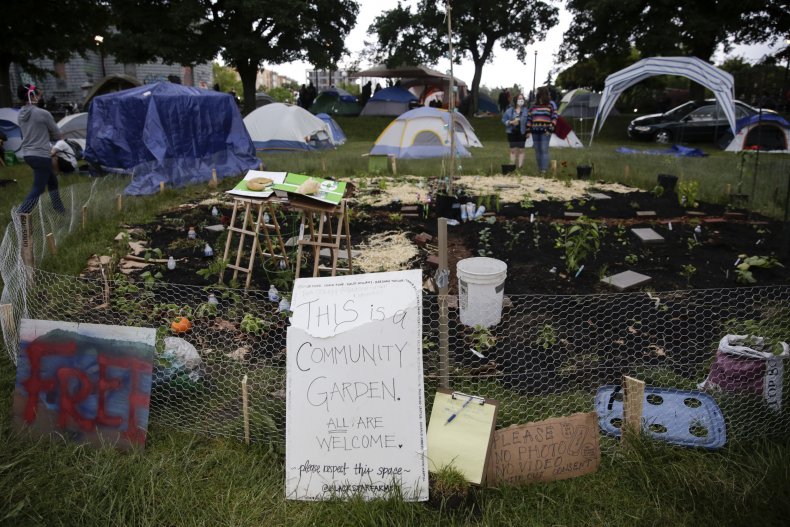 During a Fox News interview that aired Friday, President Donald Trump threatened to send National Guard members to CHAZ as means to disperse people occupying. "If they don't straighten that situation out, we're going to straighten it out," he said. "What I mean is very simple: We're not going to let Seattle be occupied by anarchists."
Newsweek reached out to Henderson and the Seattle Parks and Recreation Department for additional comments, but did not receive replies in time for publication.