Intercepted Call Suggests Russia Bombed Own Town to Spark Outrage: Ukraine
Ukrainian intelligence published audio of what it said was an intercepted call of a Russian solider allegedly telling his wife that Moscow's own forces had bombed a town in Russia in order to blame the attack on Kyiv's military.
Aleksandr Bogomaz, the governor of Russia's Bryansk region bordering Ukraine, alleged on Thursday that two buildings in the town of Klimovo were damaged in an attack carried out by Ukrainian forces, Radio Free Europe reported. Russia's state-run TASS news agency cited medical workers, who said that seven people including a pregnant woman, were harmed in the assault.
On Friday, the Security Service of Ukraine released audio of a call it said was between a Russian soldier and his wife discussing the Klimovo attack. The roughly two and a half minute audio clip was published to the intelligence service's official Facebook page. Newsweek has not independently verified the audio.
"These are our heroes," the Russian soldier can be heard telling his wife, according to a translation. When his wife asked "why" Moscow would do such a thing, he responds, by saying it is "necessary" and "is done in order to provoke" Ukrainians.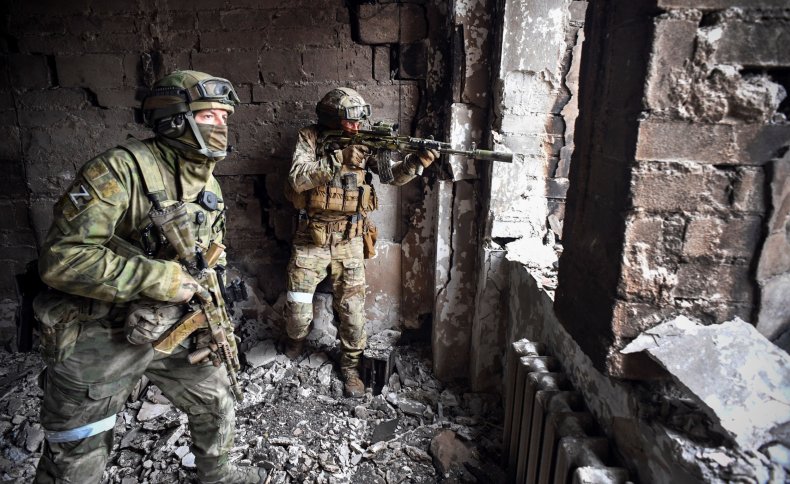 The soldier goes on to point to bombings that occurred in Moscow ahead of the Second Chechen War. "It was the same in the Chechen War. Apartments were blown up in Moscow, like terrorists," he says.
More than 300 people died and over 1,000 were injured in a string of September 1999 bombings in Moscow, Buynaksk, and Volgodonsk. These bombings were blamed on Chechens and were used as an impetus for starting Russia's second war with the region. The bombings and following war boosted Putin's popularity, but the attacks are widely speculated to have been carried out by the Russian government.
Earlier this month, Ukrainian intelligence published another call between a Russian soldier and his wife. In that call, the Russian wife told her husband that he can rape Ukrainian woman.
"Yes, I allow it. Just wear protection," the wife said while laughing. Radio Free Europe later confirmed the identities of the Russian couple, reporting on Friday that they were Roman Bykovsky, 27, and his wife, Olga Bykovskaya.
Putin launched the full-scale invasion of Ukraine on February 24, drawing swift international condemnation. The U.S. and NATO allies responded quickly by implementing severe sanctions targeting Russia's economy and Moscow elite. They have also worked to quickly transfer billions of dollars of weapons and humanitarian aide to assist the Ukrainians.
Russia has been accused of committing "war crimes" and "genocide" by President Joe Biden as well as by Ukraine's President Voldymyr Zelensky. International journalists have reported finding Ukrainian civilians shot in the back of the head, with their hands tied behind their back in addition to mass graves in eastern parts of the country that were occupied by Russia for several weeks.
Moscow denies these allegations, while also refusing to call the war a "war" or an "invasion." Instead, the Kremlin has insisted that it is a "special military operation" to "de-nazify" Ukraine, which is led by a Jewish president who had family members killed in the Holocaust.
While Putin reportedly believed that his forces would quickly take control of much of Ukraine and topple Zelensky's government in Kyiv, those goals failed to materialize. The war has continued for more than seven weeks without Russia capturing any major Ukrainian city, as Zelensky's government remains in power. Putin and his advisers appear to have greatly miscalculated the capabilities of Kyiv's military as well as the strong opposition they would receive from ordinary Ukrainian citizens.
Newsweek reached out to the Russian embassy for comment.