Internet Melts for Baby Being Raised by Teen and Her Friends in Viral Clip
A baby being raised by his teenage mother and her friends has gone viral in a TikTok video beloved by viewers.
The viral TikTok, captioned, "I love this aha #youngmum #wrenatlas #pocketfulofsunshine #teenmom #babiesoftiktok #linkbudsneveroff #valentinesday #outfitinspo," has been viewed 14.2 million times and liked 3.3 million times since being posted on February 17.
The 49-second clip posted by user @choflo671, or Chloe, had the song Pocketful of Sunshine by Natasha Bedingfield playing along to a photo and series of videos put together of her baby and her friends.
The video started with an image of the TikToker pointing at her pregnant stomach as she took a picture of a group of her friends doing the same thing in the mirror. "POV – You're being raised by your 19-year-old mum and her friends," the screen read.
According to Statista, in 2019, there were 16.7 births per every thousand females ages 15 to 19 years of age in the United States. That number has decreased from 2018 when there were 17.4 births for every thousand in the age group.
Next is a video of a woman putting the baby, named Wren Atlas, into a stroller while carefully cradling his head. In another clip, a woman held the baby near some food at a buffet, extending his hand out in a humorous moment.
There is also content of Wren wearing a hooded bear outfit as another friend put the hood over his head as he laid on some foam padding.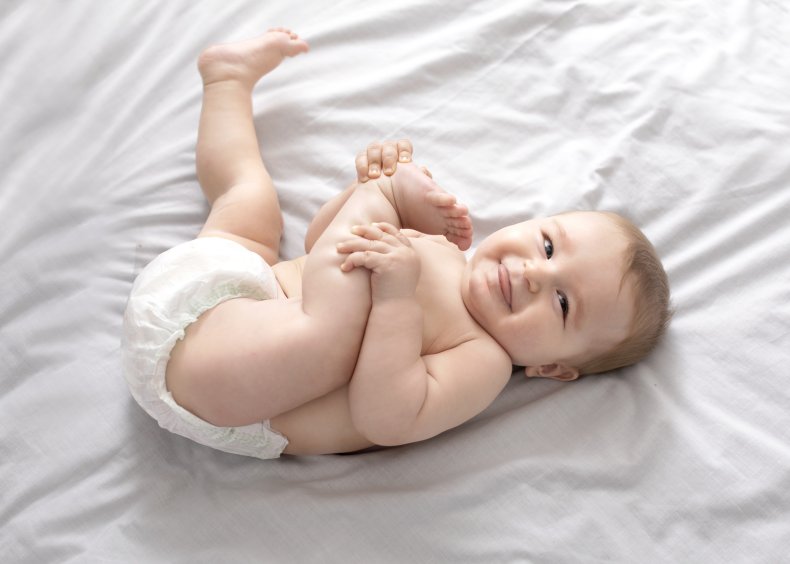 In a sweet moment, the baby interacted with another woman while lying on the counter in a kitchen. The friend picked Wren up before another clip started of the baby being held by another friend singing.
Next up are three different friends on separate occasions holding the child. One even moved Wren's arms, while another danced with the baby while holding him in their arms at the same time.
Wren even attempted to help his mother by holding onto some spinach as she cooked a meal in one moment. A guy even played video games while lounging and holding Wren at the same time in true multitasking fashion. Another friend held the baby and kissed him on the cheek in a separate clip.
Yet another woman held Wren, who was sleeping, and she appeared to cry with emotion. The final clip featured a group of friends sitting on a couch as one has a drink in one hand and the baby in the other. "Child corruption," the video read.
Over 19,000 comments came pouring in over the content, and people seemed to truly appreciate the close-knit group the baby has around him. "Love this," a TikToker said. "Imagine his first day at school. He's gonna have a team of cheerleaders."
People fully embraced the child's blended family. "Families come in all shapes and sizes," a viewer pointed out.
A user brought up problems that could arise. "They have definitely fought over who is the better auntie/uncle," they said.
One TikToker admitted they were "so jealous" that the creator of the video has "so many sticking by you." They also added, "If only this was normal!" The creator replied, "I am so lucky."
A viewer thought the content showed a "dream as a new mother," adding, "and that gorgeous baby will soon learn how lucky they are to have so many people love and care for them."
Other people had comments like, "He's everyone's first baby," "This is beautiful," and "Couldn't love this more."
One TikToker commented on the fact that the child is "so loved," adding, "This was so heartwarming to watch."
Newsweek reached out to @choflo671 for comment.