Viral Video Captures 'Amazing' Moment Whale Breaches Just Feet From Boat
A boat full of sightseers got the full whale-watching experience as a whale broke through the surface of the water and breached just a few feet away from the small boat in Cabo San Lucas, Mexico, and the video showing the moment was shared on TikTok and viewed nearly four million times.
"Incredibly rare what you experienced..." one viewer wrote.
"That time I almost died," read the caption on Ashleigh Strother's video, which was posted to her TikTok account @aestheticallyash0624.
A few photos and video clips of Strother and fellow passengers are seen at the start of the video before a whale shoots up and out of the water and turns slightly before it crashed near the boat, drenching the passengers with a mighty splash.
A piece published with Whale Facts stated that scientists have researched why whales breach.
"Breaching occurs when a whale picks up speed near the water and then lifts its body and leaps out of the water, exposing up to 90% of its body above the surface," the piece explained.
When it lands, the whale may be positioned on its side or back.
Although there is not yet a conclusive reason behind breaching, researchers have offered some potential theories.
One is that it is a form of communication to convey a need or it is a form of play.
"During mating season, some species are known to breach much more than during their feeding season," the piece read.
It may also be a way for whales to let others know of nearby food or even predators.
"One common method for keeping an eye on their surroundings is spy-hopping, where the whale lifts itself partially above the water to get a good look at its surroundings," Whale Facts' article stated.
Some commented on the opportunity Strother had to experience seeing a whale breach so close.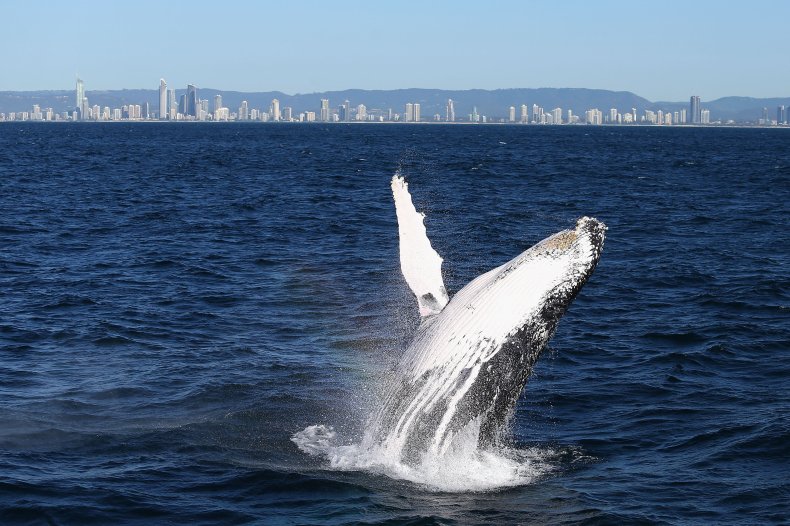 "I'd die of complete happiness," one person commented.
Others wrote that while it was a spectacular sight, they would have been frightened of being so close to the massive whale as it breached.
"Omg scary yes but honestly a DREAM to see (safely!!)," a viewer shared.
"Girl they put you in a small boat?!!" another asked. "Omg how amazing though you have more of the video??"
Strother shared two other videos in which she showed the whale breaching from a different angle and answered a few questions she received.
She said her group was on its way to see another whale when the whale in the video suddenly burst through the water.
"I was low-key bored and thought I had better whale watching from my patio before this happened," the second video's voiceover said. In the distance, the whale is seen popping up above the surface.
Newsweek reached out to Ashleigh Strother for further comment.