Iran's Defense Minister Compares 'Trumpism to 'Nazism,' Says Trump's Policies 'Seriously Endangered Global Security'
Brigadier General Amir Hatami, Iranian defense minister, warned on Tuesday that President Donald Trump and his policies were endangering global security.
"Today, we are facing different security issues in the world," Hatami told reporters as he arrived for a security conference in Moscow, Iran's semi-official Fars news agency reported. "Today, the most important issue in the world is Trumpism, which is similar to Nazism in quality and has seriously endangered global security with such traits as selfishness, cruelty and violation of humanitarian principles and international rules," he said.
Iranian Foreign Minister Javad Zarif also slammed the Trump administration in a Tuesday tweet, accusing Washington of committing "economic terrorism" against his country.
"Escalating #EconomicTERRORISM against Iranians exposes panic & desperation of US regime—and chronic failures of its client co-conspirators [sic]," Zarif wrote in a Tuesday tweet.
"REAL news, @realdonaldtrump: Inheritors of ancient Persian civilization don't base strategy on 'advice' of foreigners—let alone Americans [sic]," the Iranian leader added.
Since taking office, Trump has pushed a hardline stance against Iran. Last May, the president withdrew the U.S. from the 2015 Joint Comprehensive Plan of Action (JCPOA)—commonly known as the Iran nuclear deal—which was signed by his predecessor President Barack Obama and the leaders of the European Union, the United Kingdom, France, Germany, Russia and China. The deal aimed to curb Iran's nuclear program in exchange for sanctions relief.
Despite consistent reports from the United Nations' nuclear watchdog confirming that Iran remained in compliance with the international treaty, Trump withdrew and reimplemented harsh sanctions targeting the Persian Gulf nation. Even the president's own director of National Intelligence and CIA Director have confirmed that the 2015 agreement has worked to curb Iran's nuclear program.
Although the EU, the U.K., France, Germany, Russia and China have all worked to circumvent Trump's sanctions and continue their financial ties with Iran, the punitive measures from the U.S. have taken their toll on Iran's economy. The Trump administration also revealed this week that it would stop issuing waivers to allied nations, which allowed them to purchase Iranian oil without repercussions, signaling an even more hardline approach toward the Islamic Republic.
"President Donald J. Trump has decided not to reissue Significant Reduction Exceptions (SREs) when they expire in early May," the White House said in a statement, according to CNBC. "This decision is intended to bring Iran's oil exports to zero, denying the regime its principal source of revenue."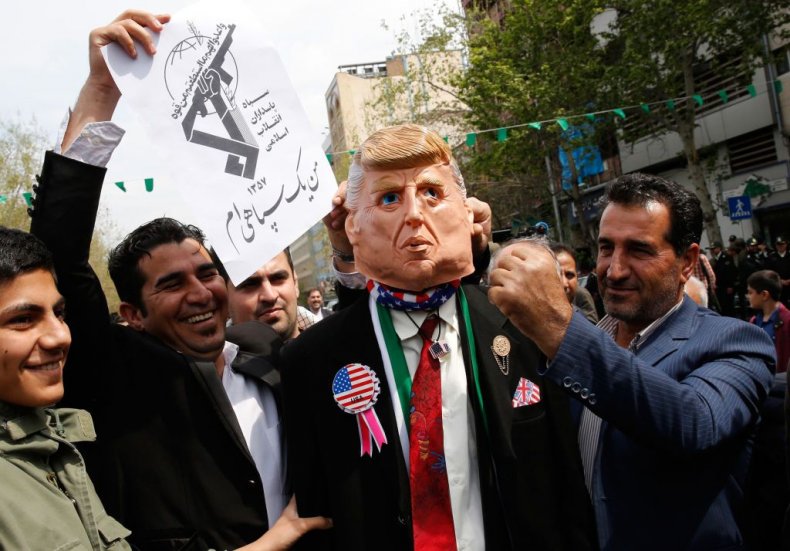 China, India, Japan, South Korea and Turkey had all benefited from the waivers since November. Taiwan, Italy and Greece had also previously benefited from the waivers but have since cut their oil imports from Iran to zero. The Trump administration's decision came as a surprise to many analysts, who had expected that the partial sanction exemptions would be extended.
Iranian leaders have repeatedly warned that they would shut down the vital shipping lane, the Strait of Hormuz, if they are blocked from exporting oil. Rear Admiral Alireza Tangsiri, commander of the Islamic Revolution Guards Corps' Navy, reiterated those threats on Monday.
"According to international law, the Strait of Hormuz is a marine passageway and if we are barred from using it, we will shut it down," the military commander told al-Alam news channel, according to Fars. "In case of any threat, we will have not even an iota of doubt to protect and defend the Iranian waters," he asserted.