Iran has denied U.S. allegations that it played any role in recent attacks targeting Washington's embassy in Baghdad, accusing President Donald Trump of instilling further instability in Iraq with increased military movements at a crucial time for all three nations.
While rocket strikes near U.S. facilities in the Iraqi capital have become a somewhat regular occurrence over the past year and a half of heightened tensions between U.S. troops and Iraqi militias supportive of Iran, the latest barrage last week drew an ominous warning from the president himself, who claimed there was "chatter of additional attacks against Americans in Iraq,"
"Some friendly health advice to Iran: If one American is killed, I will hold Iran responsible," Trump tweeted Wednesday alongside a picture of three unexploded rockets allegedly found near the attack site. "Think it over."
Reacting to the remarks and others like it by U.S. officials such as Secretary of State Mike Pompeo, Iranian Foreign Ministry spokesperson Saeed Khatibzadeh said that Tehran "completely rejects attacks on residential and diplomatic facilities." He called the U.S. comments "suspicious and mischievous."
Iran has faced intensive sanctions put in place after the Trump administration quit the multinational nuclear deal in 2018, and, more recently, military pressure by U.S. warships and bombers sent to the region over the past month.
Khatibzadeh then issued a warning of his own.
"Everyone knows what the Persian Gulf means to the Islamic Republic of Iran," he said, "and knows what a high risk it is to cross Iran's red lines."
Ali Shamkhani, secretary of Iran's Supreme National Security Council, also delivered a message.
"The #USMilitary's increased mobility in the region is a show of defiance & fear because of past evils that increase the entropy of insecurity & lead to harmful misunderstandings," the senior Iranian official tweeted. "Security in the region can only be achieved through the removal of foreign anti-instability forces."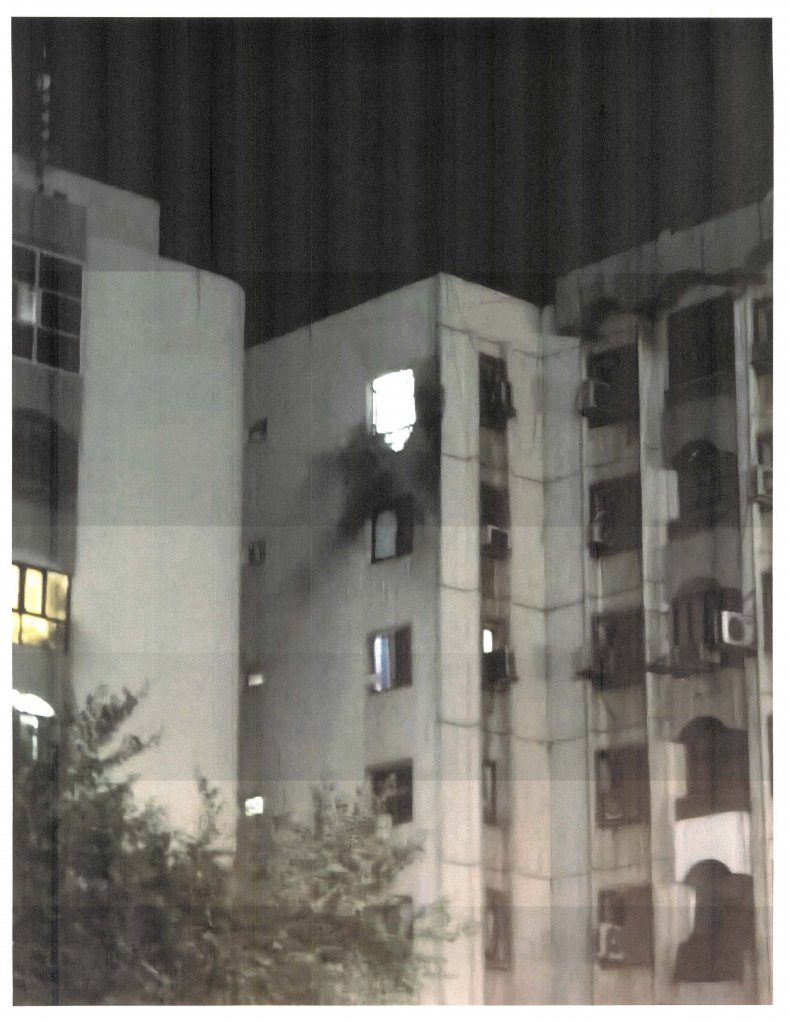 Both Washington and Tehran are closely monitoring one another movement's ahead of what is anticipated to be a tense anniversary of a string of events in late 2019 and early 2020 that represented a milestone in the already tormented ties between the two four-decade foes.
The killing of a U.S. contractor in December 2019 in an unclaimed rocket strike blamed on the Iran-backed Kataib Hezbollah militia led to retaliatory strikes that killed dozens of the group's members. An angry crowd supportive of the paramilitary collective and other contingents of Iraq's state-sponsored Popular Mobilization Forces laid siege to the U.S. embassy throughout New Year's Day 2020 in an act U.S. officials also blamed on Iran.
Two days later, a U.S. strike at Baghdad International Airport killed Iran's Revolutionary Guard Quds Force commander Major General Qassem Soleimani, along with Iraqi Popular Mobilization Forces deputy chief Abu Mahdi al-Muhandis and several others.
The operation was met with an Iranian missile attack days later against U.S. positions at an Iraqi base, and Iraqi lawmakers voted to expel all foreign forces, including those of the U.S.
While the U.S. has transferred a number of Iraqi positions to local troops, and the Trump administration announced last month a drawdown to 3,000 U.S. personnel, no plans for a comprehensive withdrawal have been established.
U.S. Central Command issued its own statement Wednesday in response to the latest embassy attacks, which the command said "was almost certainly conducted by an Iranian-backed Rogue Militia Group."
"These groups are Iranian-backed because Iran provides both material support and direction. They are rogue because they are actually acting on behalf of Iranian interests and direction in a direct betrayal of Iraqi sovereignty," the statement, attributed to spokesperson Navy Captain Bill Urban, said. "It is important for the people of Iraq to understand that past attacks by the Iranian-backed Rogue Militia Groups have killed more Iraqi civilians and members of the Iraqi Security Forces than they have killed Americans."
He warned Iran that the U.S. "will hold Iran accountable for the deaths of any Americans that result from the work of these Iranian-backed Rogue Militia Groups."
The White House has also escalated its "maximum pressure" campaign against Iran in the final weeks before Trump's rival, President-elect Joe Biden, is sworn in on Jan. 20. Biden is expected to initiate negotiations to reenter the nuclear agreement with Iran alongside other major world powers, including Russia, and to lift a number of the unilateral sanctions against the Islamic Republic imposed by President Trump.
Iran has promised to reinstate some of its own enrichment-related commitments to the accord as soon as the U.S. lives up to its obligations. Iranian Foreign Minister Mohammad Javad Zarif emphasized diplomacy as an Iranian asset in a discussion held Sunday with Tehran's Center for Political and International Studies.
Should the U.S. pursue war, however, Zarif warned in an earlier tweet published Thursday that it would be met with an even stronger and deadlier response than that of the U.S. invasion of Iraq in 2003, an operation launched on the pretext of preventing the proliferation of weapons of mass destruction that were never proven to exist.
"Last time, the US ruined our region over WMD fabrications, wasting $7 TRILLION & causing 58,976 American casualties," Zarif tweeted. "FAR WORSE this time. Trump will bear full responsibility for any adventurism on his way out."
He also criticized Trump's "useless" rocket photo and shared two images depicting former President George W. Bush's infamous "Mission Accomplished" photo taken just weeks after the U.S. invaded Iraq 17 years ago, along with one of Trump hand-in-hand with Israeli Prime Minister Benjamin Netanyahu.
Israel is also widely seen as playing a role in recent tensions involving Iran, having been blamed by Iranian officials for the assassination of nuclear scientist Mohsen Fakhrizadeh last month in an eastern suburb of Tehran.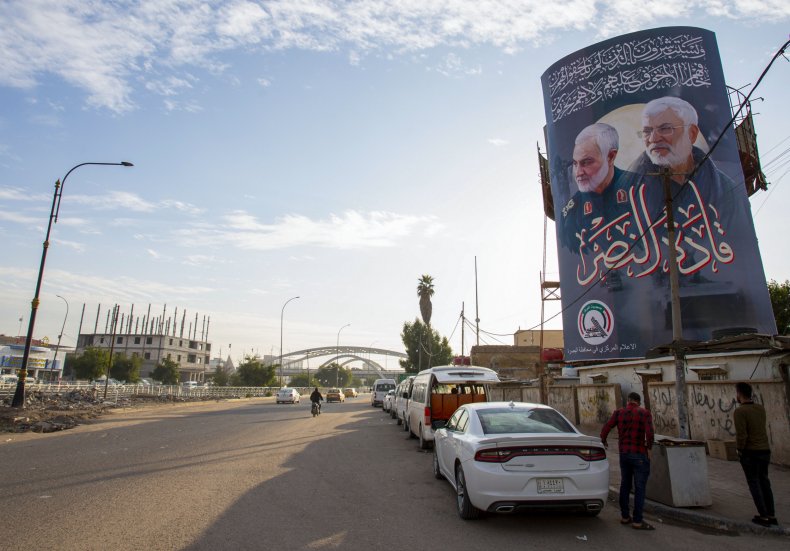 Israel media reported last Monday that, in a rare move, an Israeli submarine crossed Egypt's Suez Canal that ties the Mediterranean to the Red Sea, which feeds off into the greater Indian Ocean, the current operation position for the USS Nimitz carrier strike group.
Also on Monday, the U.S. Navy shared images of Ohio-class submarine USS Georgia and accompanying cruisers crossing the Strait of Hormuz, a strategic waterway in which roughly a third of the world's maritime oil passes just off Iran's shores.
The U.S. has used Persian Gulf waters to launch operations during previous conflicts in Iraq, where tensions today are testing the resolve among rival arms of the state.
Iraqi Prime Minister Mustafa al-Kadhimi quickly denounced last week's rocket attacks, which he blamed on "outlaws" against whom he vowed "decisive confrontation if necessary."
Iraqi security forces were said to have arrested a number of suspects allegedly planning another attack, and among those apprehended by authorities was a member of Popular Mobilization Forces group Asaib Ahl al-Haq, which—like Kataib Hezbollah and Iran's Revolutionary Guard—are considered by the U.S. to be a terrorist organization.
The group's supporters staged a motorcade protest in Baghdad on Friday demanding the militiaman's release, but he is believed to remain in government custody.
The following day, senior Kataib Hezbollah official Abu Ali al-Askari issued a statement warning Kadhimi that "the possibility of an all-out war exists," and that Iraq's self-styled "resistance" factions would band together to defend the country against adversaries that neither Iranian intelligence, the CIA nor others would be able to protect.
On Sunday, Saudi news outlets Al Arabiya and Al Hadath reported that Iraq's Higher Judiciary Council had issued an arrest warrant for Askari. An accompanying document appeared to back the claim.
The same judiciary council said Monday it had reached an "advanced stage" in the investigation into Muhandis' death alongside Soleimani nearly one year ago. Relevant evidence mentioned in the announcement included clips of Trump claiming responsibility for the attack,and the court noted that "the coming days will witness the issuance of appropriate judicial decisions against the accused and those involved in the assassination incident."