Iran Warns of 'Drugs and Terrorism' Coming to West Because of U.S. Sanctions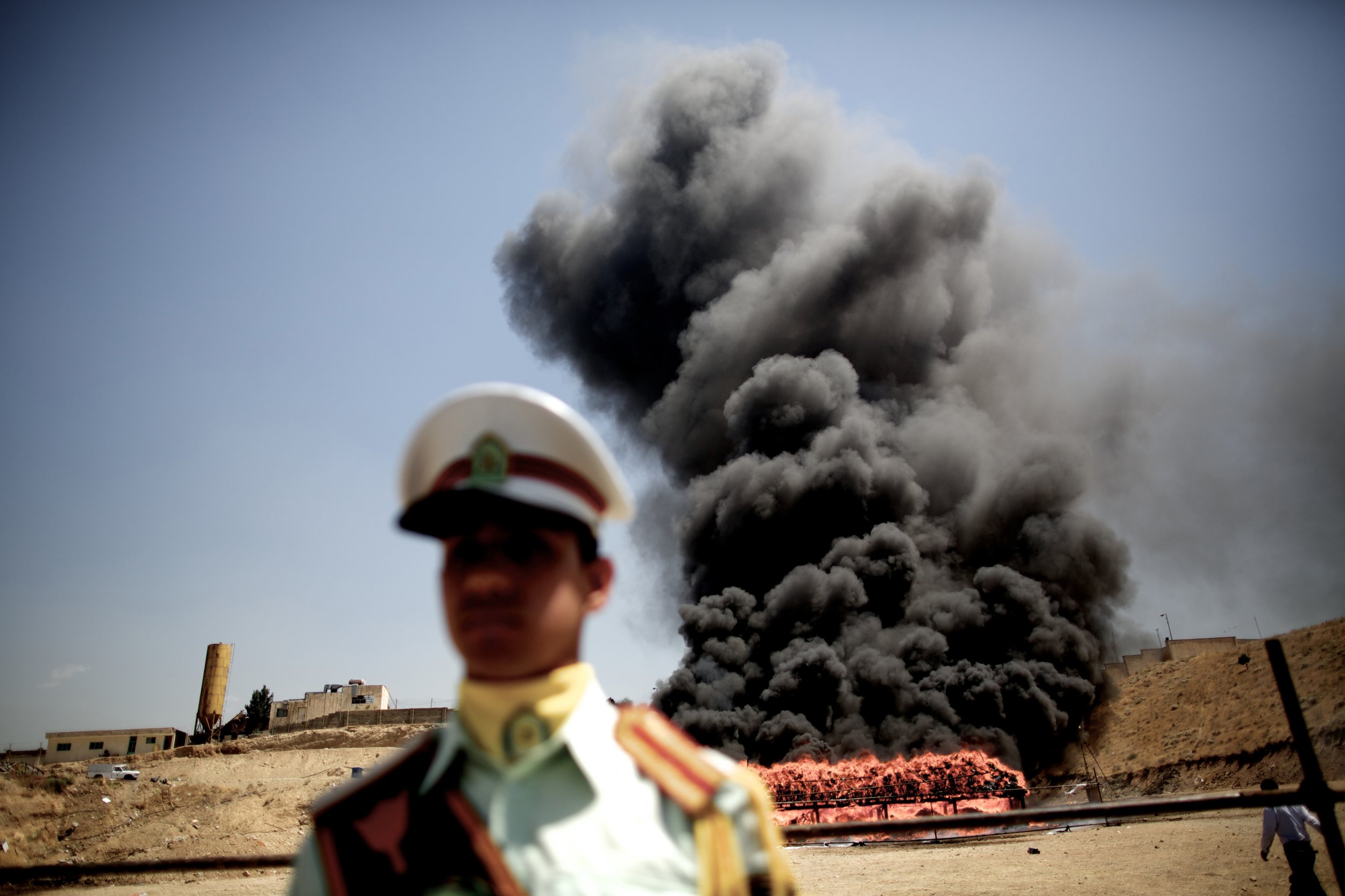 Iranian President Hassan Rouhani has warned of the consequences that sanctions imposed by the United States on his country would have for the West.
Under President Donald Trump, the U.S. has charged Iran with supporting militant movements across the globe and has responded to this and its ballistic missile development by scrapping a historic nuclear deal and re-imposing strict sanctions.
The measures have further crippled Iran's already struggling economy, something that Rouhani told a gathering of the speakers of the parliaments of Afghanistan, China, Iran, Pakistan, Russia and Turkey could hinder its efforts to disrupt drug trafficking and terrorism, leaving the West exposed.
"The fruit of this effort is security for humans regardless of their nationality, ethnicity and religion around the world. We do not expect Westerners to pay their share for the security and stability that we have provided to them, but they must know that boycotting Iran undermines our ability to fight drugs and terrorism." Rouhani said. "I warn all those who boycotters that if our abilities in fighting drugs and terrorism in their origins is undermined, you will not be able to survive the debris of drugs, refugees and bombs and assassination."
"By making Iran weaker through sanctions, many people will not be safe; those who do not believe what we say, they had better look at the map," he added.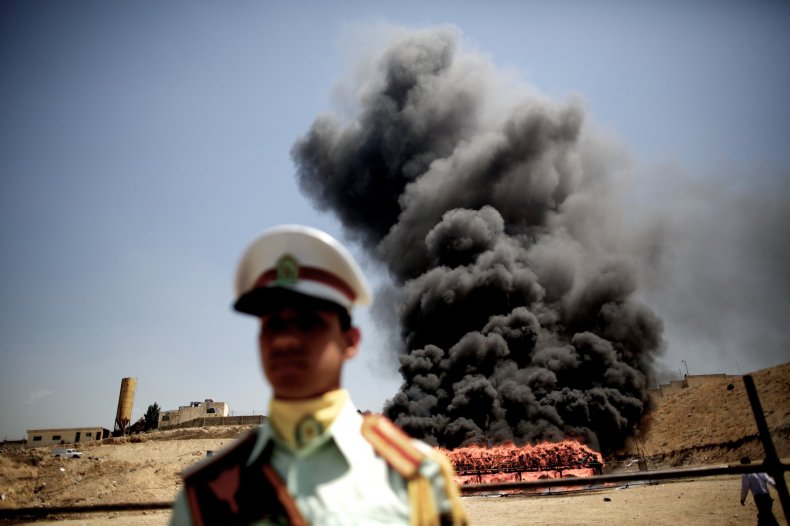 Rouhani claimed that Iran spends "$800 million annually in fighting drugs, the results of which guarantees more health for peoples from Eastern Europe to Western America and from Northern Africa to Western Asia." He also touted his country's contributions to the fight against the Islamic State militant group (ISIS) and other ultraconservative Sunni Muslim groups, saying Iran has "both devoted hundreds of our valuable forces for continuing this tireless fight against violence and extremism and spend millions of dollars each year."
The U.S. has argued, however, that Iran spent $800 million on supporting Lebanese Shiite Muslim movement Hezbollah—which has been accused of dealing in drugs—and Palestinian organizations opposed to Israel. The U.S. has used this, along with Iran's vows to continue building up its own armed forces, as grounds to abandon a nuclear accord signed with Iran as well as China, France, Germany, Russia and the United Kingdom in 2015. Despite these parties still supporting the deal, the U.S. has unilaterally moved to impose sanctions on Iran's economy, deepening a currency crisis there.
Iran has remained defiant in the face of U.S. demands to capitulate on its foreign policy, maintaining backing for groups that have become increasingly influential after defeating ISIS and other opponents of Iraq and Syria, where the U.S. military was also active. As the dispute between Washington and Tehran heats up, the U.S. has warned that it has "the military option on the table" should its assets be threatened.
Tehran, for its part, has repeatedly threatened to close the Strait of Hormuz, the world's busiest oil route, should the U.S. succeed in its mission to reduce Iranian energy exports to zero. Eight countries—China, Greece, India, Italy, Japan, South Korea, Taiwan and Turkey—were granted a six-month exemption on sanctions last month by the U.S., but China and Turkey have vowed to defy them even after the temporary pass expired. Some reports suggested India may as well.
With international support for the U.S. anti-Iran campaign waning and largely limited to fellow Iran foes such as Saudi Arabia and Israel, Tehran has sought to bolster its ties abroad. A European initiative was anticipated to be announced soon intended to defy U.S. sanctions on Iran, which has also expanded its economic and strategic ties with China and Russia. During Saturday's address, Rouhani explained that a regional approach was needed to counter harmful U.S. influence.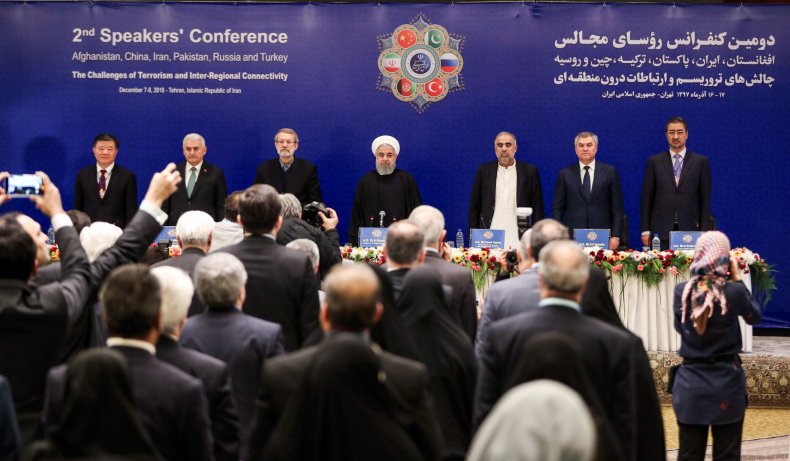 "Of course, the United States is an interference-seeking and unconstructive country that can never give a hand to any country or region in achieving this cause. Our expectations from the U.S. are clear. We do not expect the one who bows to walls to respect bridges," Rouhani said in an apparent reference to Trump's divisive policy of building a wall on the southern border with Mexico.
"We do not expect such an irresponsible person to take on another responsibility," he added. "The person who has humiliated civilizations cannot be expected to be the guardian of the common grounds of civilization, but wherever the United States contributes to the annihilation of societies, we will not let it escape its expenses and destruction."