Iran and Japan have held rare top-level talks for the second time this year amid flaring tensions in the Middle East but also budding signs of what may be a willingness for both the United States and the Islamic Republic to come to the table.
Iranian President Hassan Rouhani traveled to Tokyo on Friday to meet Japanese Prime Minister Abe Shinzo, becoming the first Iranian president to do so in 19 years. The visit followed Abe's historic trip to Tehran in June and, while then too the Japanese leader sought to ease worsening frictions between the U.S. and Iran, the security situation in the Persian Gulf—an oil lifeline for much of the world, including East Asia—has only deteriorated in the months since.
"The context of President Rouhani's trip to Tokyo is efforts by Japanese PM Abe to mediate between the U.S. and Iran and decrease dangerous tensions in the Persian Gulf," Sina Toossi, a senior research analyst at the National Iranian American Council, told Newsweek. "Japan was one of the major importers of Iranian oil and its energy security depends on stability in the region."
Noting the "U.S.-Iran diplomatic deadlock" that followed Abe's visit and missed opportunities at the United Nations General Assembly in September, Toossi said that "Rouhani's trip at this juncture is more promising."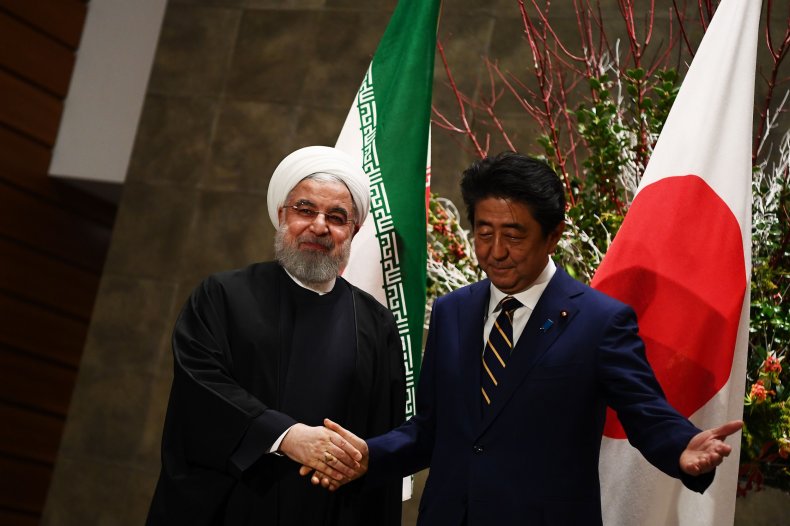 Tokyo has managed to position itself in the middle of longtime foes Washington and Tehran, even as the two fell out over President Donald Trump's unilateral exit from a 2015 nuclear deal with Iran, also endorsed by China, the European Union, France, Germany, Russia and the United Kingdom. New U.S. sanctions against Iran and additional troops in the Middle East were followed by growing unrest in the region, including unclaimed attacks targeting oil tankers in the Gulf of Oman in May.
Just as Abe arrived in Tehran the following month, a second set of sabotage attacks hit two vessels, one of them Japanese, also in the Gulf of Oman. The incident, blamed by the U.S., the U.K. and Saudi Arabia on Iran, cast a shadow over prospects for Japan securing a breakthrough in the U.S.-Iran dispute.
To make matters worse, Trump himself intervened via social media, tweeting: "While I very much appreciate P.M. Abe going to Iran to meet with Ayatollah Ali Khamenei, I personally feel that it is too soon to even think about making a deal. They are not ready, and neither are we!"
With no progress made from their meeting, the situation became particularly dire in the following months as the U.K. and Iran seized one another's ships and the elite Revolutionary Guard shot down a U.S. Navy drone near the Strait of Hormuz, the world's most important maritime oil chokepoint. The Trump administration has attempted to force other countries to quit trading with Tehran through restrictive sanctions, accusing Iranian officials of funding militant groups abroad and pursuing destabilizing missile activities.
The next major opportunity came during September's U.N. General Assembly in New York, a rare occasion in which both Trump and Rouhani were in attendance. The atmosphere for these talks too was poisoned, however, as just days before, Saudi oil facilities were targeted in a series of missile and drone strikes claimed by Yemen's Ansar Allah, or Houthi, Zaidi Shiite Muslim movement, but ultimately blamed by the U.S. and Saudi Arabia on Iran.
Abe still held meetings with both leaders, relaying messages and Rouhani publicly stated that he would be open to negotiating a new agreement as long as Trump returned to the last. The New Yorker and The New York Times reported French President Emmanuel Macron tried to arrange a three-way phone call between himself, Trump and Rouhani, only for the Iranian leader to back out.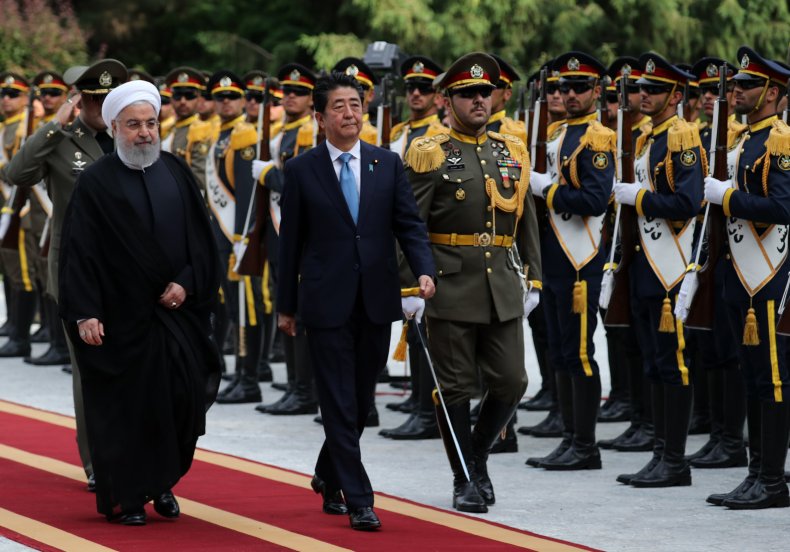 Though there's been no tangible break in the U.S.-Iran dispute haunting the Middle East today, there has been cautious optimism that Tehran and Tokyo's engagement this time around may be more fruitful. Toossi told Newsweek that both Trump and Rouhani could "benefit from a 'small deal'—perhaps in the form of some sanctions relief for Iran in exchange for Iran ceasing further nuclear and regional escalation and agreeing to call or meeting with Trump."
"There are other reasons to be optimistic that Rouhani's Japan trip might lead to diplomatic progress between the U.S. and Iran," Toossi added.
The two leaders also had upcoming elections to consider—Iranians vote for parliamentarians in February and the U.S. decides its president in November—and both men portrayed themselves as dealmakers. Beyond that, The Japan Times cited unnamed sources earlier this month as saying Washington had given Tokyo the greenlight to host Rouhani before the visit was officially announced, while Iran's Donya-e-Eqtesad outlet suggested earlier this week that Japan may seek a U.S. waiver to resume Iranian oil exports—a potential first step toward larger negotiations.
These developments came after the U.S. and Iran exchanged prisoners in a rare understanding between the two governments earlier this month. On the eve of Rouhani's trip, in an even rarer moment, U.S. ambassador to the United Nations Kelly Craft approached her Iranian counterpart Majid Takht-Ravanchi to offer her condolences over the death of a sick two-year-old Iranian girl who he had argued during a heated Security Council meeting could have been treated if it was not for such stringent U.S. sanctions.
Alireza Miryousefi, spokesperson for the Iranian mission to the U.N., called the encounter "brief" and "not out of the ordinary" in a tweet. Speaking to Newsweek, Miryousefi said that "Iran-Japan relations are much deeper than merely functioning as a mediator between Iran and the US, and this trip was not intended as anything but consolidating and fortifying our long-standing ties."
"As to anything having changed in the atmosphere, it seems that only the U.S. keeps adding new sanctions as part of its economic terrorism and in a desperate effort to impose its will on Iran," he added.
With the U.S. and Iran's recent history of false starts and sudden escalations already tempering expectations as to whether Rouhani's trip could serve as a step toward diplomacy between the two countries, Secretary of State Mike Pompeo announced new sanctions against Iran due to widespread allegations of abuses committed as it crushed protests that consumed the country.
"It is evident that forces exist on both sides that seek to rebuild confidence and trust," Toossi told Newsweek. "At the same time, there are also hardliners on both sides that seek to sabotage prospects for new U.S.-Iran negotiations. The timing of Secretary of State Pompeo's new sanctions, just as Rouhani was traveling to Japan, should be seen through this lens."
Following their talks Friday, the Japanese Foreign Ministry presented a readout in which was said that Abe relayed "Japan is seriously worried about the increasing tensions continuing in the Middle East, and Japan has been engaged in tenacious diplomatic efforts towards the stabilization and detente of the situation in the Middle East." Rouhani, for his part, "stated that Iran wants peace and stability in the region, and highly valued Japan's diplomatic efforts, and would continue to work closely with Japan."
The two men met for some three hours, a length that "testifies to the really substantive discussion and also the level of trust between the two leaders as well," one Japanese official told Newsweek. The two sides discussed the 2015 nuclear deal abandoned by Washington as well as Japan's possible plan to dispatch a naval contingent tasked with "information collection posture" and "independent" of the U.S.-led coalition opposed by Iran in the restive Persian Gulf region.
Rouhani, whose government has voiced opposition to foreign military presence near the Strait of Hormuz, said he "understands Japan's intention to contribute to ensuring the safety of navigation through its own initiative" and appreciated his counterpart's "transparency" in doing so.
The two sides continued to maintain close consultations, but, as the Japanese official told Newsweek, there was no official "mediation" on Japan's part when it came to Iran and the United States.
Iranian officials had earlier dismissed the notion that the summit would revolve around the state of affairs between Tehran and Washington and the U.S. was not referenced in any statements from their side either. Iranian Foreign Minister Mohammad Javad Zarif described Rouhani and Abe's talks as "substantive, friendly and frank," writing Friday on Twitter they were "further strengthening bilateral, regional and global cooperation."
When Rouhani himself took to Twitter on Friday, he said Iran "welcomes any plan that could boost economic exchanges, especially in the energy sector, and increase oil exports and sales." He added: "If it's in our national interests, we will not avoid any negotiations or agreements."
"We have, as President Rouhani has stated on numerous occasions and not just in Tokyo, never shied from talks or negotiations when it's in our national interest and can benefit our nation," Miryousefi told Newsweek.
This article has been updated to include remarks provided to Newsweek by the Iranian mission to the United Nations spokesperson Alireza Miryousefi.