Iran has shown off a new long-range missile system that, when launched, would cause the foes of the Islamic Republic to tremble, according to one of the country's most senior military officials.
Major General Hossein Salami, commander of the elite Revolutionary Guard, unveiled the system, which involves a complex, apparently underground series of rails to rapidly transport, fuel and fire off consecutive missiles. He issued a warning to foreign adversaries.
"Our enemies are facing a decline in power, and with each passing day, the slope of this decline is accelerating," Salami said, "but the enemy's threats still remain."
As such, he argued, the Iranian armed forces "must be very careful and vigilant and increase our talent, capacity, defense and deterrence"—areas in which the latest missile system could help.
He emphasized: "When our missiles take off, they cause the bodies of our enemies to shake."
Iran has demonstrated its missile prowess in recent years against foes such as the Islamic State militant group (ISIS) in Syria and the U.S. military, which Iran targeted earlier this year in Iraq as revenge for the killing of Revolutionary Guard Quds Force commander Major General Qassem Soleimani.
Regional tensions remain high today with President Donald Trump to toughen his "maximum pressure" against Tehran should he win a yet undetermined election that closed Tuesday, and a conflict between neighboring Armenia and Azerbaijan threatened to stir unrest across Iran's northwestern border.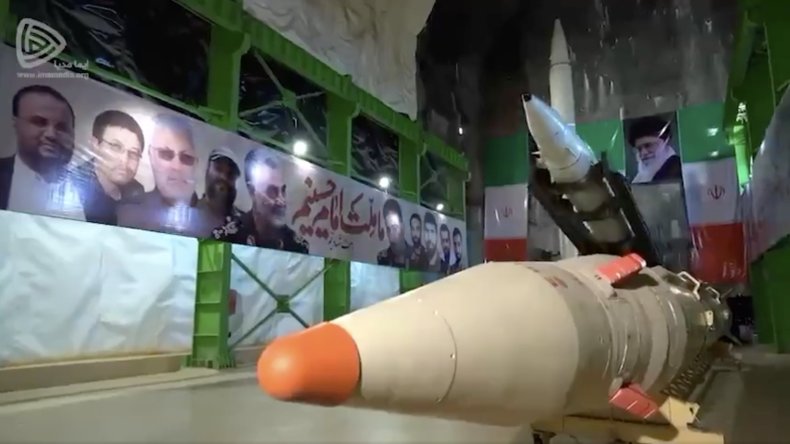 Soleimani's face was featured prominently alongside the faces of other prominent Axis of Resistance fallen including Iraqi Popular Mobilization Forces second-in-command Abu Mahdi al-Muhandis—who died alongside Soleimani at Baghdad International Airport in January—on a banner beside the new missile system.
Also featured were late Lebanese Hezbollah movement deputy chief Imad Mughniyeh, killed in a 2008 Syria blast attributed to the U.S. and Israel, and senior Yemeni Ansar Allah, or Houthi movement, official Saleh Ali al-Sammad, slain during a 2018 Saudi-led coalition airstrike.
Iranian officials have vowed to avenge their dead. A sign seen in Wednesday's footage reaffirmed that "severe revenge is awaiting the criminals."
And while another poster asserted that "no honorable or conscious Iranian will trade away his points of strength!"—a reference to Trump administration demands that missiles would be on the line for the U.S. to return to the 2015 nuclear deal abandoned by the White House in 2018—another, also bearing the likeness of supreme leader Ayatollah Ali Khamenei, appeared to suggest "both diplomacy and missiles" were options for dealing with Washington.
But to reenter talks with the U.S., Iranian President Hassan Rouhani has first demanded the country's return to their nuclear deal, an accord also endorsed by fellow signatories China, France, Germany, Russia and the United Kingdom, and the lifting of unilateral U.S. sanctions crushing the Iranian economy.
Trump's opponent, former Vice President Joe Biden, served under former President Barack Obama, who helped forge the agreement with Rouhani. The Democratic candidate has promised to return to it while also challenging Iranian regional moves viewed as destabilizing.
Secretary of State Mike Pompeo, a leading member of the Trump administration's anti-Iran efforts, issued a statement Wednesday reiterating the current approach by memorializing the 41st anniversary of the 1979 storming of the U.S. embassy in Tehran during the Islamic Revolution that ousted a U.S.-backed monarch there.
"Even today, the Iranian regime continues to utilize the inhumane tactic of hostage-taking to advance its destructive agenda in the region and across the world," Pompeo said, calling for the release of current U.S. citizens believed to be detained in the Islamic Republic.
"But these innocent people are not the only victims of the Iranian regime's brutality," he said. "The regime's longest-suffering victims are the Iranian people, and they deserve better."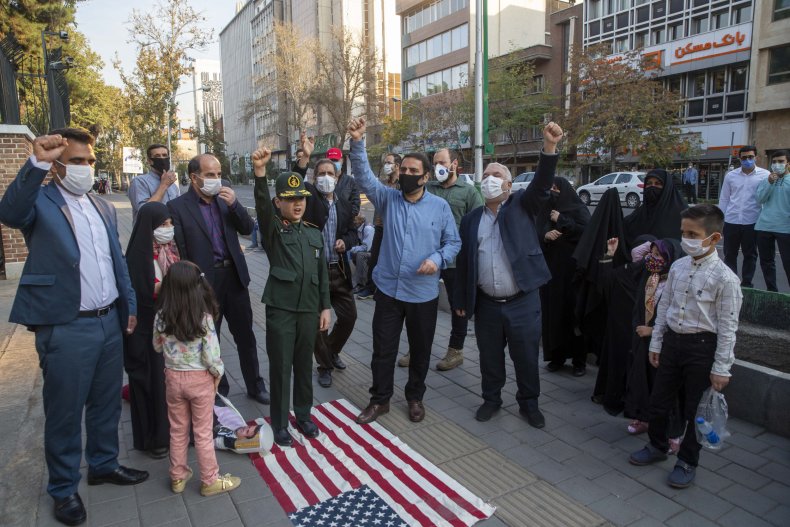 In recent months, U.S. diplomatic and military officials under Trump have described Iran to Newsweek as "the greatest threat" to peace in the Middle East, especially due to its access to the most advanced missile arsenal in the region.
Despite the Trump administration's hard line "maximum pressure" strategy, Iranian mission to the United Nations spokesperson Alireza Miryousefi told Newsweek in the runup to the race that Tehran favored neither candidate.
Khamenei reiterated this point Tuesday, adding that the winner would not affect Iran's policy, as the U.S. was doomed to ruin no matter who won.
"If certain people hold office, they speed up its destruction, while with others it may take a little longer," Iran's top authority said.
Rouhani said Wednesday, as both Trump and Biden considered themselves likely victors, that it was not which man was in the White House but his policies that mattered.
"It is important for us that the United States returns to the law and all international and multilateral treaties, and respects Iran," Rouhani told a cabinet session. "We want to be respected instead of sanctions. If we are respected instead of illegal and oppressive sanctions, then things will be different, and if honor and respect replace threats, and enforcing the law replaces breaking one's promise, things will be different."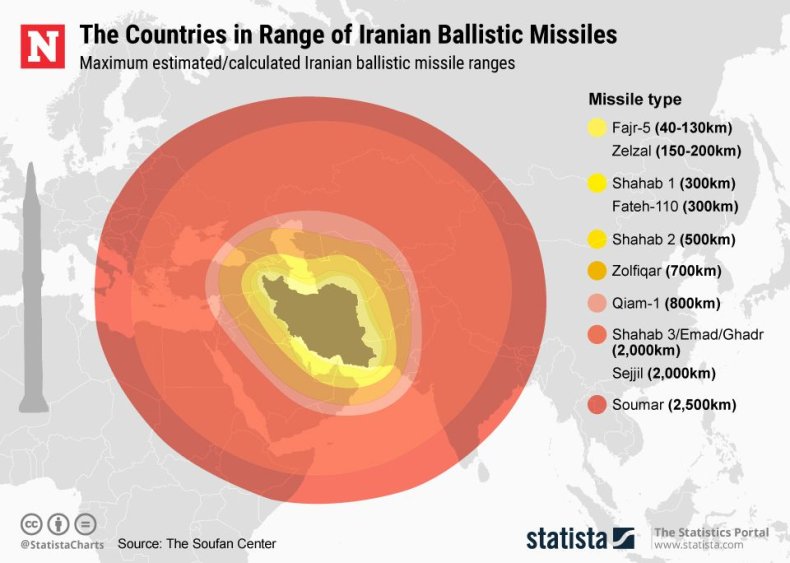 The above graphic was provided by Statista.