Iran Military Leader Says, 'This Is the Most Decisive Moment for the Islamic Revolution' as U.S. Tensions Rise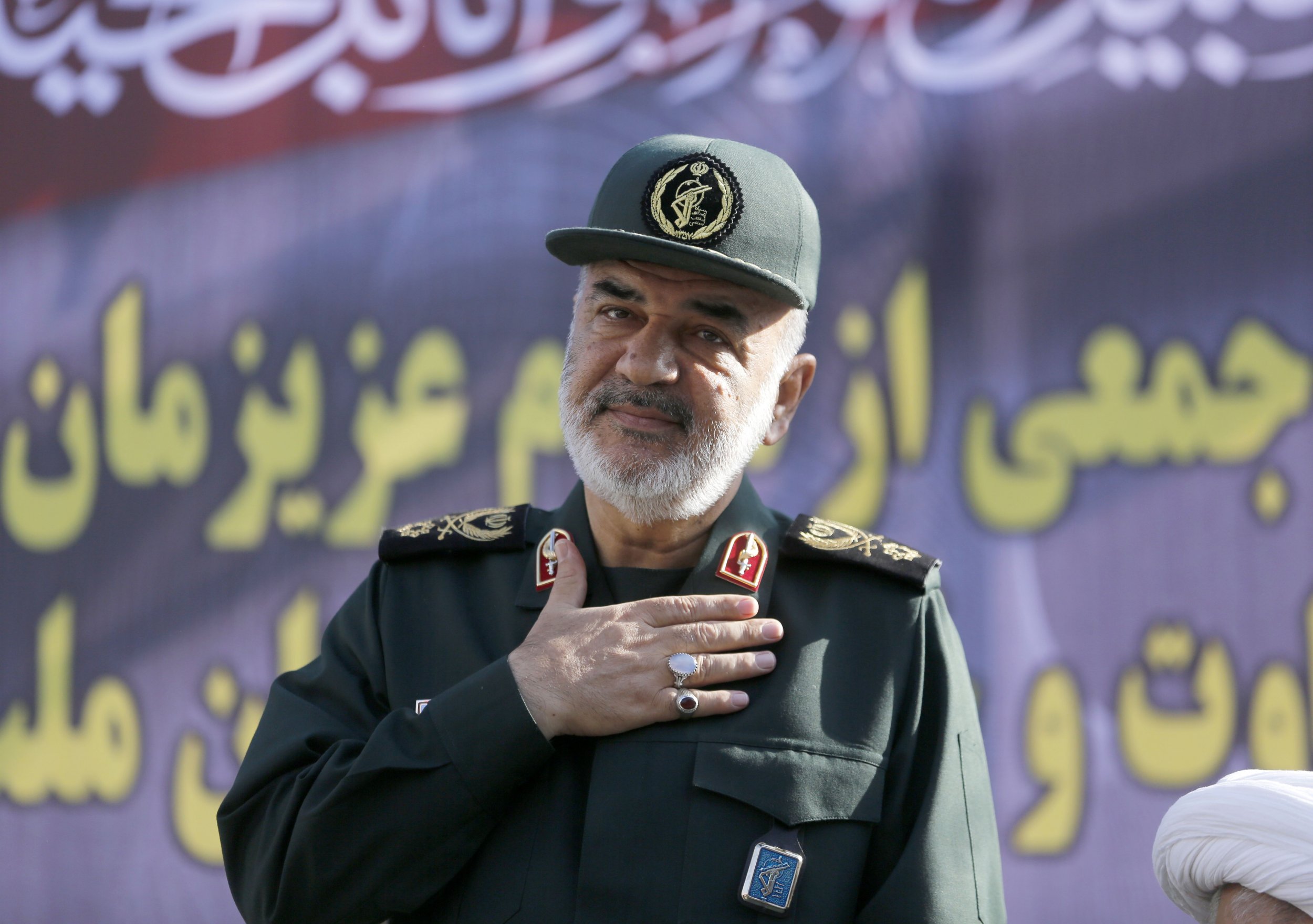 The head of Iran's most elite military force has warned that a potential military conflict with the United States may be on the horizon but said that the Islamic republic would ultimately prevail in any case.
Major General Hossein Salami, promoted last month from deputy to commander of the Revolutionary Guard, warned that Iran was nearing "a full-scale confrontation with the enemy" during a ceremony Wednesday, according to the semiofficial Tasnim News Agency. As the U.S. withdrew embassy staff from neighboring Iraq and sent its USS Abraham Lincoln carrier strike group, along with a bomber task force, to the Persian Gulf amid alleged heightened threats from Iran, Salami warned the crisis was existential for his country's Shiite ideology.
"This is the most decisive moment for the Islamic Revolution because the enemy has come to the battlefield with all of its capacities at its disposal," Salami said, referring to the 1979 uprising that ousted a U.S.-backed monarchy and installed the current theocratic leadership.
He warned that President Donald Trump's "maximum pressure strategy" would ultimately fail due to Iran's "resistance, persistence and endurance," adding that "our enemies have reached the end of the line and, despite their apparent awesomeness, they have osteoporosis from within."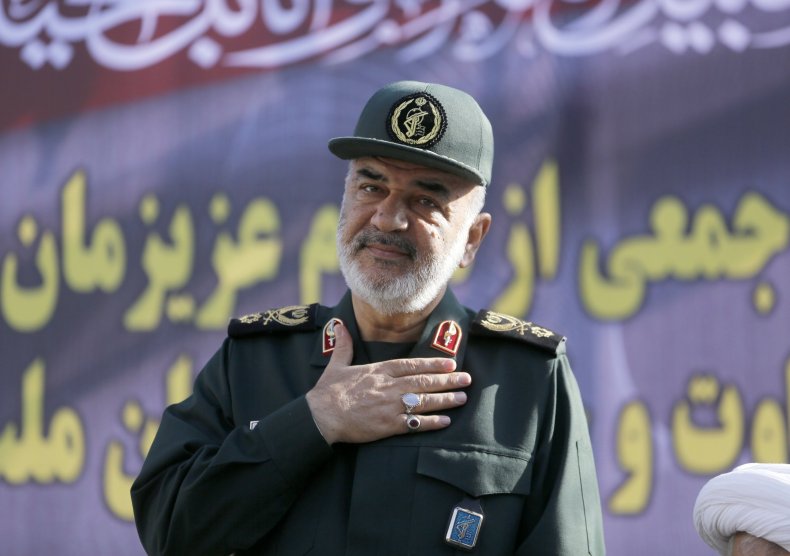 Washington officials have warned in recent weeks that Iran or its allied militias may be plotting to attack U.S. interests in the Middle East, a claim disputed by Tehran. A week after national security adviser John Bolton warned of "troubling and escalatory indications and warnings" suggesting a yet unknown Iranian plot, four commercial oil tankers were damaged in unclaimed attacks in the Gulf of Oman, less than 100 miles away from the world's most important oil chokepoint.
The Strait of Hormuz, through which up to a third of the world's maritime oil traffic passes, has long been the subject of threats from both the U.S. and Iran, and especially since Trump's decision to withdraw from the 2015 nuclear deal. Under that agreement, international sanctions against Iran were lifted in exchange for it limiting its nuclear production. The deal was signed by the U.S. and Iran, along with China, the EU, France, Germany, Russia and the United Kingdom.
Trump warned that the deal allowed Tehran to devote more funds to the regional militias it allegedly supports, as well as its ballistic missile development. The U.S. exit has been followed by increasingly tight sanctions designed to cut off Iranian exports, including oil. In response, Iranian leaders have threatened to disrupt seaborne oil shipments in the neighboring Strait of Hormuz.
On the anniversary of the U.S. leaving the deal, Iran announced it would scale down its commitment to the accord because, it claimed, European powers have not lived up to their end of the bargain thanks to U.S. economic pressure. Still, Iranian officials have warned that any attempt to spark a confrontation would come from the U.S. side, which it claimed used "fake intelligence" to provoke a conflict—akin to false claims that led up to the 2003 U.S. invasion of Iraq.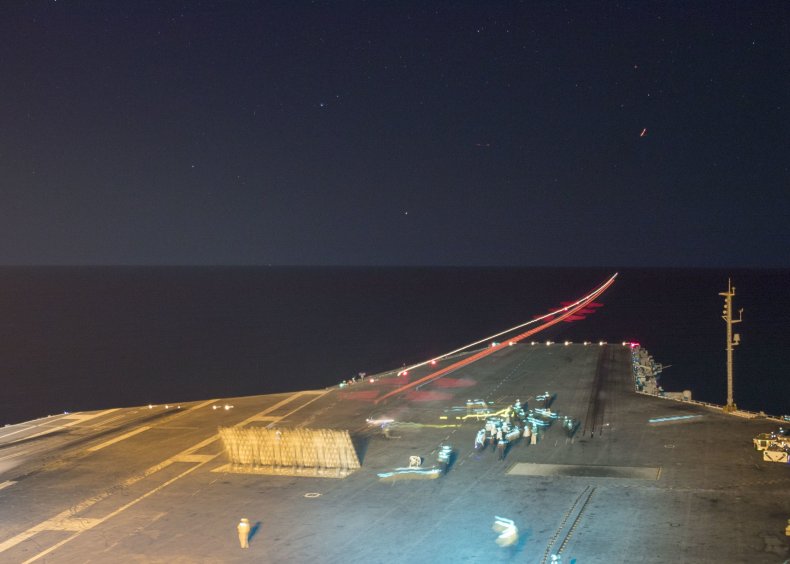 Newsweek has since learned that evidence that Iran was allegedly preparing ballistic missile positions was provided to the U.S. by Israel, with which Iran has regularly exchanged threats. Days earlier, Newsweek confirmed that Acting Defense Secretary Patrick Shanahan drew up offensive and retaliatory military options against Iran, as ordered by Bolton.
While tensions have run especially high in the past couple of weeks, both sides have continued to state that they do not want a war. Iran's supreme leader, Ayatollah Ali Khamenei, said Tuesday that "this face-off is not military because there is not going to be any war," acknowledging that "neither we nor [the U.S.] seek war."
Asked by reporters the following day if the U.S. was on its way toward a potential clash with Iran, Trump simply said, "Hope not."