Iran and Russia's Relationship Since Start of Ukraine War: Full Timeline
Russia has faced widespread condemnation, unprecedented sanctions and a deterioration in its relationships with some members of the international community ever since invading Ukraine in February 2022.
Amid this backlash, one country in the Middle East seems to have emerged as a key ally for Russian President Vladimir Putin's regime and war effort: Iran.
Western nations believe that Iran has supplied Russia with drones to use in its war against Ukraine as it faced reported supply and weapons issues.
Though Iran maintains that it has not provided Russia with drones and Russia has denied using them in Ukraine, Ukraine has reported destroying large numbers of the unmanned aerial vehicles (UAVs) and has even shared a photo on social media of what it said was an Iranian drone used in an attack.
Below is a timeline of key moments in the Iran-Russia relationship since the start of the Ukraine war.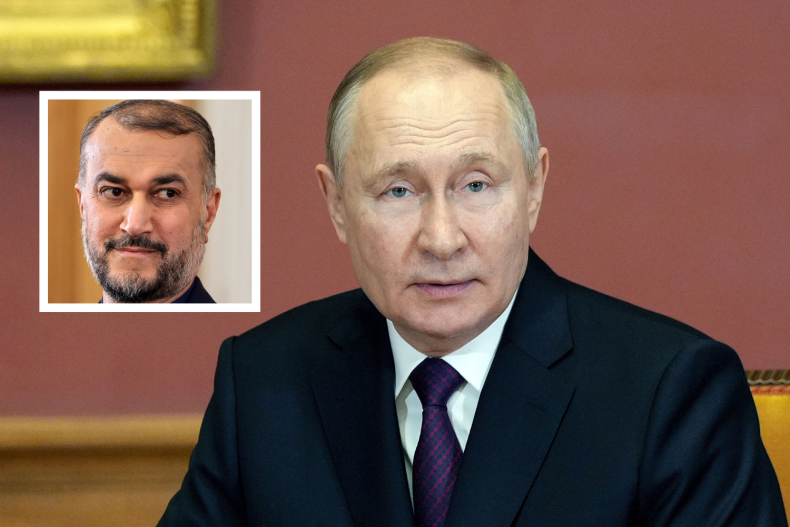 July 2022
U.S. national security adviser Jake Sullivan first told CNN in July 2022 that the U.S. had information that Iran was preparing to provide several hundred drones to Russia, including weapons-capable UAVs. Per CNN, U.S. officials said that a Russian delegation visited an airfield in Iran in June and then again in early July to examine weapons-capable drones.
The June visit "was the first time a Russian delegation has visited this airfield for such a showcase" to the knowledge of the U.S., Sullivan said, according to CNN.
In response to Sullivan's claim in July, Iranian Foreign Ministry spokesperson Nasser Kanaani said that "cooperation between the Islamic Republic of Iran and the Russian Federation dates back to before the onset of the Ukraine war and no specific development came about recently in this regard."
August 2022
The Washington Post, citing unnamed U.S. officials, reported in August 2022 that Russia had picked up its first shipment of the UAVs and departed Iran with them on August 19. Unnamed Biden administration officials who spoke on condition of anonymity said that this initial shipment was believed to be part of plans to ultimately transfer hundreds of Iranian drones to Russia, according to the Post.
September 2022
Ukraine said for the first time in September 2022 that it encountered an alleged Iranian-made drone used by Russia on the battlefield, according to the Associated Press. Images were shared by a Ukrainian military official and on a pro-Ukrainian army website, showing wreckage of a triangular-shaped drone resembling an Iranian-made Shahed UAV.
The military official and website said that the drone was encountered near Kupiansk in Ukraine's Kharkiv region, indicating the Ukrainian forces successfully shot it down amid fighting in the area, the AP reported.
October 2022
Reports in October 2022 indicated that Iran would take steps to ramp up its military supplies to Russia. The Washington Post, citing U.S. and allied security officials, reported that Iran secretly agreed to send attack drones and what were believed to be the first Iranian-made surface-to-surface missiles for use in Ukraine.
Reuters, citing senior Iranian officials and diplomats, published a similar report in mid-October. Iran agreed to a deal to provide Russia with surface-to-surface missiles and more drones when Iranian officials visited Moscow, Reuters reported.
November 2022
When the United Nations Human Rights Council held a special session in November 2022 to address "the deteriorating human rights situation" in Iran amid a violent crackdown on protests in the country, Russia signaled its support for Iran.
The council voted to create a new fact-finding mission to investigate alleged human rights violations related to the protests in Iran. Though Russia was suspended from the council earlier in 2022 over its Ukraine invasion, Russia called the U.N. meeting "counterproductive" and claimed the creation of such a mission was "illegitimate."
Earlier that month, Iran acknowledged for the first time that it provided drones to Russia, but said it was only a "small number" of UAVs sent months before the Ukraine war began, Voice of America reported.
Additionally, CNN reported in early November that Iran would send about 1,000 additional weapons to Russia, likely by the end of the year. These weapons reportedly included advanced precision-guided missiles in a signal of ramped up Iranian support for Russia.
December 2022
A report in December 2022 indicated that Iran could potentially receive helicopters and other military capabilities from Russia as part of the enhanced partnership between the countries.
NBC News, citing senior Biden administration officials, reported that Russia may be sending or planning to send air defense systems, helicopters and the Sukhoi Su-35, a type of Russian fighter jet, to Iran.
The officials said that the Iran-Russia relationship was evolving into "a full-fledged defense partnership" where weapons and military expertise would be exchanged, according to NBC. They also revealed that Russia was seeking to work with Iran on developing weapons.
Also in December 2022, the U.K. Ministry of Defence said in an intelligence update that Russia had likely been resupplied with Iranian-made drones after using up its previous stock.
January 2023
An Iranian official confirmed earlier this month that the country would receive a number of Russian Sukhoi Su-35 fighter jets by March in an additional indication of the deepening relationship between Moscow and Tehran.
Earlier this week, Iranian media reported that Iran and Russia, which are both heavily sanctioned by the West, had established direct links between their countries' banks. Deputy Governor of the Central Bank of Iran Mohsen Karimi reportedly said that Iranian banks can "exchange standard banking messages with the Russian banks" after the countries signed a memo of understanding.
Newsweek reached out to the foreign ministries of Russia and Iran for comment.