Iran Offers More Support for Iraq As It Officially Opens Border with Syria
Iran has pledged to further support Iraq's reconstruction as the neighboring nation announced the official reopening of the border with Syria, which has also been ravaged by conflict and is a mutual ally of Tehran and Baghdad.
At a ceremony remembering those who were killed in Iraq's war against the Islamic State militant group (ISIS), Iranian ambassador Iraj Masjidi reiterated that his country "has always supported and will support Iraq's national sovereignty and territorial integrity." The U.S. and its regional allies have accused the Islamic Republic of exerting undue influence over fellow majority-Shiite Muslim Iraq, something Tehran has denied as it faced off with Washington's "maximum pressure" campaign of economic restrictions and political isolation.
"Iran rushed to the aid of its Iraqi brothers in the most difficult conditions of Iraq's war against ISIS, and today insists that it will be with the Iraqi government and nation at the time of rebuilding and reconstruction," Masjidi told the gathering in the city of Hillah of the Babylon governorate, as reported by the state-run Islamic Republic News Agency.
Masjidi accused President Donald Trump and Israel, with which the U.S. leader has closely aligned himself, of trying to force Iran into submission, "but our people, with their resistance under the leadership of Ayatollah Khamenei, thwarted those pressures, and today the U.S. is begging for negotiations with Iran."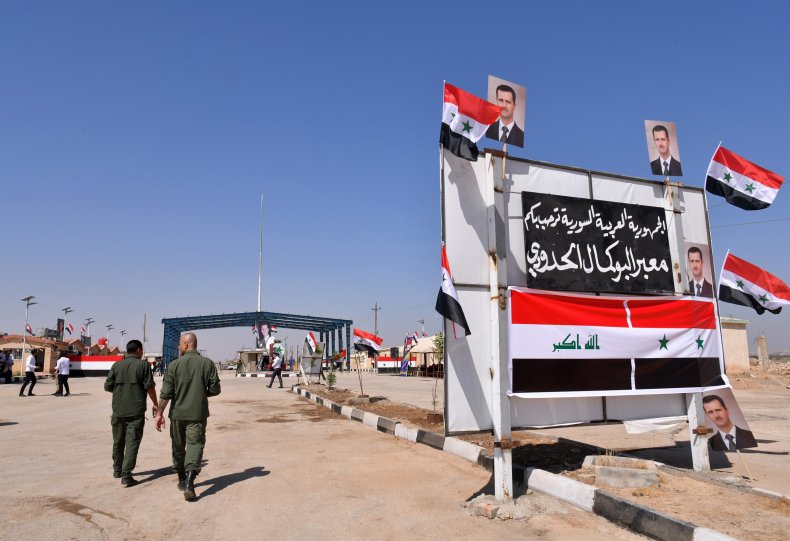 Since leaving the 2015 nuclear deal that granted Iran sanctions relief in exchange for curbing its nuclear activities, Trump has sought to sever Tehran's international ties in hopes of forcing it to end its alleged support for militant groups and its missile development, among other things. Iran has signaled a willingness to enter into talks with the U.S. only if it re-entered its nuclear accord commitments, something Trump has so far said he would not do.
Even with these tight restrictions in place, Iran has seen some success in building regional relations, especially with its former foe Iraq. Tehran made inroads with the new Baghdad government that followed the U.S.-led overthrow of former Iraqi President Saddam Hussein and, despite their ongoing rivalry, both Washington and Tehran devoted efforts to battling Iraq's subsequent Sunni Islamist insurgency led first by Al-Qaeda and later by ISIS.
As ISIS spread to Syria, however, the U.S. and Iran found themselves on opposite sides of an ongoing civil war in which the CIA had backed rebels against a government supported by Iranian forces and allied regional militias. The Pentagon later realigned itself with a more neutral, mostly Kurdish group known as the Syrian Democratic Forces as Russia intervened on behalf of the Syrian government, but the Trump administration has still struggled to rout Iranian influence from the nation.
Even as Washington continued to call for Syrian President Bashar al-Assad's departure, Baghdad expanded its cooperation with Damascus and the two sides—also former adversaries—came together Monday to reopen the border between Syria's Al-Bukamal and Iraq's Al-Qaim, two cities formerly held by ISIS. Syrian Interior Minister Mohammad Khaled al-Rahmoun said the event represented "the victories of our two peoples against the armed terrorist groups over different names, but most of all the terrorist ISIS organization."
The following day, the official Iraqi government Twitter account issued its own message, writing: "As part of the @IraqiGovt policy to strengthen links with all neighbouring countries, Iraq officially reopens its Al-Qaim land border-crossing with Syria after five years of closure, restoring an important transport hub for passengers and goods." Iraq has also called for Syria's return to the Arab League following its 2011 suspension over alleged human rights abuses, a petition supported by several other members, but not yet accepted amid pressure from the U.S.
Syria has, however, managed to rebuild diplomatic ties with several regional states and reopen border crossings with Jordan and at disputed Golan Heights, where international and Russian security forces have been deployed to deter conflict with Israel. Israeli forces have conducted hundreds of strikes against suspected Iran-associated targets in Syria and have allegedly broadened this semi-secret campaign into Lebanon and Iraq.
Such forces have been accused of setting up forward bases supplied via land routes through allied territory stretching across the Middle East, including along the crossing near Al-Bukamal and Al-Qaim, where members of Iraqi Shiite Muslim militias have been killed in yet unclaimed air raids on both sides of the border.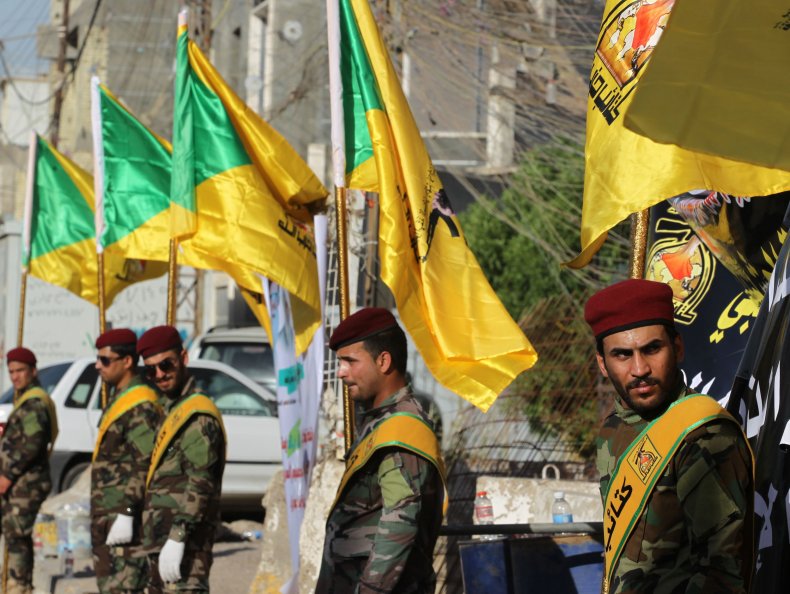 With the U.S. military increasing its regional presence, tensions across Iraq and the Persian Gulf have been especially high in recent months. Washington and a number of its allies have blamed Tehran for unclaimed attacks on oil tankers as well as the recent targeting of Saudi oil facilities in an operation claimed by Yemen's Zaidi Shiite Muslim Ansar Allah, or Houthi, movement, which is accused of receiving Iranian backing.
Masjidi repeated his nation's denials Tuesday, telling the crowd that "Saudi Arabia has also been astonished by the recent developments, and especially by the blow that Yemen's resistance has inflicted, including against Aramco, and has come to the conclusion that pressure and sanctions are not an option and should move towards understanding."
Saudi Crown Prince Mohammed bin Salman, a vocal critic of Iran, told CBS News last week that "if the world does not take a strong and firm action to deter Iran, we will see further escalations that will threaten world interests," but expressed hope that there would be no conflict as "oil supplies will be disrupted and oil prices will jump to unimaginably high numbers that we haven't seen in our lifetimes." Iranian Parliament Speaker Ali Larijani welcomed the remarks Tuesday in an interview with Al Jazeera.
Iranian President Hassan Rouhani has invited both Iraq and Saudi Arabia, along with other regional nations near the Strait of Hormuz to join a so-called "Coalition for HOPE," officially called the Hormuz Peace Endeavor, said to be a means of de-escalating frictions and enhancing cooperation among neighbors.