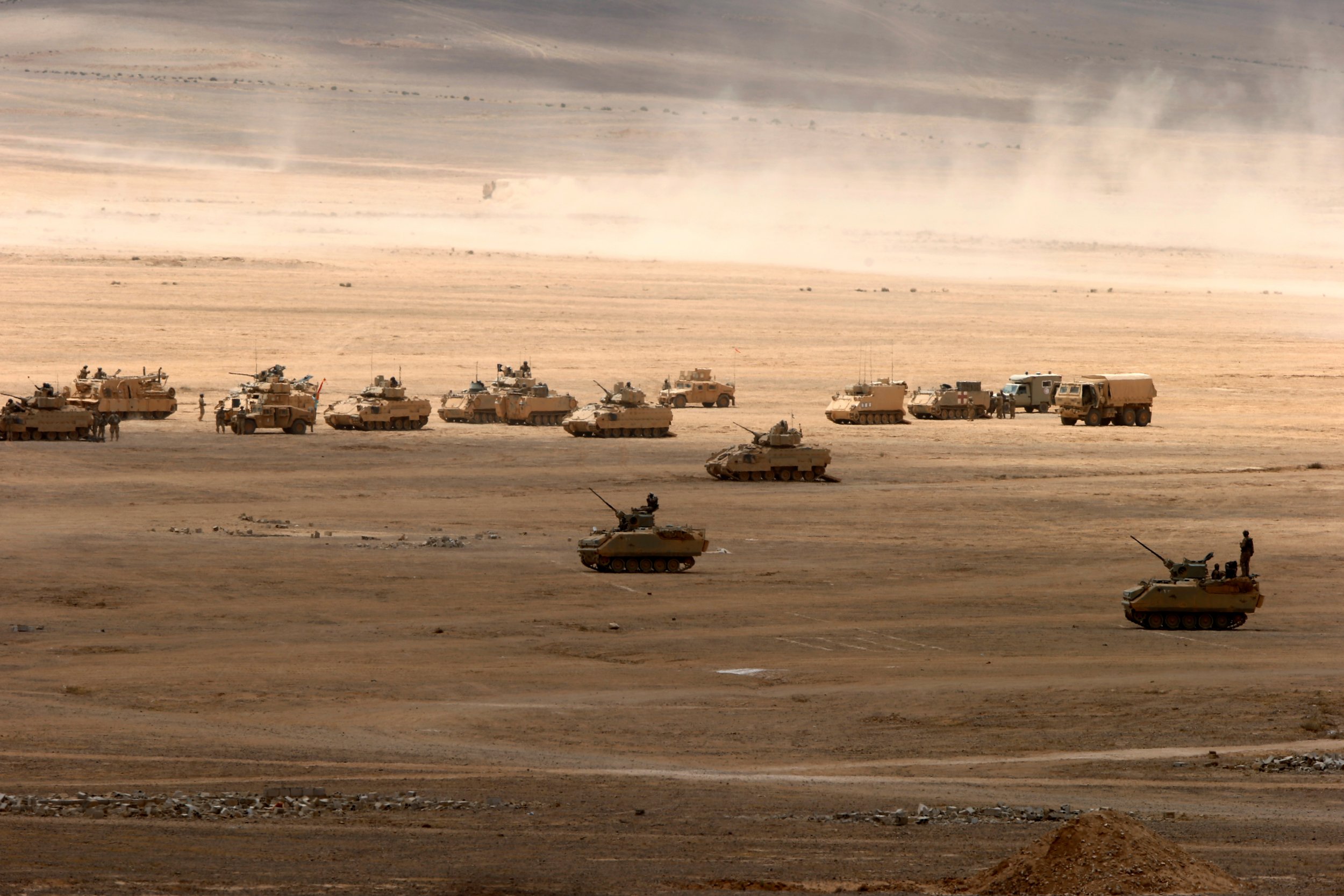 Iranian Foreign Minister Mohammad Javid Zarif has warned the U.S. and its allies against pursuing military action near Syria's borders amid international efforts to bring the six-year conflict in that country to a peaceful end.
Zarif's comments Tuesday came in response to the commencement Sunday of the U.S. and Jordan's annual Exercise Eager Lion, described by the Army's regional deputy commanding officer, Major-General Bill Hickman, as the "largest and most complex to date," according to Al Jazeera. The drills will reportedly draw in 7,400 soldiers from 20 nations and include "for the first time ever a global strike mission" performed by U.S. B-51 bombers, according to Hickman. The massive mobilization has been regarded with deep suspicion by Iran, and Zarif told the Lebanon-based media outlet Al Mayadeen TV that U.S.-backed actions could not remove the Iran-backed government in neighboring Syria.
Related: ISIS Militants Defeated in Battles with Syrian Army and Kurds Backed by U.S.
"Any foreign military activity in the region is doomed to failure," Zarif said.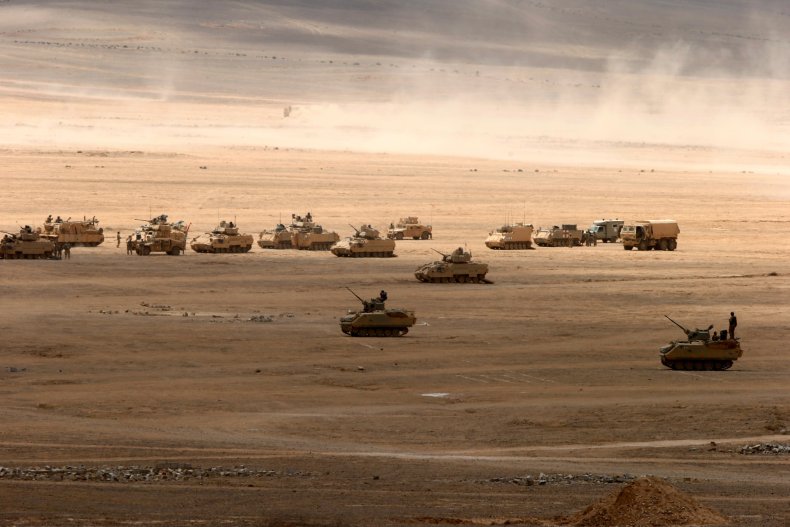 Iran has supported Syrian President Bashar al-Assad, who also is backed by Russia, since insurgents and jihadists took up arms against him in 2011. The U.S., along with allies in the West and Gulf Arab states, quickly endorsed various rebel groups when the conflict broke out. After ultraconservative Sunni Muslim groups such as the Islamic State (ISIS) and the Al-Qaeda-affiliated Nusra Front (now part of Hayat Tahrir al-Sham) began gaining more influence over the rebels' ranks, the U.S. switched its focus from toppling Assad to fighting these hardline groups. In doing so, it shifted its support from rebels to a majority-Kurd coalition of Arabs and ethnic minorities known as the Syrian Democratic Forces (SDF), which isc oncerned more with fighting ISIS than choosing between Assad and rebel groups, some of which are supported by Kurdish nemesis Turkey.
The U.S. still backs certain rebel groups operating against ISIS near the Jordanian border, however, and Zarif's comments came as the Syrian army clashed with the Washington-endorsed Eastern Lions factions, according to the Associated Press. Like Iran, Syria has criticized Exercise Eager Lion being conducted near its border. The pro-opposition network Hammurabi News shared photographs Tuesday that appeared to show U.S. forces training with another Syrian rebel group, Mughawir al-Thowra, in Syria's al-Tanf region that connects with both Jordan and Iraq.
Syrian Foreign Minister Walid al-Moallem warned Monday that, although he viewed the U.S.-backed SDF battling ISIS in northern Syria as "legitimate," any incursion by U.S. ally Jordan in the south would not be welcome.
"If the Jordanian forces entered without coordination with the Syrian government they will be considered as hostile forces," Moallem said, according to the state-run Syrian Arab News Agency.
Moallem also endorsed recent efforts made by Assad allies Iran and Russia and pro-opposition Turkey to end the six-year war, which has already resulted in the deaths of hundreds of thousands of people and displaced millions more. At the latest round of peace talks held Thursday in the Kazakh capital of Astana, the three global powers established four de-escalation zones to protect civilians fleeing violence around the country. Moallem said Monday that Damascus would support the agreement as long as foreign powers were prohibited from operating within the designated areas. Defense Secretary James Mattis has said the plan was being reviewed by the U.S., but questions remain.
President Donald Trump once offered tacit support for Assad by endorsing Russia's mission against ISIS in Syria. The Republican leader reversed his views last month, however, after the U.S. accused the Syrian government of conducting a chemical attack against civilians in the rebel-held province of Idlib, an allegation denied by both Syria and Russia. Less than 72 hours later, Trump authorized a naval strike against a Syrian military airbase, leading to political fallout between Washington and Moscow.
Trump and Putin have since renewed their pledges for closer cooperation in the conflict, and Secretary of State Rex Tillerson was due to meet with Russian Foreign Minister Sergei Lavrov Wednesday to discuss Syria and other international issues.