Iran Says U.S. 'First and Only Regime to Deploy a Nuclear Weapon' And 'Is Still Targeting Civilians' Today
Iran has called out the United States as the only nation to ever use nuclear weapons in combat nearly three-quarters of a century after the landmark atomic bombing of the Japanese city of Hiroshima during World War II.
Iranian Foreign Minister Mohammad Javad Zarif, who was recently sanctioned by the State Department for speaking on behalf of his government, tweeted Tuesday that "74 yrs after US became first & ONLY regime to deploy a nuclear weapon—on a city, designed to maximize casualties—it is STILL targeting civilians." He argued: "This time, with #EconomicTerrorism, violating a historic nuclear deal & punishing those who seek to adhere to it."
Since pulling out of a 2015 nuclear deal limiting Iran's nuclear activities in exchange for sanctions relief last year, President Donald Trump has imposed heavy economic restrictions on the Islamic Republic, frustrating the deal's other signatories—China, the European Union, France, Germany, Russia and the United Kingdom.
The feud between the longtime rivals has worsened in recent months as they swapped threats over recent unrest in the Persian Gulf. The U.S. has accused Iran of targeting commercial vessels and has sought to form a coalition of foreign nations to patrol the strategic waters of the Strait of Hormuz, while Iran has shored up naval ties with Russia and sought to establish a regional security framework.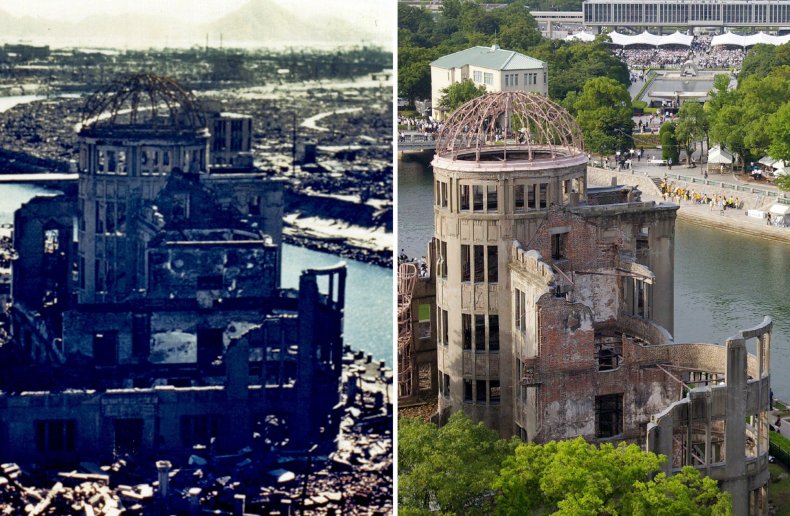 Zarif's post was accompanied by an article and slideshow in the semi-official Tasnim News Agency detailing the events of August 6, 1945, when the U.S. dropped an atomic bomb on Hiroshima, killing at least 140,000 people before conducting a second attack on Nagasaki, killing an estimated 70,000⁠—most of them civilians in both cases. No country before or since has ever used such a weapon of mass destruction during a conflict, though up to eight countries were believed to have attained such technology.
The Trump administration has repeatedly warned that its "maximum pressure" campaign was centered around preventing Iran from obtaining a nuclear weapon, something it has always denied seeking. With European parties failing to normalize trade ties under threat of U.S. sanctions, however, Iran has begun enriching uranium beyond what was outlined in the 2015 deal, though this was not believed to have reached weapons-grade levels.
China and Russia, which were involved in their own economic disputes with the Trump administration, have mostly blamed the U.S. for heightened tensions in the Persian Gulf, while Europe has largely called for de-escalation on both sides. The U.K. announced Monday it would join a U.S.-led "maritime security initiative" that Germany has rejected and to which France has expressed skepticism.
London's shift followed incidents in which Iran's elite Revolutionary Guards seized a U.K.-flagged oil tanker accused of endangering ships in the Strait of Hormuz weeks after the U.K.'s Royal Marines detained an Iranian supertanker charged with attempting to send oil to Syria through the Strait of Gibraltar, in what was said to be a violation of EU sanctions. Both sides have so far dismissed the idea of a swap, maintaining their own respective actions were legitimate, while the other's were unlawful.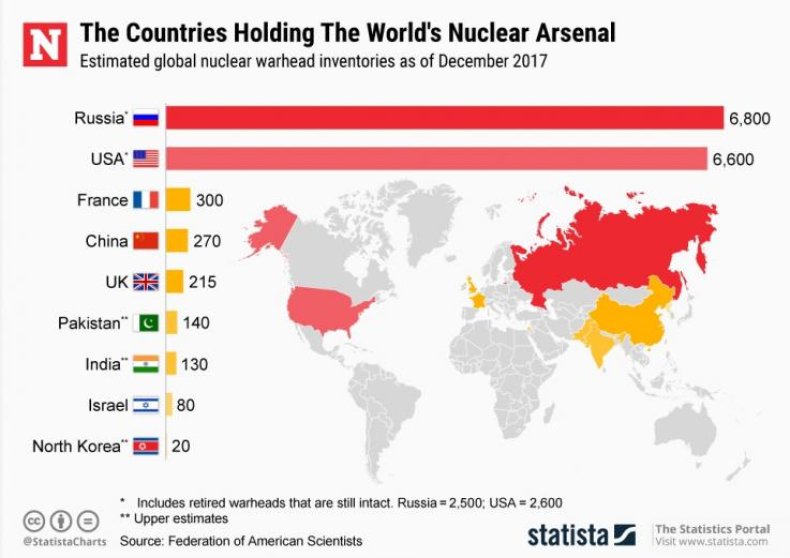 Meanwhile, Iranian senior officials such as Zarif have held meetings with Arab neighbors Iraq, Oman and the United Arab Emirates as Tehran's top diplomat said his country was open for talks with top regional foe Saudi Arabia, a staunch supporter of the U.S. attempts to isolate Iran and a prospective procurer of its own nuclear program thanks to technology transfers overseen by the Trump administration. Also backing Trump's hardline position on Iran was Israel, which—as Iran has occasionally pointed out—was widely believed to be among the nations to actually have nuclear weapons.
Since its defeat in World War II, Japan too has become a close ally of the U.S., but Tokyo has attempted to play a peacekeeping role in frictions between Washington and Tehran in the Middle East. Japanese Prime Minister Abe Shinzo made a historic visit to Iran in June, only for continued attacks in the Gulf of Oman to further disrupt the potential for diplomacy.
As the U.S. continued its efforts to rally international support for its coalition, Tokyo-based newspaper Mainichi Shimbun cited multiple sources connected to the Japanese government as saying that Japan would not be contributing warships to such a mission in the Persian Gulf. Fellow U.S. Asia-Pacific ally South Korea, with which Japan is currently engaged in a bitter trade row that stems back to their own difficult World War II-era history, has reportedly expressed interest in joining the U.S.-led operation.