Iran Warns Against 'Regional War' As Armenia, Azerbaijan Fight Crosses Border
Iranian officials are warning that neighboring Armenia and Azerbaijan's violent battle could become a regional war as it spills across the border and pulls in foreign powers, threatening the security of the Islamic Republic itself.
"We must be careful that this war does not turn into a regional war," Iranian President Hassan Rouhani told a cabinet meeting Wednesday, "and those who pour gasoline on this war should pay attention that its continuation is not in the interest of any country, and this war must end through political ways."
Referring to the region of Nagorno-Karabakh, which is led by ethnic Armenians but internationally recognized as part of Azerbaijan, Rouhani said that "occupation is not acceptable for us and war is not either."
"We hope that with the efforts that are being made, stability will return to this region," he added.
The Iranian leader's remarks are just the latest to come from Tehran regarding the fighting that has erupted in the nearby South Caucasus region, just off Iran's northwestern border region. While incidental cross-border shelling remained an issue, Rouhani referred on Wednesday to reports of yet another threat the war was said to have brought.
While both officials from Azerbaijan and its close partner, Turkey, have denied to Newsweek the presence of Turkish forces and Syrian rebel fighters among the ranks of Azerbaijan's offensive in Nagorno-Karabakh, such reports have begun to illicit unease in Iran, which has for years sent its own personnel and supported to help suppress such insurgents in Syria's ongoing civil war.
"Iran will not allow anyone to bring terrorists, whom we have fought for many years in Syria, to our border points under any pretext," Rouhani warned Wednesday. "This is unacceptable and has been explicitly told to the officials of the neighboring countries."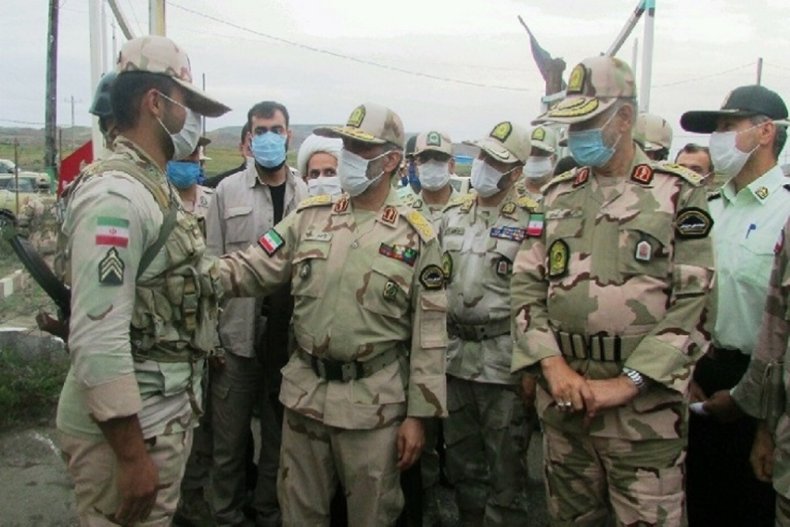 The unrest between the longstanding South Caucasus rivals places Iran in a complicated position. Iran has sought to maintain warm ties with mostly Christian Armenia, an ally of Russia, and fellow majority-Shiite Muslim Azerbaijan, whose overwhelmingly ethnic Azeri population have large numbers in Iran's northwest, also known as Azerbaijan.
For months, Azerbaijan has accused Iran of facilitating the transfer of Russian arms to Armenia. Iranian officials have repeatedly denied this.
And despite Rouhani's warning against bringing Turkey-backed Syria fighters to Azerbaijan, Tehran's top authorities have sided with Baku's position in the conflict, which centers around the Armenia-backed, self-declared separatist state of Artsakh.
"We call on Armenia to return those occupied parts to the Republic of Azerbaijan," Ali Akbar Velayati told Iranian newspaper Kayhan on Tuesday. "More than one million Azeris have been displaced after the occupation of those areas and must return home soon."
But Velayati too emphasized that the conflict had no military solution. Diplomatic officials in Tehran have also offered to mediate the dispute, which is currently overseen by the Organization for Security and Cooperation in Europe's Minsk Group, co-chaired by France, Russia and the United States.
The troika has so far called for an immediate ceasefire and a return to negotiations, a position reiterated to Newsweek on Friday by a State Department spokesperson.
And while Iranian officials have also called for de-escalation and dialogue, anger remains over incidents in which munitions—and reportedly drones—originating from the battles between Armenia and Azerbaijan ended up on Iranian territory. Iranian Foreign Ministry spokesperson Saeed Khatibzadeh told reporters Wednesday that protests were lodged with diplomats in Yerevan and Baku.
The military leadership of Iran has warned of retaliatory measures if the conflict continues to spill over onto its territory.
On Tuesday, Iranian Defense Minister Brigadier General Amir Hatami spoke at a ceremony in the northeastern city of Mashhad, and said that "serious warnings" were already given to Armenia and Azerbaijan over the landing of munitions on Iranian soil, according to the state-run Tasnim News Agency. He said further action would be taken if such incidents continued.
"The lives of the citizens and the security of the sacred Islamic land of Iran is an important and vital issue," Hatami said, "and it is in no way acceptable for a bullet to hit the territory of our country due to inaccuracy and carelessness."
Hatami warned that Iran's response would not be limited to further warnings.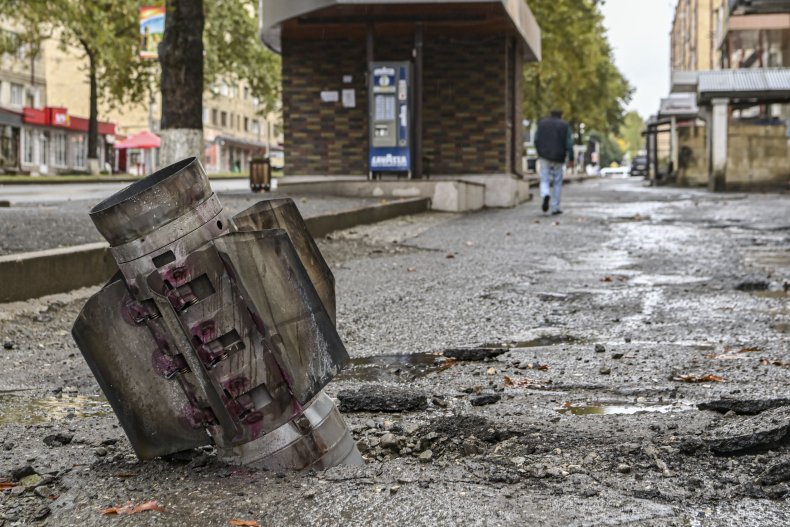 "If such instances of negligence continue by the conflicting countries," he said, "additional measures will definitely be taken."
Iran's borders remain a sensitive issue for the Islamic Republic. Azeri separatist groups such as the Southern Azerbaijan National Awakening Movement have been active in stoking unrest among the country's large Azeri population as war raged on just across the border.
Iran already contends with relatively low-intensity threats from Arab separatists near the border with southern Iraq, Kurdish separatists from northern Iraq and eastern Turkey, as well as the triple threat of Baluch separatists, Sunni Islamist militants and drug smugglers from western Pakistan and Afghanistan.
The U.S. military presence in Afghanistan, Iraq and across the Persian Gulf also weighs heavily on Iran's security concerns.
As Iran keeps a close eye on its northwest, Revolutionary Guard Navy first naval zone commander General Abbas Gholamshahi emphasized on Wednesday that all borders remain secure, and warned "America and neighboring countries" and that any "mischievous" actions would be confronted in an interview Wednesday with the semi-official Tasnim News Agency.
"Our enemies know that today, if they make a mistake, it will bring them regret that which is irreparable," Gholamshahi said.