Iraq Asks United Nations to Stop U.S. From Committing 'Illegal Acts' After Deadly Airstrikes
Iraq has called on the United Nations to prevent the United States from conducting military actions on its own accord after a series of deadly unilateral airstrikes.
The Iraqi Foreign Ministry released on Tuesday two identical letters sent to the U.N. Secretary-General and the U.N. Security Council in response to U.S. airstrikes that targeted five sites across central Iraq that reportedly killing at least six people, including a civilian, and wounding others. The Thursday strikes came in response to a Shiite Muslim militia's Katyusha rocket attack that killed two U.S. personnel and a U.K. service member at the military camp north of Baghdad.
The letters, signed by Iraqi permanent representative to the U.N. Mohammed Hussein Bahr al-Uloom, described the strikes as "a flagrant violation of the conditions of the presence of American military forces in Iraq as well as a dangerous escalation that is meant to make Iraq an arena for regional conflicts and agendas."
"The government of Iraq expresses its condemnation, in the strongest possible terms, of those heinous American attacks and aggressions that violate the sovereignty of Iraq that violate international law," the letters said.
The two documents also "call upon the Security Council to condemn the bombing operations against the Iraqi army and civilian facilities and to assume its responsibility to prevent the United States from committing such illegal acts according to international law and to place full responsibility for the human casualties and infrastructure that resulted from the aforementioned bombing operations."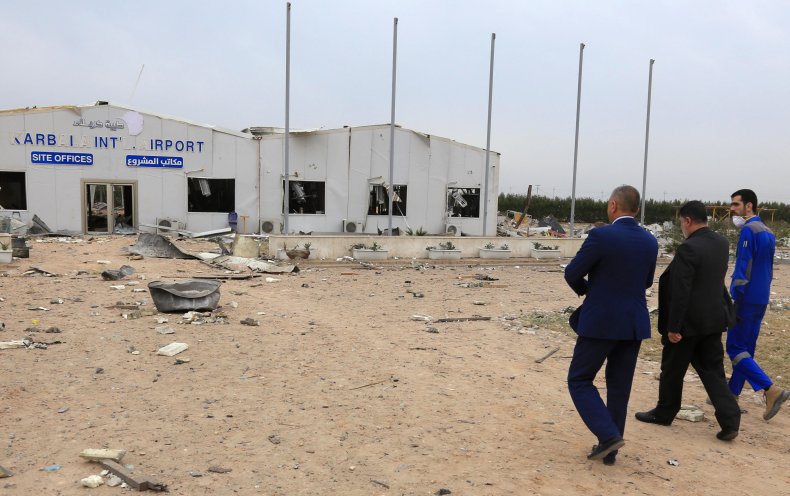 The strikes were followed by a second round of rocket attacks Saturday against the Al-Taji military camp. The following day, a group calling itself Usbat al-Thayyireen—or "the League of Revolutionaries" in English—claimed responsibility for both attacks, referring to them as revenge for the killing of "martyred commanders," likely in reference to Iran's Revolutionary Guard Quds Force commander Major General Qassem Soleimani and Iraqi Popular Mobilization Forces deputy chief Abu Mahdi al-Muhandis.
The two top figures were slain in a U.S. drone strike at Baghdad International Airport in January following another series of escalations sparked by another rocket attack that killed a U.S. contractor in December. The U.S. initially retaliated with airstrikes against positions of Kataib Hezbollah, a Shiite Muslim Popular Mobilization Forces militia supported by Iran.
The Pentagon also laid blame on Kataib Hezbollah for Wednesday's rocket attack, referring to the ensuing strikes as "defensive precision strikes" against five sites allegedly used by Kataib Hezbollah and other Shiite Muslim militias to store weapons. U.S. Central Command identified the locations as the Al-Arab Nawar Ahmad rocket storage facility, the Jurf al-Sakher IRAM storage facility, the Karbala KH advanced conventional weapons storage facility, the Al-Musayyib terrorist weapons storage facility and Jurf al-Sakher propellant production facility and storage sites.
Iraq's Joint Operations Command identified the casualties as three deaths and four wounded from the Iraqi army's 19th Commandos Division, two dead and two wounded from Babil province's 3rd Emergency Police Regiment, a number of wounded among the Popular Mobilization Forces 46th Brigade that includes Kataib Hezbollah, along with one civilian killed at an airport near the holy city of Karbala.
"Assessments are ongoing at this time," a U.S.-led coalition spokesperson told Newsweek on Monday when asked about the reported Iraqi casualties.
The Popular Mobilization Forces denied to Newsweek any affiliation with the Usbat al-Thayyireen that twice struck Al-Taji, attacks also condemned by the Iraqi government. The state-sponsored collective of mostly Shiite Muslim militias includes Iran-linked groups like Kataib Hezbollah and Asaib Ahl al-Haq but is considered an official part of the country's security apparatus, regularly taking part in operations against the Islamic State militant group (ISIS).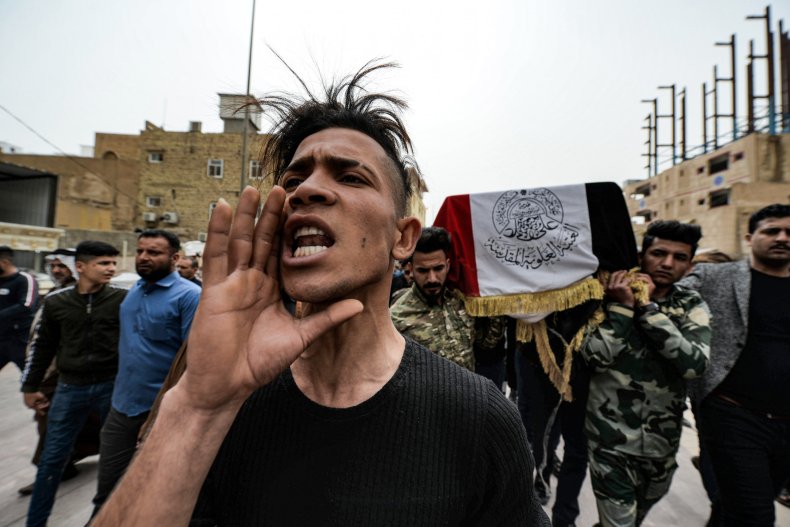 Both the U.S. and Iran have supported Iraq against ISIS but have sought to oust one another from the country. Washington and Tehran's ties have increasingly fallen out since the former left a multilateral nuclear deal in may and imposed strict sanctions against the Islamic Republic.
Meanwhile, ISIS continues to operate in Iraq. Last Saturday, prior to Wednesday's rocket attack, two U.S. Marines were killed while supporting local forces operations against ISIS in an attack later claimed by the jihadi organization in the Makhmour mountains of northern Erbil province.
The Iraqi military's Security Media Cell said in a statement Tuesday that a new "terrorist aggression with 4 82 mm mortar shells that fell near the Al-Wahab Mosque in Tuz Khurmato district, east of Salah al-Din Governorate, which resulted in the injury of 3 civilians, including a woman."
The U.S.-led coalition has continued to support the Iraqi campaign against ISIS even after Iraqi lawmakers voted to expel foreign troops in the wake of the strike that killed Soleimani and Muhandis. On Monday, however, a coalition spokesperson told Newsweek that the international force is "re-positioning troops from a few smaller bases" in the country.
On Tuesday, spokesperson Army Colonel Myles B. Caggins III confirmed that one of these bases included in Al-Qaim, a western Iraqi city bordering Syria, where both Iran-backed militias and the U.S. also battle ISIS but as part of rival factions of a nine-year civil war.
"Today marks a historic moment for the Combined Joint Task Force Operation Inherent Resolve and our Iraqi Security Partners," Army Brigadier General Vincent Barker, U.S.-led coalition Director of Sustainment, said in a statement sent to Newsweek Tuesday.
"Al Qaim base served as a critical location in the fight against Daesh," the statement read, using the Arabic-language acronym for ISIS. "First, as the Iraqi Security Forces liberated the Al Qaim region from an evil presence, and later as a valuable base during the Battle for Baghouz, the last physical territory held by ISIS. Today's transfer is possible thanks to the efforts and successes of our ISF partners."