U.S. Coalition to Leave Some Iraq Bases After Deadly Week of Violence
The United States will be withdrawing personnel from some positions in Iraq after a deadly week of violence among the country's warring sides and at least one civilian caught in the cross-fire.
A spokesperson for the U.S.-led coalition against the hardline Sunni Islamic State militant group (ISIS) told Newsweek on Monday that the multinational group "is re-positioning troops from a few smaller bases" in Iraq. The spokesperson credited "the success of Iraqi Security Forces in their fight against ISIS" and said these bases "remain under Iraqi control and we will continue our advising partnership for the permanent defeat of Daesh from other Iraqi military bases."
The spokesperson did not provide a timeline or location for the movements, only that "troops are re-positioning in coordination with the Government of Iraq."
Citing three unnamed defense officials, NBC News earlier reported that the sites potentially included joint bases at Al-Qaim near the border with Syria, Qayyarah Airfield West near the northern city of Mosul and Kirkuk's K-1 Air Base, the site of a deadly December rocket attack that killed a Pentagon contractor and sparked a new round of U.S. confrontations with local, mostly Shiite, militias that saw the first strikes between the U.S. and Iran in decades.
The Pentagon's latest moves come after another round of bloodshed saw U.S. personnel killed during anti-ISIS operations and by what appeared to be a new, rogue Shiite Muslim group fighting to expel U.S. forces from Iraq.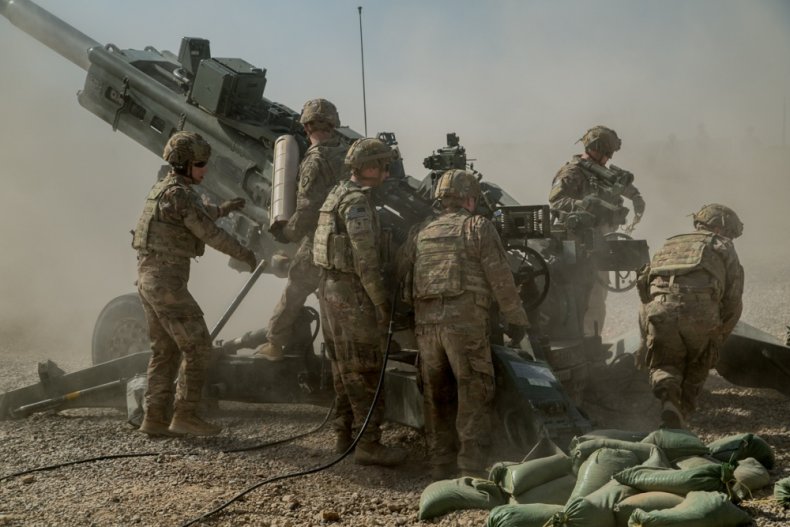 Both Washington and Tehran steadily expanded their grip on Baghdad in the years since the 2003 U.S.-led invasion that overthrew longtime Iraqi President Saddam Hussein. U.S. troops then battled Al-Qaeda and, later, the precursor to ISIS, as well as Shiite militias supported by Iran. Many of these latter groups later organized into what became known as the Popular Mobilization Forces in 2014 in order to battle ISIS as the U.S.-led coalition organized its own campaign.
"The Coalition remains in Iraq at the invitation of the Government of Iraq to defeat ISIS; since 2014, together, we have liberated more than 55,000 square kilometers and freed millions of Iraqi people from ISIS murderous rule," the U.S.-led coalition spokesperson told Newsweek.
With the support of Washington and Tehran, Baghdad managed to mostly defeat ISIS, but the group remains active in certain parts of the country. Two members of the Marine Corps Forces Special Operations Command were killed last weekend while conducting anti-ISIS operations in the Makhmour Mountain area of north-central Iraq.
Two more U.S. personnel were killed alongside a U.K. servicemember Wednesday in a Katyusha rocket attack later claimed by a group calling itself Usbat al-Thayyireen—or "the Revolutionary League" in English—against Al-Taji military camp north of Baghdad. The Pentagon initially blamed Kataib Hezbollah, an Iran-backed Popular Mobilization Forces group. The group was designated a terrorist organization by the State Department in 2009.
The Pentagon conducted Thursday what it called "defensive precision strikes" on five sites said to be used by Shiite militias for storing weapons to target U.S. and allied forces. The Iraqi military condemned both attacks on Al-Taji and the U.S. retaliation, which it said killed three Iraqi soldiers, two police officers and a civilian worker at Karbala Airport, whose airspace the Popular Mobilization Forces told Newsweek at the time was "forbidden to pass through as the city contains an important religious site."
"Assessments are ongoing at this time," a U.S.-led coalition spokesperson told Newsweek when asked about the reported casualties.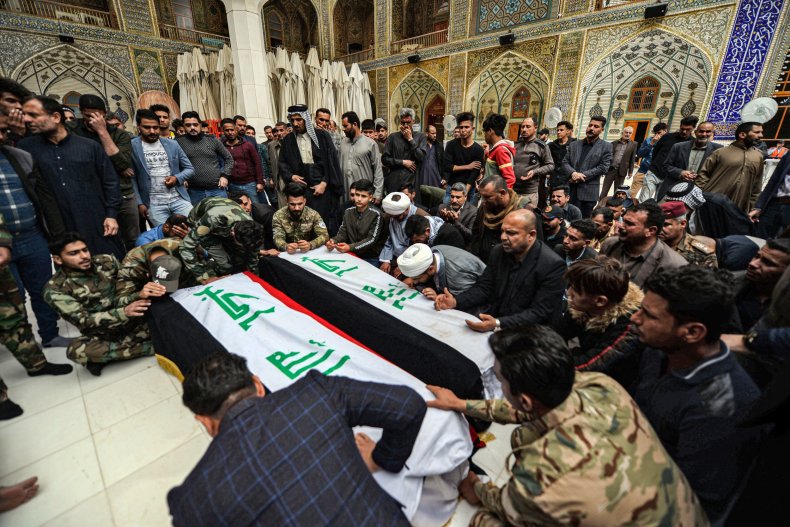 Al-Taji was again targeted with rockets Saturday, injuring three U.S.-led coalition personnel and two Iraqis. Usbat al-Thayyireen claimed both Al-Taji operations the following day, saying they were to avenge the "assassinations of our martyred commanders" in likely reference to the killing of Iran's Revolutionary Guard Quds Force commander Major General Qassem Soleimani, and Iraqi Popular Mobilization Forces deputy chief Abu Mahdi al-Muhandis in a U.S. drone strike at Baghdad International Airport in January. Iran responded with a missile strike and Iraqi lawmakers voted to expel the U.S. military, but U.S. officials have said the matter was not being discussed.
Usbat al-Thayireen's logo and rhetoric bear similarities to many other Shiite groups active in Iraq and elsewhere in the region, a Popular Mobilization Forces spokesperson told Newsweek that "there is no affiliation" with its forces.
Secretary of State Mike Pompeo held a phone conversation Sunday with Iraqi Prime Minister Adel Abdul-Mahdi, whose government has been racked by months-long protests as well as infighting among rival political factions struggling to form a new government.
"Secretary Pompeo reiterated that the Government of Iraq must defend Coalition personnel supporting the Iraqi government's efforts to defeat ISIS," according to a statement provided Monday by the State Department.
"Secretary Pompeo underscored that the groups responsible for these attacks must be held accountable," the readout added. "Secretary Pompeo noted that America will not tolerate attacks and threats to American lives and will take additional action as necessary in self-defense."