Ireland Baldwin Calls Amber Heard 'Disaster of a Human Being' Amid Lawsuit
Ireland Baldwin has called Amber Heard an "absolute disaster of a human being" amid the screen star's ongoing court battle against Johnny Depp.
Depp, 58, has filed a $50 million lawsuit against Heard, 36, alleging that she defamed him in an op-ed published by The Washington Post in 2018, in which said she was a victim of domestic abuse.
While Heard didn't name Depp in the article, his lawyers have argued that it was obvious she was referring to the actor. Heard has counter-sued for $100 million for nuisance, with her attorneys arguing that the op-ed was a matter of public interest.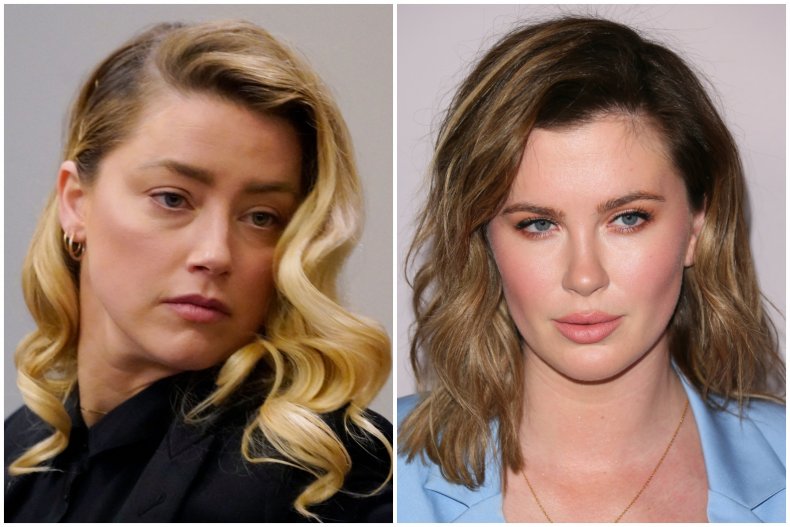 As the trial continues in Fairfax, Virginia, the court was on Wednesday played an audio recording in which Heard could be heard admitting that she had hit Depp and explaining that she was not certain of all the details due to being "on an Ambien," a medication primarily used for the short-term treatment of sleeping problems.
A video clip of Pirates of the Caribbean star Depp looking sullen as the recording was played in court went viral on Twitter, clocking up millions of views in the hours that followed the broadcast of the day's proceedings.
Sharing a screenshot of the Twitter post on her Instagram Story on Thursday, Baldwin, whose father is actor Alec Baldwin, expressed support for Depp as she gave her take on the matter.
"The thing is, I know women who are exactly like this," read the text added to the screenshot the model shared. "They are manipulative and cold and they use their very womanhood to play victim and turn the world against the man because we live in a society where it's cool to say men are all the worst and blah blah f***ity blah.
"Men can experience abuse too and this absolute disaster of a human being Amber Heard is a terrible person and I hope Johnny gets his reputation and his life back. And I hope he's in like 5 Pirates movies."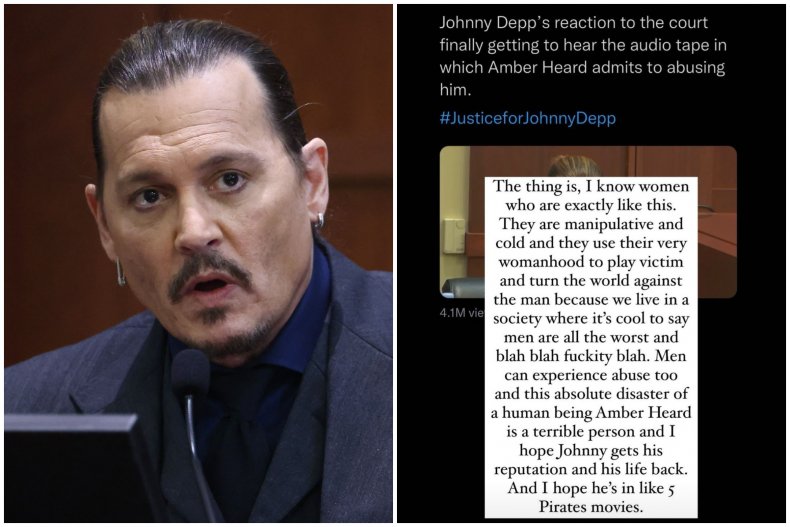 Newsweek has contacted representatives of Heard for comment.
When the recording was played in court on Wednesday, Heard was heard telling Depp: "You told me to do it. You told me 'go do that.'"
"You punched me in the f****** thing," Depp responded in the viral clip.
"You figured it all out," Aquaman star Heard added. "I didn't punch you by the way."
"I'm sorry that I didn't hit you across the face in a proper slap," she continued. "I was hitting you, I was not punching you. You're not punched."
"Don't tell me what it feels like to be punched," Depp said.
Also this week, Heard's attorney, Ben Rottenborn, showed the court text exchanges between actor Paul Bettany and Depp, including one in which the two actors once joked about killing Heard.
Texts from June 2013 showed Depp and Bettany joking about how to kill Heard, with Depp writing: "Let's burn Amber!!!"
Bettany wrote back: "I'm not sure we should burn Amber. She is delightful company and pleasing on the eye. We could of course do the English course of action and perform a drowning test. Thoughts? You have a swimming pool."
"Let's drown her before we burn her!!!" Depp responded. "I will f*** her burnt corpse afterwards to make sure she is dead."
"My thoughts entirely!" Bettany replied. "Lets be CERTAIN before we pronounce her a witch."
Bettany previously said he was "embarrassed" to have his texts made public during another of Depp and Heard's court battles, telling The Times earlier this year: "I knew him before. But we hadn't spoken for years. During the marriage I didn't know them. So I wasn't around for any of that. We live in a world without context."
The latest trial comes less than two years after Depp lost a 2020 libel case against British tabloid The Sun, which had labeled the actor a "wife-beater" in reference to Heard's allegations of domestic abuse.
Heard accused Depp of domestic abuse during their divorce proceedings in 2016. The stars, who wed in 2015, had their union officially dissolved in January 2017, months after Heard filed for divorce.
While Depp had repeatedly denied ever having been violent to Heard during the three-week trial in London, the overseeing judge found that the U.K. publication's claims that the actor was abusive to Heard were "substantially true."
The fallout soon followed for Depp, who was "asked to resign" from Fantastic Beasts 3, in which he was set to reprise his role as Gellert Grindelwald. He was subsequently replaced by Mads Mikkelsen.