The Deadly Threat That ISIS Leaves Behind as It Flees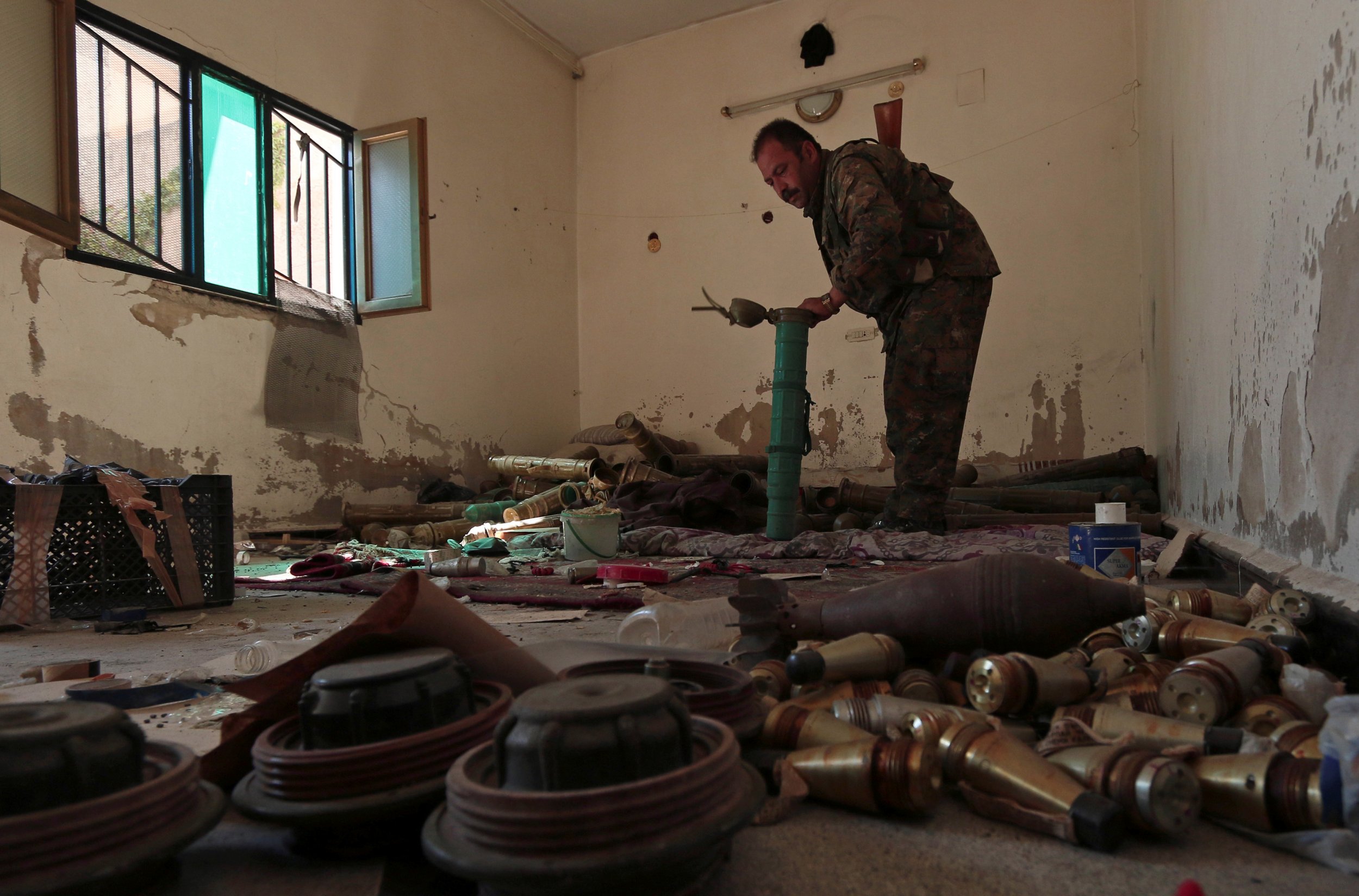 Twelve-year old Aqil Hammud's legs and arms were riddled with painful scars. Bits of fragments from the improvised explosive device that exploded underneath him on that hot June day were still lodged in his sun-tanned skin.
He and four cousins had been walking along a bridge toward a public swimming pool during Ramadan, the Islamic holy month, to cool off before breaking their fast with their families later in the evening. But they never got to the pool. The bomb, triggered by the impact of their feet, exploded as they walked over the bridge. Aqil's cousins—Mohammed, Abdelrahman, Mohammed Ali, all 14; and Hamid, 13—all died.
When I met him three months later, he sat shirtless in a family friend's living room, showing off his scars to his friends, his eyes round and bewildered, a clear liquid oozing from his right ear still untreated as a result of the incident.
We spent five days in October in Manbij, a city of about 200,000 people in northern Syria that was controlled by the Islamic State militant group (ISIS) until just over a month ago. As a strategy of war, families and the authorities told us, ISIS littered the city with improvised anti-personnel mines to keep people from fleeing during the battle for the city.
ISIS planted these devices, effectively landmines, in private and public spaces, booby trapping schools, hospitals and homes, hiding them in door frames, refrigerators, TV sets and under piles of shoes, killing dozens of people and injuring hundreds more. In just a few days, we collected the names of 69 people, including 19 children, who had died from mines and improvised explosive devices, but the number is most likely much higher.
Improvised mines, and other types of explosive devices, pose a serious threat to civilians and have hindered their return in other places that were under ISIS control such as Kobane in Syria, and Ramadi and Fallujah in Iraq. The fear is that this threat will probably also be a factor in al-Bab in Syria and Hawija and Mosul in Iraq, where battles are either impending or underway to retake territory from ISIS.
Aqil wasn't the only victim we met in Manbij. We also met Claudia Taljibini, a Romanian woman married to a Syrian, who had called Manbij home for 20 years. As she was fleeing ISIS with her family, she stepped on a mine.
"Four explosions went 'boom, boom, boom,'" she told me. "I fell to the ground with a number of children and other people. I couldn't feel my arm or leg and there was blood spurting profusely from my leg. I lay there for four hours waiting for someone to rescue me." Now she spends her days in bed, with her daughters helping her to the bathroom and to reach her hospital appointments. She can barely move her left arm, and her right leg was amputated just below the knee.
We also met the family members and neighbors of three little boys who died after venturing into an open classroom in the Seif al-Dawla primary school. Family members and neighbors sat around a pot of tea remembering the antics of the three best friends, and recalling the day they found the bodies of Mustafa Ali Horan, 13, Hassan Othman Nassan, 10, and Emad Ali al-Hamad, 11, flung across the classroom.
"They played in that schoolyard every day together," said Hassan's older brother Mohamed. "The door to the school is usually locked but this time for some reason someone had left it open and the boys walked in. We just heard a huge explosion and ran to find them dead in the room. They played together and they died together."
And the stories kept pouring in. Zakia Hassan told us that her son, Ibrahim Hammud, was killed after stepping on a mattress on the floor under which an explosive device was hidden. He had returned to inspect his home, which ISIS had used as a sniper position during the battle for Manbij. Khalaf al-Kasba, 60, said that an explosive device detonated as he walked into a room in his house in the nearby village of Mansheed al-Tawaheen. ISIS had forced them out of the home during the fighting. A fragment of the improvised explosive lodged in his wife's chest, injuring her. Everyone we talked to knew at least one or two others in the neighborhood or family who had been wounded or killed by these hidden explosive devices.
International law prohibits victim-activated explosive devices, like those we saw in Manbij, because they cannot distinguish between combatants and civilians. The reason for their ban was clear in Manbij: it is Aqil and his cousins, Claudia, Hassan, Emad and the dozens of other civilians whose lives were horribly, irreversibly interrupted. It goes without saying that ISIS should not use such weapons.
But Manbij also holds lessons to those fighting to regain territory from ISIS in Mosul and other places. Two actions are key: raising awareness about the danger of hidden explosive devices among people trying to return home, and developing the capacity to quickly clear homes and residential areas. Together, these could save lives.
Hadeel al-Shalchi is the Syria researcher at Human Rights Watch .