ISIS Loses Over a Million Dollars in Drugs to U.S.-Backed Rebels in Syria
The U.S.-led coalition against the Islamic State militant group (ISIS) announced Monday that partnered Syrian fighters have destroyed a jihadi drug cache worth about $1.4 million dollars.
Operation Inherent Resolve reported that Syrian insurgent group Maghawir al-Thawra destroyed on Tuesday a stockpile of narcotics that "included more than 300,000 pills of Captagon, an illegal drug frequently trafficked and used by Daesh members," referencing the Arabic-language acronym for ISIS. The drugs were reportedly seized May 31 in the roughly 34-mile deconfliction zone maintained by the U.S. in the southern Syrian border crossing of Al-Tanf despite calls to withdraw by the Syrian government, Russia and Iran, who are also involved in the fight against ISIS in the war-torn nation.
"Our dedicated partner forces are committed to the defeat-Daesh mission," U.S.-led coalition Special Operations task force commander Major General James Jarrard said in a statement. "This is another great example of their dedication and professionalism in the fight against Daesh and in the protection of the people of southern Syria."
The coalition statement described Captagon as "a highly-addictive amphetamine-based drug that is banned in many countries" and is "informally referred to as the 'jihadists' drug.'" It also accused ISIS of hiding behind a "façade of Islamic purity" due to the apparent contradictions in its ultraconservative Islamist ideology and its members' alleged involvement in drug use and trafficking.
In a Twitter post, Maghawir al-Thawra pledged to "deal with every drug trader and dealer legally and decisively in cleansing the 55-kilometer region of all drug and intoxicating substances that destroy family and society." The post was accompanied by a video that appeared to show photos of the captured drugs and suspects as well as the destruction of the illegal substances.
Related: U.S. Military Will Leave Syria Base in Deal With Russia, Reports Say
Maghawir al-Thawra is one of the few Syrian rebel groups still supported by the U.S. as part of a 2011 uprising against Syrian President Bashar al-Assad, whose Russian and Iranian allies have since helped him largely overcome insurgents backed by the West, Turkey and Gulf Arab countries. The U.S. mostly cut CIA support to the increasingly jihadi Syrian opposition after focusing on a Pentagon-led, largely Kurdish offensive against ISIS in recent years, but retained support for certain groups that agreed to abandon the fight against Assad to target ISIS.
The region of Al-Tanf, where Maghawir al-Thawra operates, has been the source of tension between the U.S. and pro-Syrian government fighters since the U.S. military established a base there in 2016. U.S.-backed fighters and pro-Syrian government forces have clashed in the outskirts of Al-Tanf and, as the U.S. and Israel escalated violence against the Syrian military and its allies, Russia and Iran have joined Syria in calling for the U.S. to dismantle the base, where they say the U.S. has attempted to regroup ISIS fighters into new insurgent formations.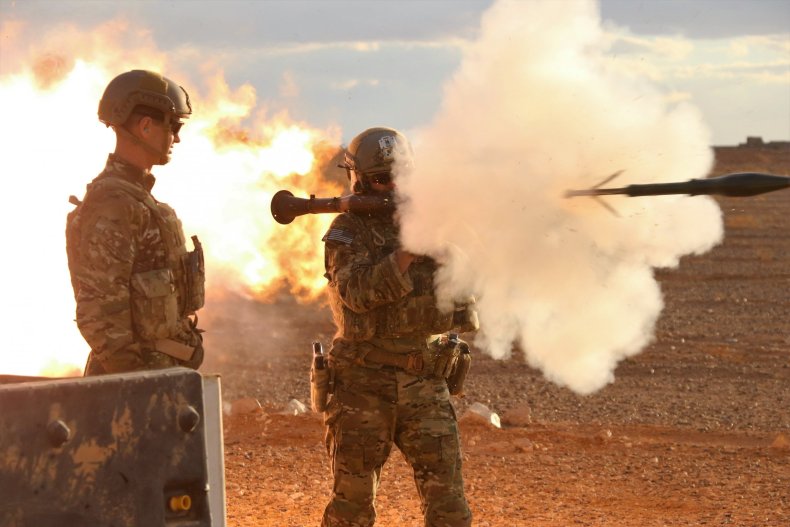 Al-Tanf has reportedly been the subject of recent discussions regarding a potential deal to reduce Iranian and pro-Iran participation in a new Syrian military southern military offensive near the Golan Heights, which has been occupied by longtime Syria and Iran's longtime foe Israel for decades. Coalition officials, however, have denied any status change over operations in Al-Tanf.
Coalition officials have also denied new charges of violence against pro-Syrian government forces in the eastern province of Deir Ezzor, where both U.S. and Russia-backed campaigns are being waged against ISIS. The official Syrian Arab News Agency cited an official military source as saying U.S.-led coalition aircraft were behind airstrikes that reportedly killed dozens of pro-Syrian government fighters Monday near the once-ISIS-held southeastern border town of Al-Bukamal. Reuters quoted an unidentified pro-Syrian government commander as saying the attackers were "probably American."
CNN cited one unnamed U.S. official Monday as saying it was actually Israel who conducted the attacks. Israel has not commented on its potential involvement, a routine policy adopted to shroud its growing involvement against Iran and its allies in neighboring Syria. Most Israeli attacks, however, have occurred in the western and southern parts of the country.