ISIS Releases Photos of Executions and Floggings in Libya's Sirte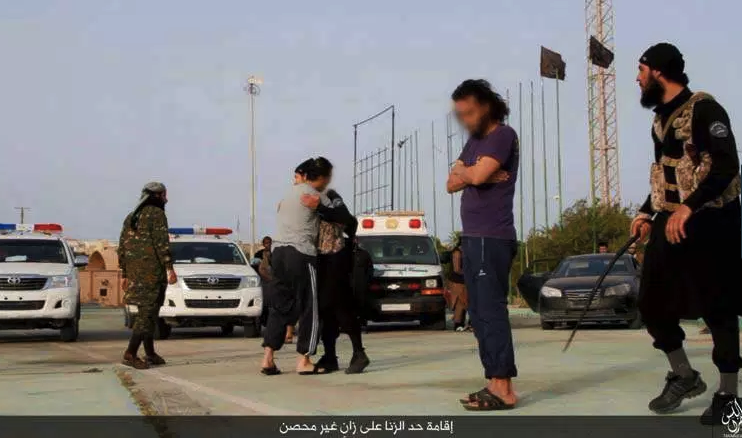 The Islamic State militant group (ISIS) has released brutal images of the execution of two men in its North African capital, the Libyan city of Sirte, as it increasingly imposes its brutal brand of Sharia law on the local population.
The images, entitled the "Establishment of 'Hudud' (restrictions) in the City of Sirte" and released by the group's Wilayat Tarabulus (province of Tripoli) media wing, show a crowd gathered to watch the execution of two men, killed by a masked gunman at close range.
Both men have their hands tied and sit on their knees when the gunman carries out the murderous act. The images are too graphic for publication.
Men are also shown standing in front of a militant holding a whip that they are to be flogged with. The crimes of the men executed and flogged are not given but Hudud crimes can include crimes against "Allah" in Sharia law such as adultery.
Earlier this week, the same media wing also released propaganda images of ISIS militants handing out sweets to citizens of Sirte in celebration of the triple suicide bomb attacks in Brussels that left 31 people dead.
The images highlight the brutality that the militants have brought to the hometown of former Libyan dictator Muammar Gaddafi, which the group overran in June 2015. Last month, its militants released images of a wheelchair-bound executioner purporting to crucify an alleged spy.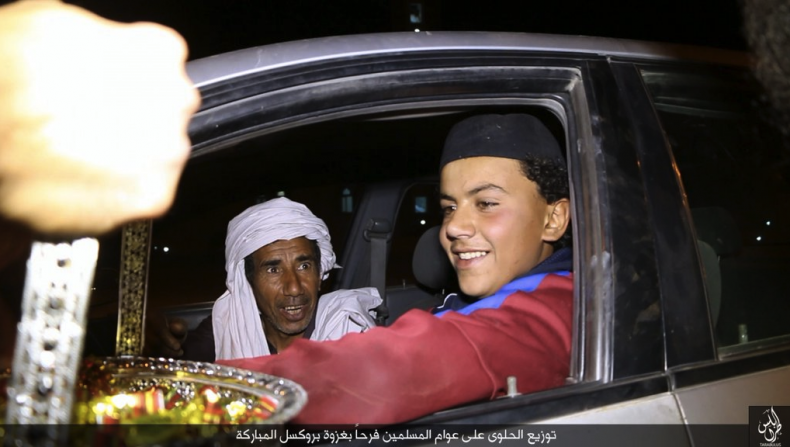 ISIS is attempting to mirror its establishment of cities ruled by Sharia law in Iraq and Syria in the Libyan coastal city but is coming under pressure from increasing international action in the city. Libyan forces this month conducted airstrikes against the radical Islamists in the city, killing 18 people, including several senior ISIS members.
The group has executed rivals in the central Libyan city, set up checkpoints and bolstered its security around the perimeter of the city, essentially locking it down amid fears of local dissent. There is no phone connection in the city and residents are only permitted to use satellite Internet, making contact to those inside the city increasingly difficult.
ISIS is now estimated to have some 3,000 fighters in the city, capitalizing on five years of instability in Libya after the NATO-led ousting of Gaddafi in 2011.
The group's growth in Libya has forced the U.S.-led coalition in Iraq and Syria to divert its attention to North Africa and, last month, the U.S. air force conducted air strikes against ISIS training camps near the western city of Sabratha, near the Tunisian border.