Israel Bombs New Military Positions in Syria and Missiles Fire Back, Reports Say
Israeli missiles have reportedly targeted military positions in Syria as local air defenses fired back in an attempt to intercept the attack.
Citing defense sources, the state-run Syrian Arab News Agency reported Thursday that the Syrian armed forces had intercepted an Israeli attack on a military airport in the central province of Homs. No casualties have been reported, and Israel has yet to claim responsibility, but the country routinely keeps silent about its growing military role in neighboring Syria, where Israel recently launched a historic wave of airstrikes against suspected Iranian and pro-Iran targets.
The Syrian Observatory for Human Rights, a U.K.-based activist group supportive of the Syrian opposition, said, "Six explosions rocked the western countryside of Homs today evening, Thursday the 24th of May 2018, caused by rocket shelling believed to be Israeli, which targeted al-Dab'ah Military Airbase and its vicinity and outskirts in the western countryside of Homs," where pro-Syrian government forces, including Iran-backed Lebanese Shiite Muslim Hezbollah, were located.
The group said Syrian air defenses fired back in an attempt to block the attack, but said it could not yet provide any estimates of damage or casualties on either side.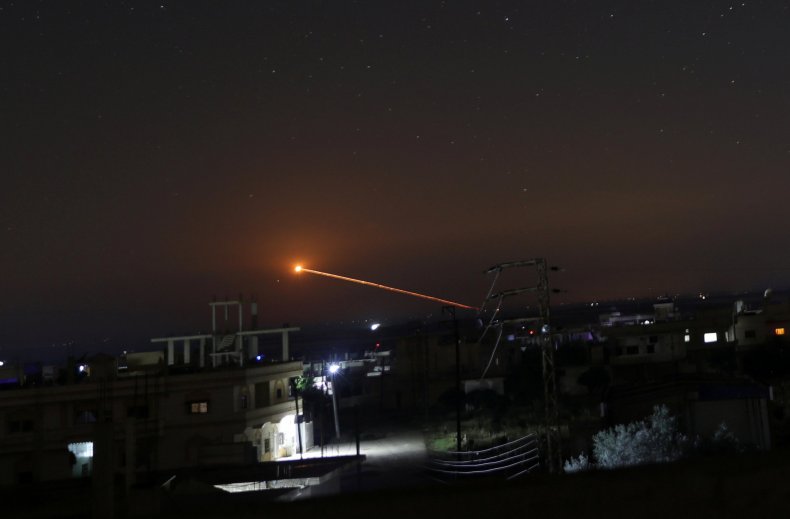 Lebanon's own official National News Agency carried a statement on Friday by the Lebanese Army Command Directorate of Orientation, identifying five Israeli reconnaissance aircraft that had earlier violated Lebanese airspace near the southern villages of Alma al-Shaab and Al-Naqoura as well as Riyaq and Baalbek in the east.
The Jerusalem Post also cited Lebanese military sources as saying Israeli aircraft had breached Lebanese airspace leading up to the attack, which took place near Homs city. The U.S.-led coalition, formed in 2014 to battle the Islamic State militant group (ISIS), denied any role in the attack, saying it did not target Syrian government positions.
Related: U.S. gave Jerusalem to Israel, will Syria's Golan Heights be next?
The coalition has also denied another attack took place hours before in Syria's eastern Deir Ezzor province. Both the U.S.-led coalition, backed by the Syrian Democratic Forces, and the Syrian military, backed by Russia, Iran and various pro-government militias, are actively battling ISIS in the area. The U.S airstrikes killed potentially hundreds of pro-Syrian government fighters, including Russians, in February after reportedly coming under attack. Syria has alleged the U.S. was at fault.
The Syrian Observatory for Human Rights said at least 12 militiamen fighting on behalf of Syrian President Bashar al-Assad were killed Thursday in airstrikes conducted by the U.S.-led coalition near the T-2 station, located about 40 miles from the border town of Al-Bukamal. Al-Bukamal was the final ISIS-held town in Syria before being retaken by the Syrian military and its allies, including Hezbollah and Iraq militias, in November. The Syrian Arab News Agency also blamed the U.S.-led coalition for the alleged attack in Deir Ezzor.
The observatory also reported explosions on Wednesday in the western suburbs of Deir Ezzor, also taken from ISIS by the Syrian government and its partners in November. The report said, however, that the monitor could not confirm the source of these attacks, but that locals had noted violent clashes between pro-Syrian government fighters and the U.S.-backed Syrian Democratic Forces.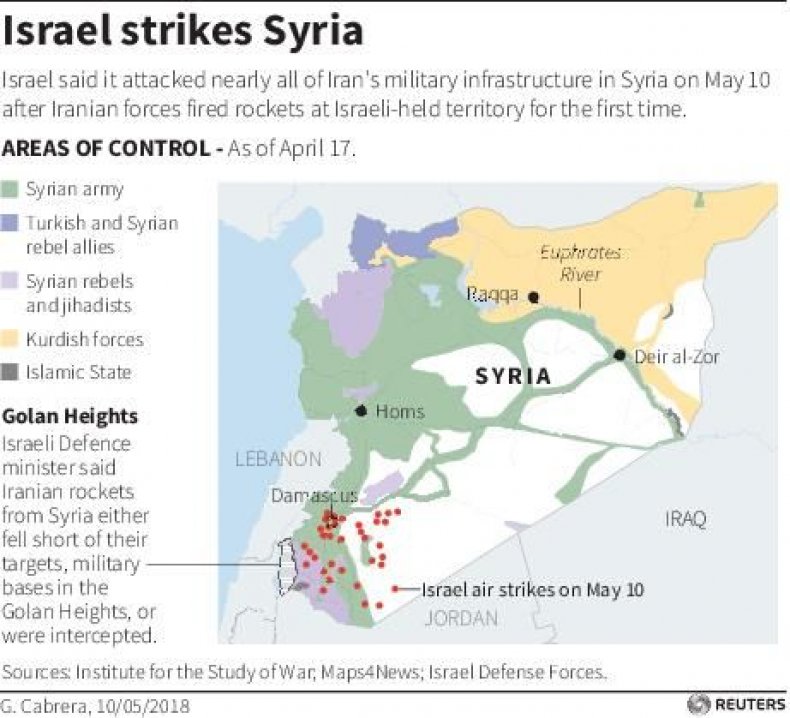 Israel has stepped up its campaign against Iran and its allies in Syria, especially as the U.S. adopted a tougher stance on Tehran. Israel conducted airstrikes against a suspected Iranian military position south of Damascus hours after President Donald Trump announced a U.S. exit from the 2015 Iran nuclear deal. When rockets later targeted Israeli forces in the occupied Golan Heights, Israel responded with its largest bombing campaign in Syria since the 1973 Yom Kippur War.
Iran has dismissed calls from even its Russian ally to withdraw from Syria, saying it would stay as long as it was welcome. Iran and Russia have both intervened in Syria at Assad's request, supporting him against rebels and jihadis who took up arms after a 2011 uprising backed by the West, Turkey and Gulf Arab states. Israel claims to be neutral in the Syrian conflict but has targeted Iran and its allies, who have clashed with Israel in the past.