Israeli Prime Minister Benjamin Netanyahu is set to leave office this weekend when a new coalition is due to be sworn in, ending his 12 years in power in which he became the country's longest-serving leader.
A tough, controversial, calculating politician, Netanyahu has become symbolic of the rightward shift of Israeli politics of recent decades. But that conservative sentiment is bigger than any one politician, and his departure is not a sign that Israel is pivoting away from the status quo Netanyahu has helped craft.
For Palestinians living in Israel, the Gaza Strip, and the occupied West Bank and East Jerusalem, Netanyahu's unseating means little change. For progressives in the U.S. too, who have long railed against the man colloquially known as "Bibi," Netanyahu's ouster does not soothe their grievances with the modern Israeli state.
Netanyahu's close ties with the Republican Party and relationship with former President Donald Trump have made him a favored antagonist for progressive Democrats with an eye on foreign policy and human rights.
Netanyahu is also inextricably sewn into long-running Israeli human rights abuses against Palestinians, punitive military actions in Gaza, and tough police crackdowns in the West Bank, all of which have steadily alienated even establishment Democrats.
Many Democrats will welcome his departure, even if they know the next government will pursue similar policies.
"Prime Minister Netanyahu has clung to power for 12 years, which he has spent implementing a corrupt, apartheid state that has killed and dehumanized the Palestinian people leaving them with no human rights or ability to live," Rep. Rashida Tlaib (D-MI) told Newsweek.
Tlaib and other members of "The Squad"—a prominent group of progressives in Congress—have clashed publicly with Netanyahu's government. Tlaib and Rep. Ilhan Omar (D-MN) were even barred from visiting Israel due to their criticism of Netanhayu during Trump's time in office.
Friction will remain with the next government. Naftali Bennett, the far-right leader of the Yamina party, will be the next prime minister. Bennett has publicly claimed to have "killed lots of Arabs" and dismissed any suggestion of an independent Palestinian state.
Opposition leader and Yesh Atid party head Yair Lapid will be the new foreign minister. Lapid said the decision to bar Tlaib and Omar from Israel was a "serious mistake" and pushed for closer bipartisan cooperation with U.S. lawmakers.
But the former news anchor has also been critical of the two-state solution and plays down the chances of a lasting peace deal.
"We must be clear-eyed about who these individuals, especially Bennett, are: Racist, Islamophobic, pro-apartheid, ultranationalist politicians," Tlaib said. "That's why the U.S. government must take a bold stand."
The incoming coalition will include the Islamist Raam party; the first time in Israeli history that an Islamist party has been part of a government.
Party leader Mansour Abbas's decision to join the government—and put Bennett and Lapid into office—has earned him condemnation from some Palestinians, but Raam will hope for policy shifts in exchange for their four Knesset seats.
Raam's inclusion, however, will have little practical significance for most Palestinians.
"They will never be able to challenge or address the second-class status of Palestinian citizens here," said Roy Yellin of the Israeli B'Tselem human rights agency—the largest such group in Israel which alongside Human Rights Watch recently accused the government of apartheid.
The Israeli government dismissed the charge as "preposterous and false."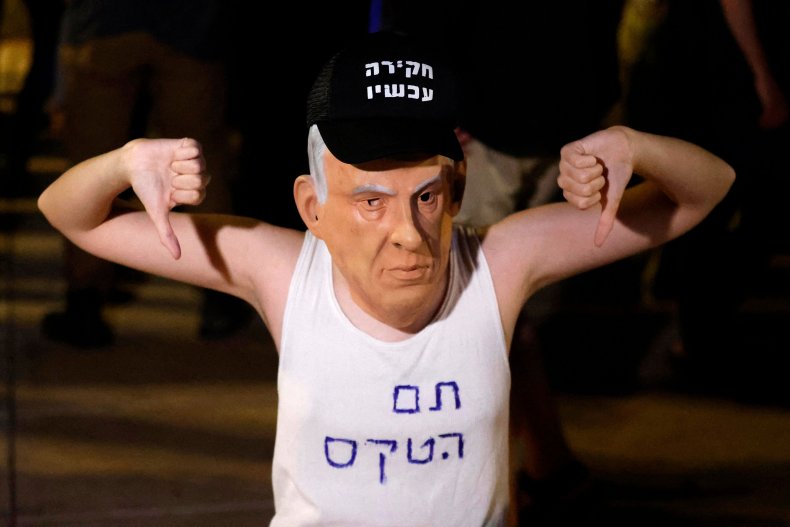 "Unity governments, by their nature, reflect the lowest common denominator of Israeli politics," Yellin told Newsweek. "That spells out Jewish control or Jewish domination over Palestinians," meaning "dispossession, controlled violations of human rights, and continued subjugation."
Yellin added: "This apartheid regime did not begin with Netanyahu, and it won't end the minute he leaves his office."
Biden is under pressure from within his own party to distance the U.S. from Israel. The president and his top officials have maintained traditional strong support for America's closest Middle East ally, but progressives see shifting sentiment on Israel in Washington, D.C. and around the country.
One senior progressive aide on Capitol Hill, who did not wish to be named, told Newsweek that "things are clearly changing," particularly after the last Gaza conflict.
"I still think U.S. media coverage is abysmal on the conflict," the aide said. "I think people are starting to hear—because of the democratization of media, the growth of social media—Palestinian voices.
"There's hope that we can make progress and push for a more humane policy towards Palestinians."
The new Israeli government will likely pursue the status quo. Tensions with militants in Gaza will continue, and probably also the kind of heavy-handed policing in the occupied West Bank and East Jerusalem, which sparked the last conflagration.
There remains little hope of immediate improvements for Palestinians. "Already, the hate rhetoric coming from the potentially new prime minister and the Knesset leave me feeling dim about those chances," Tlaib said.
"Netanyahu and Bennett are just men, but apartheid is an entire system made up of laws, political parties, longstanding Israeli policies and so much more.
"The removal of one man from the head of a system built on hate does not fundamentally change that system. When there are lynch mobs in the streets chanting death to Arabs, the situation is more deep than just a change of leadership."
Ahmad Muna, 30, the son of a bookshop owner in East Jerusalem, told Newsweek that Palestinians expect little change. "I think the whole objective of this new government is to remove Benjamin Netanyahu," he said.
"He is responsible for a lot of things that have happened in terms of human rights abuses and war crimes and abuses of international law," Muna said of the outgoing prime minister, but added: "To blame Netanyahu for all of this, I don't think is accurate."
"It's not only Netanyahu, it's the whole system, the whole psychology that the country is built on," Muna said. "I think the whole country is built on this psychology of getting as much as you can" from the ongoing conflict.
Muna said the inclusion of Raam and other Arab parties in the new coalition is a reflection of Israel's changing demography. Some 21 percent of the Israeli population are ethnic Arabs; a powerful voting bloc.
"You can't ignore it anymore," Muna said. Still, the diverse makeup of the incoming government is largely reflective of the desire to unseat Netanyahu and the fracturing of Israeli politics.
"I think if they would have been able to form a coalition without the Arabic parties they would have done without question," Muna said. "I think it's coming from an Israeli need, not an Israeli understanding of inclusion, equality, justice."
The new coalition might be more vulnerable to international pressure. Netanyahu is a vastly experienced leader, one with deep personal ties to powerful friends around the world, particularly in the U.S.
Bennett, Lapid, and their colleagues will not be able to draw on the same level of diplomatic clout, especially as they try to hold together their unstable anti-Netanyahu coalition.
"We should be very clear that while everyone's happy to see Netanyahu go, it's also not clear that this will actually meaningfully change the situation on the ground for Palestinians," the senior progressive aide said.
That will "take international pressure, and mainly pressure from the United States. The Israeli government, whether it's Netanyahu or Bennett or Lapid in power, is not interested in making concessions so that Palestinians can have state or self-determination."
Yellin concurred: "Only consequences and accountability can change what happens for Palestinians."
Tlaib is among those pressing Biden hardest. The Michigan congresswoman—the daughter of Palestinian immigrants—made headlines during the recent Gaza conflict when she met Biden on the tarmac during his trip to Detroit.
She made clear her anger at America's continued support for Israel, its military campaigns, and its occupation of Palestinian land.
"Any new leadership that dismisses the findings in the recent report by Human Rights Watch, and the largest human rights organization in Israel, B'Tselem, will not succeed in addressing the root causes of violence and trauma among the people living under these conditions," Tlaib told Newsweek.
"Their reports point to the growing racism, inequality, and an apartheid government.
"Israel must dismantle its Jim Crow-like laws and policies that target people based on their ethnicity. The only way is for leaders in Israel to address the discriminatory policies in their own laws that dehumanizes, kills, and increases violence towards the Palestinian people, and Black Israelis."
The U.S., European Union, and others, Tlaib said, are "enablers" of this system. "They must implement clear and significant accountability on Israel for continuing their gross violations of human rights and civil liberties," the congresswoman said.
"The way that Israel will dismantle its apartheid state is if its leaders realize that the costs of continuing the oppressive system are too great, as happened in the case of South Africa."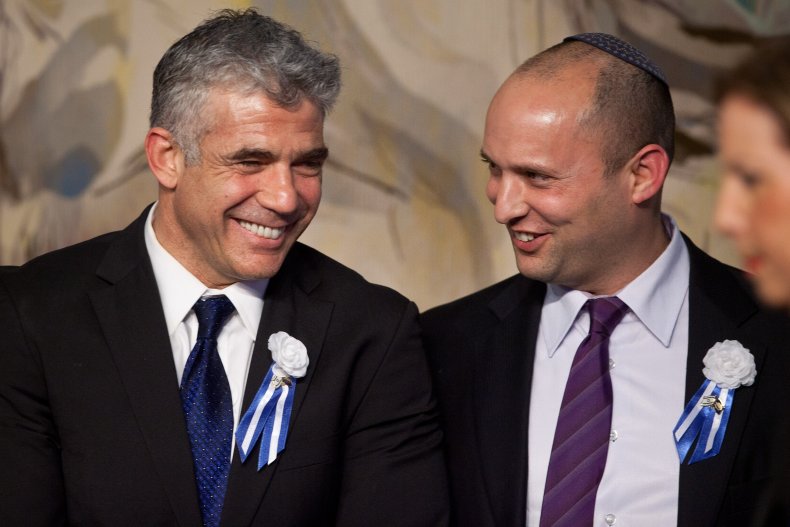 The new government may look to quickly shore up ties with Washington, particularly as progressive Democrats seek to block major weapons deals to replenish the Israel Defense Forces after the last round of violence.
The White House is yet to comment on the potential new government. Secretary of State Antony Blinken told Axios this week: "We will work, as we always have, with whatever the Israeli government is."
Bennett last week struck a similar tone to Netanyahu when asked if he would be willing to stand up to Biden. "The guiding compass is Israel's security. Israel's security is more important than what they will say about us in the world," Bennett said.
Meanwhile, Netanyahu is doing all he can to collapse the incoming coalition. Opposition politicians have accused the prime minister and his allies of inciting violence against them in recent weeks.
One lawmaker from Netanyahu's Likud party this week described Bennett and Lapid as "suicide bombers."
Even if the coalition is sworn in, there is no telling how long it will last. Israelis may be set for their fifth general election in two years, one in which Netanyahu is expected to both run and perform well.
"I don't think the government will last too long," Muna told Newsweek. "And that's scary because if it doesn't last too long and collapses, then Netanyahu might be back in the picture."
The status quo, and internal Democratic tensions, will likely endure. "I hope the citizens of Israel hold its leaders and government accountable to the decisions being made," Tlaib said.
"They must come together and support leaders that have the courage to recognize the injustices. Israel must end the separate and unequal system currently governing all the people of Israel and Palestine."
Palestinians are skeptical. Asked whether Biden might be the man to pivot towards the Palestinians, Muna replied: "Speaking to an American publication, should I be very optimistic and say 'yes'?"
"I really believed in 2008 when Obama was elected that we were going to see a solution to this conflict. I thought Obama was closer than Biden."
Trump's term torpedoed any hint of U.S.-Palestinian cooperation. His decision to move the U.S. Embassy to Jerusalem outraged the Muslim world and was symptomatic of his administration's unwavering support for the Israeli government.
Trump's much-lauded "Deal of the Century" peace proposal was dismissed out of hand by much of the international community. Palestinian Authority President Mahmoud Abbas rejected the plan as "the slap of the century."
It was the latest chapter in decades of failure by successive American administrations.
"For the last 25 years, nothing has been done to actually show that the international community and the U.S. can be fair and just equal brokers," Muna said. "We have seen the U.S. position move more and more to side with Israel, especially in Trump's time."
There appears little hope for a lasting solution. The Israeli government will continue to expand West Bank settlements—considered illegal by the United Nations—and occupy Palestinian areas.
The U.S. has proven unwilling or unable to stop the slow death of the two-state solution, which many experts now say is de facto defunct.
"Nobody deserves to live in conflict for the rest of their lives, there are people who were born and died within this conflict," Muna said. "Every day that passes, it's harder to solve. We don't need a U.S. president, we need a magician."