President Joe Biden has so far been quiet on the spiraling violence between Israel and Palestinian factions, sparked by a land ownership dispute in Israeli-annexed East Jerusalem that has since escalated into the worst exchanges of fire since 2014.
The president is under pressure to act to stop the familiar escalation of violence. At least 48 people—including 14 children—have been killed in the Palestinian Gaza Strip by Israel Defense Forces airstrikes, with six people killed in Israel by rocket barrages and an anti-tank missile fired by Palestinian militant forces inside the blockaded coastal enclave.
While Republicans and establishment Democrats offer full-throated support of Israeli security, Biden is facing a wave of anger from the progressives on the left of his party.
The new president has so far avoided the ideological clashes with progressives that many had predicted and, on the right, had hoped for.
Rep. Alexandria Ocasio-Cortez (D-NY) said last month that Biden's administration has "definitely exceeded expectations that progressives had."
Progressives welcomed Biden's action on the coronavirus stimulus package, his climate change commitments, his push to raise the federal minimum wage, and his backing of racial justice protests that captured the nation last summer.
But fresh Israeli-Palestinian violence now threatens to re-open a painful and awkward fissure within the Democratic Party.
Tuesday's brutal exchange of fire followed days of clashes in the East Jerusalem neighborhood of Sheik Jarrah, where Palestinian families are facing dispossession by Israeli authorities over a historic land dispute.
Tensions rose further last weekend when Israeli forces raided the revered Al-Aqsa Mosque, injuring hundreds of Palestinian worshippers and prompting angry condemnation from Muslim nations.
Israeli Prime Minister Benjamin Netanyahu and Defense Minister Benny Gantz addressed the nation on Tuesday night, vowing that punitive IDF attacks in Gaza would continue. "This is just the beginning," Gantz said.
Ismail Haniyeh, the head of the Hamas Islamist militant group that controls the Gaza Strip, said: "If Israel wants to escalate, we are ready for it."
Hamas' barrage of hundreds of rockets towards Tel Aviv—Israel's largest city and financial capital—was an unprecedented challenge. The crisis looks set to get worse before it gets better.
Israeli officials reportedly refused a Hamas ceasefire offer on Tuesday night, according to Israel's Channel 12, instead choosing to intensify attacks in the Gaza Strip.
While rockets flew overhead, internal tensions boiled over into street clashes inside Israel.
A state of emergency has been declared in Lod after two nights of rioting by Arab residents, in which synagogues and Jewish schools were reportedly set on fire. Three Jewish men were also arrested after an Arab man was shot dead in the city.
The Biden Administration has called for de-escalation by both sides, though has staunchly defended Israel's right to self-defense and condemned the rocket launches by Hamas and Palestinian Islamic Jihad from Gaza.
Biden also wrote to Palestinian Authority President Mahmoud Abbas urging him to de-escalate the situation, though Abbas and his Fatah party have little sway over Hamas, which has controlled Gaza since seizing the coastal territory from Fatah following disputed elections in 2007.
The Biden Administration appears unlikely to break with the longstanding U.S. policy of supporting Israel through crises and upticks in violence.
Even under President Barack Obama—lambasted by right-wing Americans and Israelis for his perceived weak backing of Israel—the U.S. maintained its steadfast support for Israel's right to self-defense against Hamas and other militant groups.
But there are strong winds blowing from the left. American progressives have long been demanding a re-evaluation of America's alliance with Israel. Under successive Netanyahu governments, Israeli politics has veered to the right.
The two-state solution is de facto defunct and ethnonationalism holds sway. The nation state law passed in 2018 made "the right to exercise national self-determination" unique to "the Jewish people" and downgraded the Arabic language to a "special status" below Hebrew.
Palestinian protests in Gaza in 2018 and 2019 were met with live rounds, killing almost 200 Palestinians and wounding thousands more despite international outrage. The Statista infographic below shows the spike in deaths and injuries of Palestinians across those two years.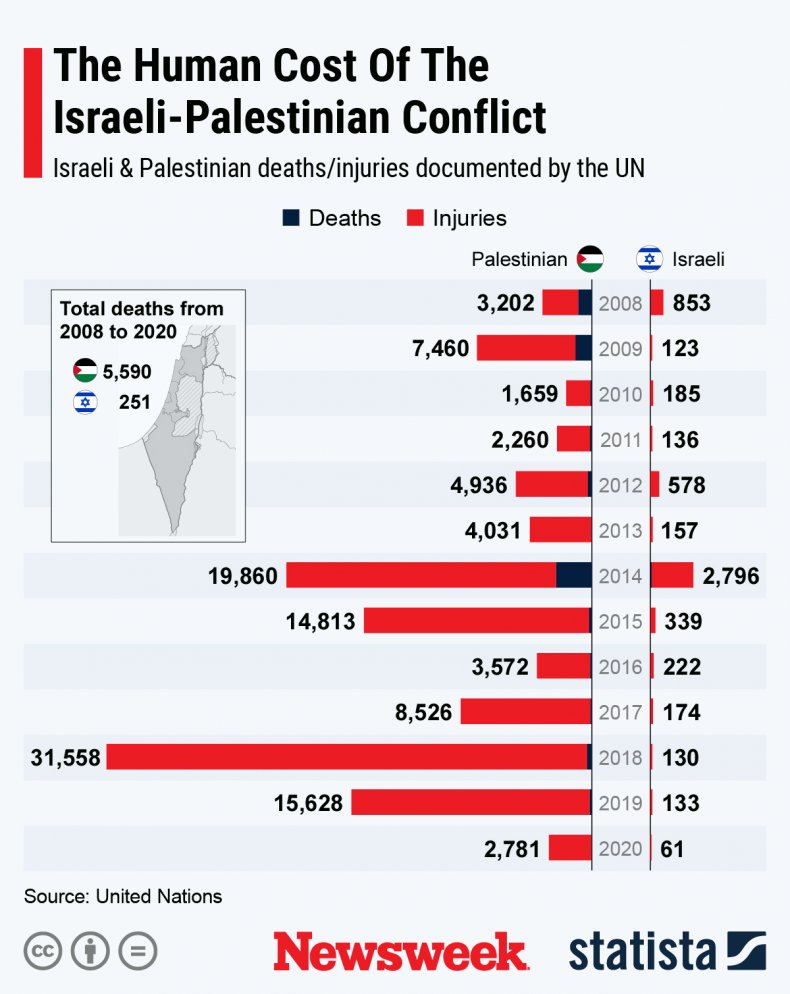 Netanyahu worked with President Donald Trump's administration to move the U.S. embassy to Jerusalem, expand illegal settlements, and annex the Golan Heights—taken from Syria at the end of the 1967 war.
Leftists in the U.S. have demanded consequences for Israeli actions while trying to diminish the influence of pro-Israel groups in America. Now, Democrats are increasingly willing to condemn Israeli occupation of Palestinian land, military action, and Netanyahu.
It poses difficulty for a Biden Administration that has repeatedly vowed to put human rights at the center of its foreign policy approach, forcing it to juggle Palestinian civil rights with America's longstanding alliance with Israel.
"If the Biden administration puts the rule of law and human rights at the heart of its foreign policy, this is not a moment for tepid statements," said Sen. Chris Van Hollen (D-MD) on Twitter.
Van Hollen also tweeted a United Nations document noting that Israeli efforts to evict Palestinians from East Jerusalem violate international law.
Sen. Elizabeth Warren (D-MA) called on the president last week to "make clear to the Israeli government that these evictions are illegal and must stop immediately."
Sen. Bernie Sanders (I-VT) was openly critical of America's alliance with Israel during his bid to be the Democratic nomination for the 2020 presidential election.
Sanders wrote on Twitter Tuesday: "I am extremely concerned by the growing conflict in Israel and Palestine.
"Once again we are seeing how the irresponsible actions of government-allied right-wing extremists in Jerusalem can escalate quickly into devastating war."
He added: "The United States must call for an immediate cease-fire and an end to provocative and illegal settlement activity. And we must also recommit to working with Israelis and Palestinians to finally end this conflict."
In the House, the "Squad" of progressive female Democrats are pushing Biden to take a tougher line on Israel.
Ocasio-Cortez wrote on Twitter that "Israeli forces are forcing families from their homes during Ramadan and inflicting violence. It is inhumane and the U.S. must show leadership in safeguarding the human rights of Palestinians."
After the raid on the Al-Aqsa Mosque, Rep. Ilhan Omar (D-MN), Rep. Rashida Tlaib (D-MI), and Rep. André Carson (D-IN) issued a joint statement calling on the Biden Administration to change course on Israel.
"We continue to provide the Israeli government with over $3 billion in military aid every year—with no conditions or accountability for wanton human rights abuses and continuing illegal seizures of Palestinian land," they wrote.
"It is long past time we finally take action to protect Palestinian human rights and save lives," the statement concluded.
On Tuesday as the violence worsened, Omar condemned State Department spokesperson Ned Price's daily briefing as "devoid of empathy and concern for human suffering," as the diplomat dodged questions about Palestinian child casualties and their right to self defense.
Fellow "Squad" member Rep. Ayanna Pressley (D-MA) also called on the administration to re-evaluate its significant military support to Israel. "American government $$ should not finance state violence," she tweeted.
Amid criticism that the U.S. has not prioritized de-escalating the situation, Biden Administration officials met with several Israeli officials behind the scenes on Tuesday.
Among them, Secretary of State Antony Blinken spoke with Israeli Foreign Minister Gabi Ashkenazi.
National Security Adviser Jake Sullivan spoke with Israeli counterpart Meir Ben-Shabbat, and according to The Times of Israel also held talks with Egyptian officials who have been mediating between Israel and Hamas.
A White House readout said Sullivan communicated Biden's "unwavering support for Israel's security and for its legitimate right to defend itself and its people, while protecting civilians."
Axios reported Tuesday that an initial intervention by Sherman this weekend was met with hostility by Israeli officials.
Price told reporters Tuesday: "Israel has the right to defend itself and to respond to rocket attacks...The Palestinian people also have the right to safety and security just as Israelis do."
Asked about pictures of child casualties in Gaza, Price replied: "I've seen those pictures. It's hard not to look at those pictures and feel a sense of the suffering...It's precisely why today we have called for restraint and de-escalation in an effort to preserve life."
Price added that the Hamas rocket barrages into Israel were "horrific."
There appears no immediate sign of a ceasefire in Gaza, with militant attacks and Israeli airstrikes ongoing as of Wednesday. Netanyahu vowed Tuesday that militants will "pay a dear price" for their attacks.
Meanwhile, the Biden Administration is juggling attempts to quell the violence with internal Democratic dissent over one of America's longest-standing alliances. For the progressives, the conflagration in Israel may mark the end of the Biden honeymoon.