Israel Prepares for Syria to Win Back Border but Plans 'Harsh Response' If Forces Enter Golan Heights
Israel has said it would abide by a decades-old armistice with Syria as the neighboring country's government reclaims a nearby border region from rebels, but it warned of consequences if any forces enter the occupied Golan Heights.
The Syrian military has rapidly advanced through the country's insurgent-held Daraa province, reclaiming towns and villages in a lightning offensive launched last month. Through this campaign, the Syrian government is set to regain control of the entire southwest region—except for the Golan Heights, a territory seized by Israel after the June 1967 Arab-Israeli Six Day War.
Syria once before tried to retake the area when a second conflict erupted in 1973, resulting in a United Nations Security Council Resolution calling for a ceasefire, and a separation of forces agreement the following year. Israeli Defense Minister Avigdor Lieberman issued a warning Monday against the deployment of any Syrian troops or their Iran-backed allies in the occupied Golan Heights.
"We'll respect the disengagement agreement from '74 and insist on every tiny detail," Lieberman said during a weekly meeting of his right-wing Yisrael Beytenu party, according to the Times of Israel. "Any violations will be met with a harsh response from the State of Israel."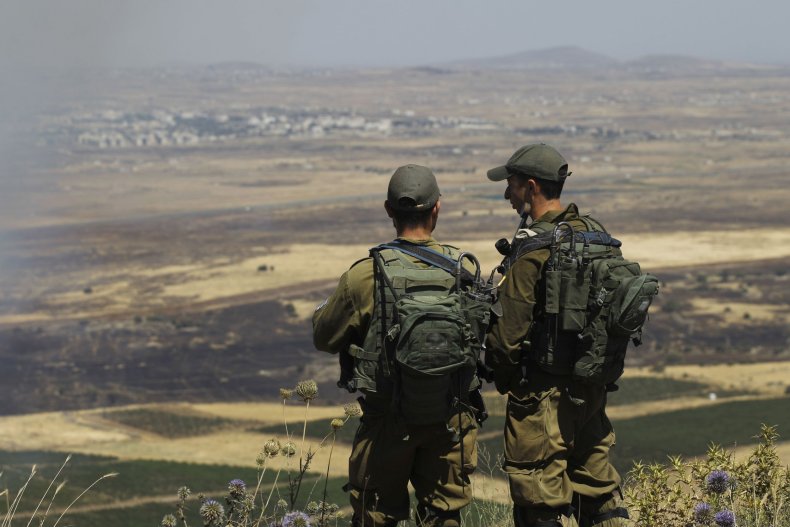 Daraa was a hub of revolutionary activity in the earliest days of the 2011 anti-government uprising supported by the West, Turkey and Gulf Arab countries, and the province came under the control of the CIA-backed Free Syrian Army. Daraa remained in opposition hands even as jihadis such as the Islamic State militant group (ISIS) and former Al-Qaeda affiliate Nusra Front—now part of the Hayat Tahrir al-Sham coalition—began to fracture the already loose alliance of factions battling to overthrow Syrian President Bashar al-Assad.
As the U.S. focused on battling ISIS in 2014 and Russia intervened to support Assad the following year, the opposition's strained ties began to falter and international support dwindled. The Syrian military's recent southwest push came after nationwide victories against both rebel and jihadi groups, leaving Daraa as one of only two provinces still held by rebels—the other being Idlib in the northwest. As Syrian rebels began to surrender to the government in large numbers and troops advanced closer to Israel's area of control, Israeli Prime Minister Benjamin Netanyahu tweeted Tuesday to remind Assad of the 1974 U.N. truce between their two countries.
Related: ISIS Says Leader Baghdadi's Son Killed In Syria Suicide Attack Against Army and Russians
"We have a Separation of Forces Agreement with Syria from 1974; this is the guiding principle. We will adhere to it very strictly and so must others, everyone," Netanyahu tweeted last week.
Despite remaining publicly neutral during Syria's seven-year civil war, Israel has treated injured rebels in the Golan Heights and has reportedly even offered financial assistance to them. Israel has also reportedly accelerated its campaign of attacks against pro-Syrian government fighters associated with Iran, with whom Israel has traded existential threats. As recently as Sunday, the Syrian Ministry of Defense claimed to have confronted an "Israeli aggression" in the form of a missile attack on the T-4 airbase in Homs province.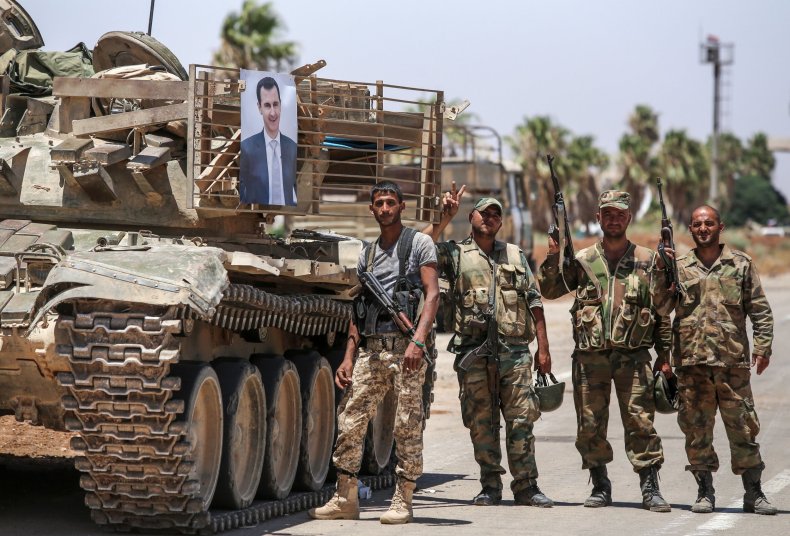 As per usual Israeli policy, Lieberman neither confirmed nor denied his country's involvement in the attack. "I read about it in the newspapers today, and I have nothing to add," he said, according to Reuters. "Perhaps just one thing, that our policy has not changed. We will not allow Iran's entrenchment in Syria and we will not allow Syrian soil to be turned into a vanguard against the State of Israel. Nothing has changed. There is nothing new," he added.
The anticipated presence of Iran-backed fighters in the battle for Daraa and the long-term presence of Iran in the country as a whole have reportedly been the subject of ongoing discussions between Russia, the U.S., Jordan and other involved powers seeking to avoid a wider conflict in the region. Assad has welcomed both Iran and Russia as partners to regain control of the country and has called on the U.S.-led coalition and Turkey to withdraw immediately, while Russia has suggested all foreign powers should eventually leave.
Israel has been deeply critical of Assad and has even threatened the Syrian leader over his alliance with Iran, but the Israeli government appears to have acquiesced to his resurgence, warning only against the presence of Iranian and Iran-backed forces. The Associated Press quoted a senior Israeli military official on Thursday as saying that "our demand is that the Iranian forces will go out or withdraw from Syria as a whole, and in it specifically southwest Syria."