The president of Israel has urged Germany to join U.S. sanctions on Iran after Washington unilaterally abandoned a nuclear deal still supported by Europe as well as China and Russia.
Israeli President Reuven Rivlin received German Chancellor Angela Merkel in the disputed city of Jerusalem on Thursday, hoping to convince her to stop doing business with Iran and circumvent economic restrictions put in place by President Donald Trump. The U.S. and Israel have accused Iran of destabilizing the Middle East through support for hostile regional movements, the development of ballistic missiles and the secret pursuit of nuclear weapons, but Germany has joined the remaining parties in the 2015 nuclear agreement in an attempt to salvage it.
"From our point of view, now is the time to join the effective sanctions on Iran and not to circumvent them," said Rivlin, whose role in government is largely ceremonial compared with the prime minister, said during the seventh round of Israel-German intergovernmental consultations, according to The Times of Israel.
"The Iranian beast must be starved and not fed. This is the only way to guarantee the stability of the world," he added.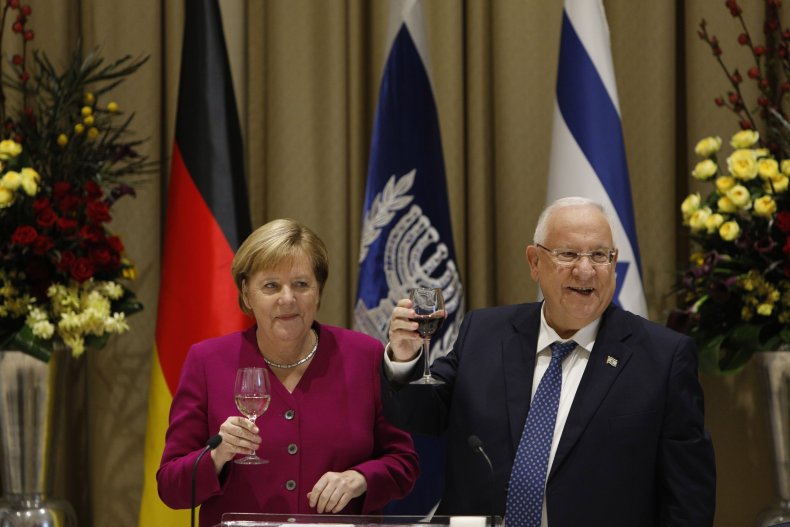 In 2015, Germany joined China, France, Russia and the U.K. in endorsing the landmark nuclear accord forged by longtime foes the U.S. and Iran. The agreement, which called for a lifting of sanctions on Iran in exchange for the country agreeing to restrict its nuclear activities, was widely hailed as a historic diplomatic achievement. But it left hard-line conservatives in both Washington and Tehran deeply suspicious of each other's intentions and also angered Iran's top regional foes, including Israel and Saudi Arabia.
Scrapping or renegotiating the terms of the deal was one of Trump's most consistent campaign promises. Although the International Atomic Energy Agency found Iran to be in total compliance with the accord on multiple occasions, the president announced the U.S. exit in May. Iran continues to adhere to the deal but has threatened to leave as well if U.S. sanctions make it unsustainable. The European trio that is still signed on, along with the EU itself and Russia and China, has sought to counter U.S. efforts.
In August, German Foreign Minister Heiko Maas warned that European powers must act as a "counterbalance" to the U.S. He suggested they strengthen "European autonomy by setting up payment channels independent of the U.S.A., creating a European Monetary Fund and building an independent SWIFT system." (The latter refers to the Society for Worldwide Interbank Financial Telecommunications's network.)
While Merkel appeared initially hesitant to publicly back the initiative, the EU announced that it would develop an alternative payment system to allow companies to continue working with Iran without using U.S. dollars or institutions.
U.S. officials responded with disappointment and outrage, while Israeli Prime Minister Benjamin Netanyahu accused Europe of "appeasing Iran" during his U.N. General Assembly speech. "Instead of coddling Iran's dictators, join the U.S. and Israel and most of the Arab world in supporting new sanctions against a regime that endangers all of us and all of the world," he told European leaders.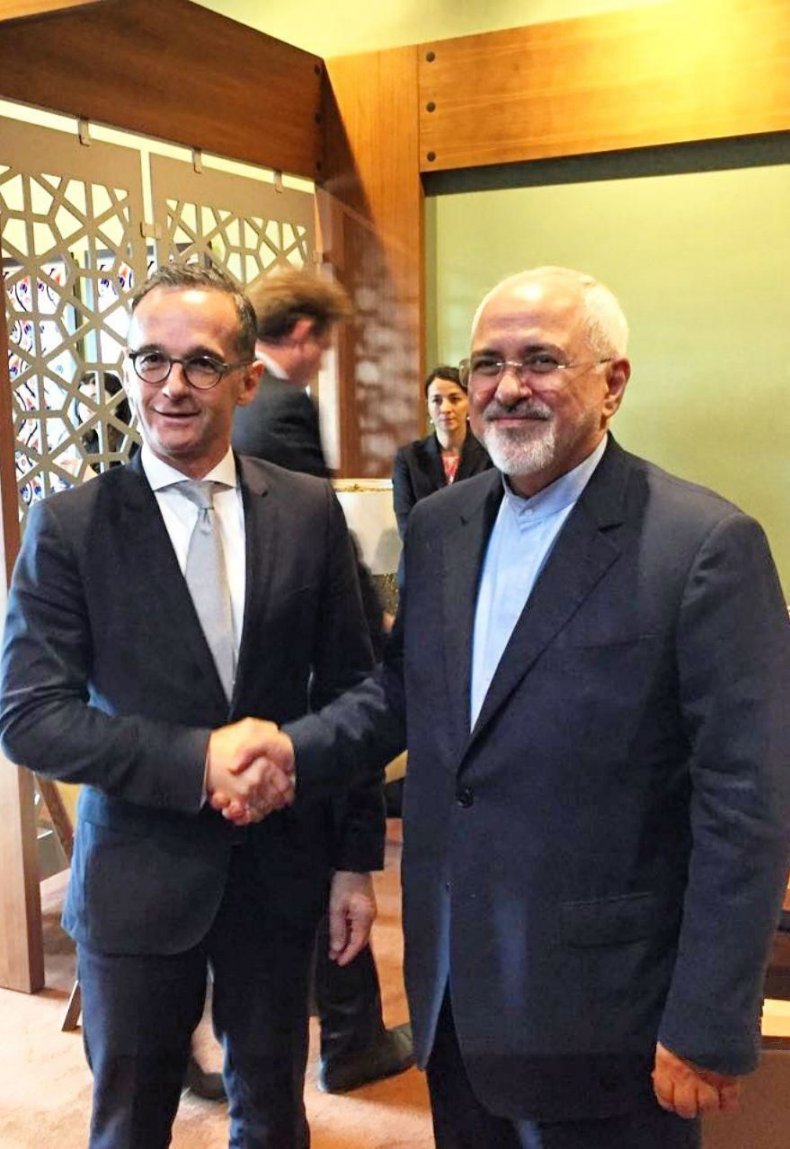 On Thursday, however, Merkel and Netanyahu found common ground in opposing Iran's presence in Syria, where Israel has accused the Shiite power of establishing bases and supporting armed groups. Like Israel, Saudi Arabia and a number of Western powers, Germany is opposed to Syrian President Bashar al-Assad, an ally of Iran and Russia, but Berlin has played a more muted direct role in the seven-year civil war.
"I know, Angela, that you are committed to a safe and stable Middle East," Netanyahu said Thursday. "I think that the strong ties between Israel and Germany can serve as an example for this region and for the entire world. We overcame the horrors of the past. We never forget them, and you will never forget them. But we have transformed our relationship into a warm and constructive friendship."
He added, "That does not mean we have no differences of opinion."
Merkel said that she and her government are "very convinced and strongly share Israel's position that everything must be done to prevent Iran from acquiring nuclear weapons," according to Reuters. "Where we are not always united is on the path to this goal."